Every movie you'll want to see in summer 2018 — TRAILERS
Updated May 3, 2018 - 4:25 pm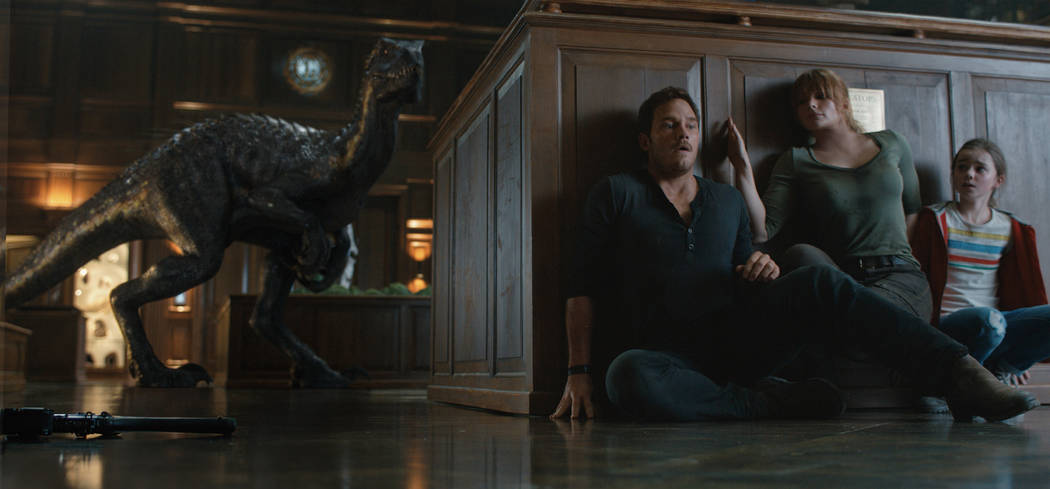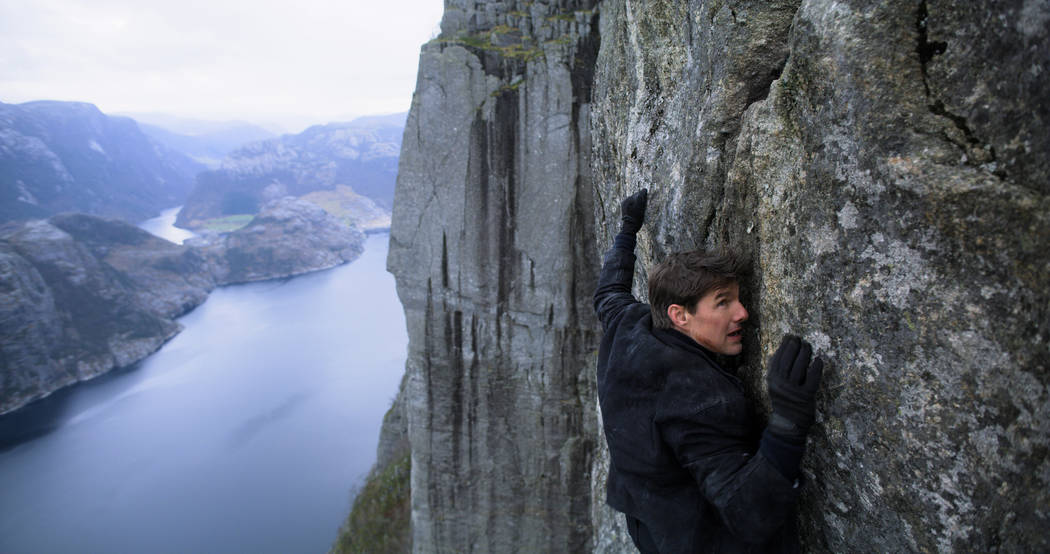 Despite "Avengers: Infinity War's" record-shattering debut having been moved out of summer — because even a world in which Christmas decorations hit stores the day after Labor Day holds its ground on referring to April 27 as "summer" — there are still plenty of blockbusters to look forward to over the next few months.
Deadpool, Han Solo and Ant-Man are back. There are fresh installments in the "Jurassic World" and "Mission: Impossible" franchises. And, after lengthy layoffs, the casts of "The Incredibles" and "Mamma Mia!" are returning to theaters.
There's also "Uncle Drew," based on Kyrie Irving's Pepsi pitchman. Melissa McCarthy investigates the killings of a bunch of smutty puppets in "The Happytime Murders." And, just when you thought you were finally freed of "Fifty Shades," four friends get their groove back while reading the erotic escapades of Christian Grey and Anastasia Steele in "Book Club."
Here's a look at what's coming to the multiplex this summer, and, as "Infinity War" has shown, release dates are subject to change.
Friday
■ A mother of three (Charlize Theron) reluctantly comes to rely on her nanny (Mackenzie Davis), whose services are being paid for by her brother (Mark Duplass), in the comedy "Tully," from the "Juno" duo of writer Diablo Cody and director Jason Reitman.
■ Anna Faris and Eugenio Derbez star in the gender-swapped update of the Goldie Hawn-Kurt Russell comedy "Overboard."
■ A valet (Robert Sheehan) who burglarizes the houses of rich customers finds a woman being held captive in one of them in the thriller "Bad Samaritan," starring David Tennant ("Doctor Who").
May 11
■ After being dumped by her husband (Matt Walsh, "Veep"), a housewife (Melissa McCarthy) goes back to college with her daughter in the comedy "Life of the Party."
■ A mother (Gabrielle Union) attempts to rescue her children, who are imprisoned in a house with seemingly impenetrable security, in "Breaking In."
May 18
■ Fresh from portraying Thanos in "Avengers: Infinity War," Josh Brolin antagonizes a different group of Marvel heroes, this time as the cyborg Cable, in "Deadpool 2," which is every bit as anticipated as it is sure to be filthy.
■ Four lifelong friends (Diane Keaton, Jane Fonda, Candice Bergen, Mary Steenburgen) get all hot and bothered when they read "Fifty Shades of Grey" in the comedy "Book Club."
■ A detective (Will Arnett) and his Rottweiler partner (voiced by Chris "Ludacris" Bridges) go undercover to stop a crime ring in "Show Dogs."
May 25
Han (Alden Ehrenreich) meets Chewbacca and plays sabacc against Lando (Donald Glover) for the pink slip to the Millennium Falcon in "Solo: A Star Wars Story."
June 1
■ Johnny Knoxville stars as the owner of a theme park — the "theme" of which seems to be broken bones and tetanus — in the comedy "Action Point," which combines the old-age makeup of "Bad Grandpa" with the painful-looking stunts of "Jackass."
■ Two sailors (Shailene Woodley, Sam Claflin) fall in love, then head straight into a catastrophic hurricane, in the fact-based survival drama "Adrift."
June 8
■ Danny Ocean's sister, Debbie (Sandra Bullock), recruits an elite team to help her steal $150 million in diamonds from the Met Gala in the spinoff "Ocean's 8," co-starring Cate Blanchett, Anne Hathaway, Mindy Kaling, Rihanna and Helena Bonham Carter.
■ When its matriarch dies, a family starts to realize it may have inherited some sort of terror in the horror movie "Hereditary," starring Toni Collette.
■ The Nurse (Jodie Foster) operates a secret hospital for criminals in the futuristic thriller "Hotel Artemis."
June 15
■ Elastigirl (voiced by Holly Hunter) leads a campaign to restore superheroes' reputations while Mr. Incredible (Craig T. Nelson) stays home with Violet, Dash and baby Jack-Jack in "Incredibles 2."
■ For one month each year, five friends (Jon Hamm, Jeremy Renner, Ed Helms, Jake Johnson, Hannibal Buress) pick up the childhood game they started in first grade in the based-on-a-true-story comedy "Tag."
June 22
■ Four years after the park was destroyed, Owen (Chris Pratt) and Claire (Bryce Dallas Howard), hopefully wearing a sensible pair of shoes this time, return to Isla Nublar to save the remaining dinosaurs in "Jurassic World: Fallen Kingdom."
June 29
■ The border war involving Mexican drug cartels continues in the sequel "Sicario: Day of the Soldado," which reunites Josh Brolin and Benicio Del Toro but not Emily Blunt.
■ Basketball stars Kyrie Irving, Shaquille O'Neal, Reggie Miller, Chris Webber, Nate Robinson and Lisa Leslie star in the geriatric baller comedy "Uncle Drew."
July 4
■ Head back to the beginning of the most debauched 12 hours this side of "The Hangover" with the prequel "The First Purge."
■ When a woman (Riley Keough) disappears, her broke neighbor (Andrew Garfield) searches for her by deciphering what he believes is a series of messages hidden throughout Los Angeles in the noir comedy "Under the Silver Lake."
July 6
■ Scott Lang (Paul Rudd) is torn between being a family man and getting small with Hope van Dyne (Evangeline Lilly) and Dr. Hank Pym (Michael Douglas) in "Ant-Man and the Wasp."
July 13
■ A former FBI hostage rescuer (Dwayne Johnson) battles terrorists inside the world's tallest building while trying to save his family in the "Die Hard"-"Towering Inferno" mashup "Skyscraper."
■ The Drac Pack hits the high seas for a cruise in the animated "Hotel Transylvania 3: Summer Vacation."
July 20
■ Cher joins the cast of the musical sequel/prequel "Mamma Mia! Here We Go Again" as Sophie's (Amanda Seyfried) grandmother, an entertainer who hasn't left Las Vegas in 25 years.
■ Denzel Washington stars in his first sequel — no, it isn't "Carbon Copy 2" — as his rule-breaking, bone-breaking vigilante Robert McCall returns in "The Equalizer 2."
July 27
■ Your mission, should you choose to accept it, is to see what absurdly dangerous stunts Tom Cruise has cooked up for himself in "Mission: Impossible — Fallout," which adds Henry Cavill and Angela Bassett alongside returning cast members Simon Pegg, Ving Rhames, Rebecca Ferguson and Michelle Monaghan.
■ With seemingly every other group of superheroes getting their own movies, Robin, Cyborg, Beast Boy, Raven and Starfire head for Hollywood in search of their big break in the animated "Teen Titans Go! To the Movies," the big-screen version of the Cartoon Network series.
■ A parolee ("Hamilton" Tony winner Daveed Diggs) with just three days left on his probation struggles to stay on the right side of the law after witnessing an officer-involved shooting in "Blindspotting."
Aug. 3
■ With a grown Christopher Robin (Ewan McGregor) working so hard he ignores his family, it's up to his old friends, including Winnie-the-Pooh, Tigger, Eeyore and Piglet, to travel to London to help him in the live-action sequel "Christopher Robin."
■ When a woman's (Mila Kunis) ex-boyfriend (Justin Theroux) is hunted by assassins, she and her best friend (Kate McKinnon) end up running for their lives across Europe in the action-comedy "The Spy Who Dumped Me."
■ A U.S. intelligence officer (Mark Wahlberg) tries to smuggle a police officer with vital information out of the country in "Mile 22," co-starring Ronda Rousey and "The Walking Dead's" Lauren Cohan.
■ After children start dying off, those who remain develop superpowers and are sent to prison camps in "The Darkest Minds," a potential new franchise based on the series of young adult novels.
■ When his teenage daughter goes missing, a father (John Cho) scours her laptop for clues in "Searching," which unfolds entirely on the screens of computers and smartphones.
Aug. 10
■ They're gonna need a much bigger boat as Jason Statham battles a prehistoric 75-foot shark in "The Meg."
■ A teenager bonds with a robotic military dog in the family adventure "A.X.L."
■ Canines and their owners cross paths in the comedy "Dog Days," starring Nina Dobrev, Vanessa Hudgens, Eva Longoria and Finn Wolfhard ("Stranger Things").
Aug. 17
■ When New Yorker Rachel Chu (Constance Wu) accompanies her longtime boyfriend (Henry Golding) to a wedding in Singapore, she learns she's been dating one of the country's wealthiest, most eligible bachelors in "Crazy Rich Asians," the first major Hollywood movie with a primarily Asian cast since 1993's "The Joy Luck Club."
■ The former cast members of a beloved puppet show are being killed, and it's up to a detective (Melissa McCarthy) and her puppet partner to find the culprit in "The Happytime Murders," the raunchy comedy from The Jim Henson Company.
■ During the Ice Age, an injured hunter (Kodi Smit-McPhee) and a lone wolf must rely on each other to make it to safety in "Alpha."
Aug. 24
■ Four friends try to debunk an urban legend, only to learn they may have accidentally summoned it, in the horror movie "Slender Man."
■ A Parisian safecracker (Charlie Hunnam) teams with a counterfeiter (Rami Malek) to escape a penal colony in the remake of "Papillon."
Aug. 31
■ And a teenager finds an alien weapon and uses it to keep his adopted brother safe from a dangerous criminal (James Franco) in "Kin."
Contact Christopher Lawrence at clawrence@reviewjournal.com or 702-380-4567. Follow @life_onthecouch on Twitter.