Firefighting the latest challenge for Vegas native and MTV host TJ Lavin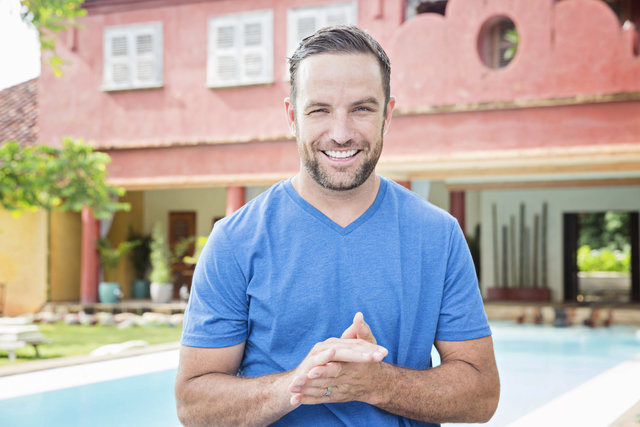 While many of the people he works with are still trying to figure out their first careers, TJ Lavin is laying the groundwork for at least his third.
The Las Vegas native, a BMX legend and the host of MTV's "The Challenge" since 2005, is training to be a firefighter.
He's 39.
"No, no. It's not very normal," Lavin says of embarking on such a strenuous occupation at his age. "It's pretty ambitious. But it's something I feel like I need to get done before I die, so here I am."
For "The Challenge: Rivals III" (10 p.m. Wednesday), which pits alumni from "The Real World" and MTV's dating series "Are You the One?" in a series of physical and mental competitions, Lavin spent six weeks in Huatulco, Mexico. When he wasn't needed on set to oversee a challenge or, occasionally, lay down the law, he used his downtime to prepare for the EMT exam he just passed.
During previous seasons, while everyone else was busy drinking, fighting and/or hooking up, Lavin started studying to be a firefighter in Thailand, learned to surf in Brazil and became an advanced scuba diver in Panama. "Every season has a new set of goals and a new set of books that I bring with me and I learn from and I study."
"The Challenge" has sent him around the world during his 18 seasons, yet Lavin admits he isn't a fan of traveling. "But the experiences and the people that I meet and the level of knowledge that you gain, you realize that you really don't know anything," he says. "You realize that the world is a big place and you don't know much."
Speaking of not knowing much, Lavin rarely seems happier than during each season's trivia challenge, in which contestants are suspended high above a body of water. After the remarkably easy questions yield a couple of wrong answers, the cast members are unceremoniously dumped and left to splash down, often at hilariously awkward angles.
"I don't wanna see anybody get hurt, obviously. But it is very funny how they land and how scared they are," Lavin says. "Like, they're so scared. And it's over water. Like, calm down you guys. But they're scared to death, and it's hilarious to me.
"And then when the answers are so in your face, if it was a snake, it would bite you. The answer is so easy on some of this stuff. But when you're put in a stressful situation, your mind can't work properly. … And it's, like, 'What color is the sky?' And you're looking at it, it's blue right in front of your face, but you have no idea. It's so funny when they do something like that."
Stressful situations can't always be blamed for some of the stupid things contestants say.
In Wednesday's premiere, "The Challenge: Battle of the Bloodlines," veteran Nicole Ramos is asked what she'd do with the $275,000 grand prize after splitting it with her teammate. "I would get my dad Botox on his forehead because he needs it," she says. "I would get myself a pair of boobs 'cause I want those."
Then there's "Challenge" newcomer Ashley Brooke Mitchell, who was kicked out of the "Real World: Explosion" house, explaining how she fell off a beam during a challenge: "As soon as I'm grabbing it, I feel like that inertia is, like, going. So, like, once you start, you can't stop — if you don't know what inertia is. Or something like that. I don't know what inertia is."
Where's Joel McHale and "The Soup" when you need them?
Lavin agrees that he's more comfortable with some of the recurring contestants, such as Sarah Rice, Johnny "Bananas" Devenanzio and "Real World: Las Vegas" alum Leroy Garrett, who have a combined 26 seasons of experience going into "Rivals III." But he insists he isn't any less patient with the newer contestants, many of whom are young enough to be his kids. "Some of them are young, for sure. And they act like it. But they put on a good face in front of me."
Even though he's surely the oldest regular presence on MTV since Kurt Loder, Lavin says he still feels like he's in his 20s. He certainly dresses like it in his ever-present shorts, hat and T-shirt that bears the logo of Torque, the clothing gear his friend, UFC fighter Urijah Faber, brought him into as a partner.
"I'm knockin' 40's door down. I'm drop-kickin' the door down. And I still feel like I can ride and do whatever I want." Lavin says this while resting his ankles, both of which he sprained days before when he overshot a jump on his dirtbike in Mesquite.
"I thought it was gonna be, like, a six-week commitment and that's a wrap, you know?" Lavin recalls of his original "Challenge" commitment. Now, MTV is going to have to forcibly remove him like one of the show's drunken brawlers.
"I'm not ever going to put an end to it," he says. "They're gonna have to kick me out."
Contact Christopher Lawrence at clawrence@reviewjournal.com. On Twitter: @life_onthecouch.