Former 007 Brosnan misfires in return to spy genre
August 29, 2014 - 7:22 pm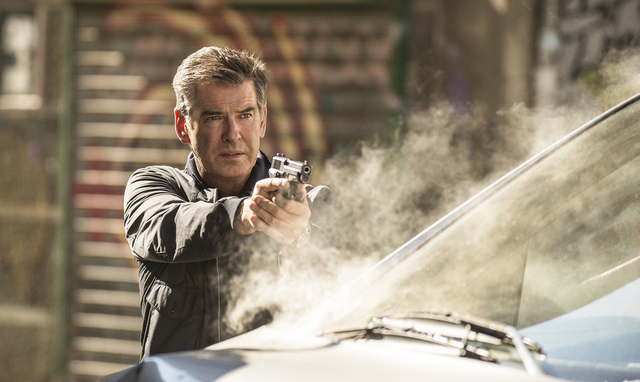 The world is a cold, cruel place for the women of "The November Man."
Aside from the obligatory strippers and a bendy assassin (Amila Terzimehic) who wanders in and out of the action, every woman in the story is touched by some bit of horribleness.
A 12-year-old is kidnapped and shackled. A 15-year-old is sexually assaulted after her family is executed. One woman is killed for knowing too much. Another is sliced open and left to die just for the fun of it. And a young CIA agent (Caterina Scorsone) is verbally abused as though she just had the misfortune of arresting Mel Gibson.
But "The November Man's" treatment of its women is like an ingrown nail on a gangrenous foot: It's annoying, but it's hardly the biggest problem.
The tedious, convoluted thriller feels like a relic from an earlier era. It's based on "There Are No Spies," the seventh book in author Bill Granger's spy series, which was released in 1986. Its director, Roger Donaldson, made arguably his best movie, "No Way Out," a year later. And while Pierce Brosnan is always a delight, it's been more than a decade since he headlined anything like this.
Adapted by Michael Finch ("Predators") and Karl Gajdusek ("Oblivion"), who spent five years — FIVE YEARS! — on the script, "The November Man" follows former CIA agent Peter Devereaux (Brosnan), who's drawn out of a peaceful retirement in Switzerland by his former handler (Bill Smitrovich).
An old adversary, Arkady Federov (Lazar Ristovski), is about to become Russia's president, and he's hired the aforementioned assassin to get rid of anyone he had dealings with back in the day, including several former operatives.
Going back to "The November Man's" woman problem for a bit, Devereaux is handed the crime scene photos of some of those agents' corpses, one of which is topless. Really? No one at the CIA stepped up and said, "Hey, do you think we could crop this by a few millimeters so we're not showing off our fallen colleague's nipple?"
Anyway, during his first hours back on the job, a team led by Devereaux's former protege David Mason (Luke Bracey) manages to kill one of the very few people Devereaux cares about. So a CIA bigwig (Will Patton) sends Mason to eliminate Devereaux before Devereaux can kill them all.
At the center of Federov's plans is a young refugee who hasn't been seen in years and whose last known connection was with Alice Fournier (Olga Kurylenko), a Belgrade social worker.
A New York Times reporter (Patrick Kennedy) who's investigating Federov tracks Alice down moments before she's found by Federov's hired assassin. Devereaux and, by extension, Mason turn up seconds later. Talk about your coinkydinks.
"The November Man" is designed as a game of cat and mouse between Devereaux and Mason, but it's a mismatch from the start. As Sarah (Eliza Taylor), one of the disproportionate number of Americans living in Belgrade, right across the hall from Mason no less, says of the young agent, "Sure, you're mildly attractive and mysterious. But that gets kind of tired after a while."
Amen, sister.
There's not much in "The November Man" that you haven't seen before, usually done better somewhere else. It's the kind of spy movie where Mason stumbles out of the wreckage of a devastating car crash and immediately begins sprinting at full speed. It even doubles down on an action-movie cliche by having Devereaux and Mason walk away, unflinchingly and in opposite directions, from the same explosion.
The calm, suave Brosnan proves he's still a viable leading man, but he never disappears into the role. You're rarely unaware you're watching a Pierce Brosnan movie.
"The November Man" is not so bad as to get worked up over. The general feeling is more of an "Is that all there is?" indifference. It's as though it somehow escaped video-on-demand purgatory for a wide, big-screen release.
Compared to the franchises "The November Man" seems to be striving for, though, as Bond it's bland, and as Bourne it's a bore.
Contact Christopher Lawrence at clawrence@reviewjournal.com or 702-380-4567.
Review
"The November Man"
108 minutes
R; strong violence including a sexual assault, language, sexuality/nudity and brief drug use
Grade: D+
At multiple locations