HBO's 'Ballers' has Dwayne Johnson bring Raiders to Las Vegas
Updated July 20, 2017 - 4:41 pm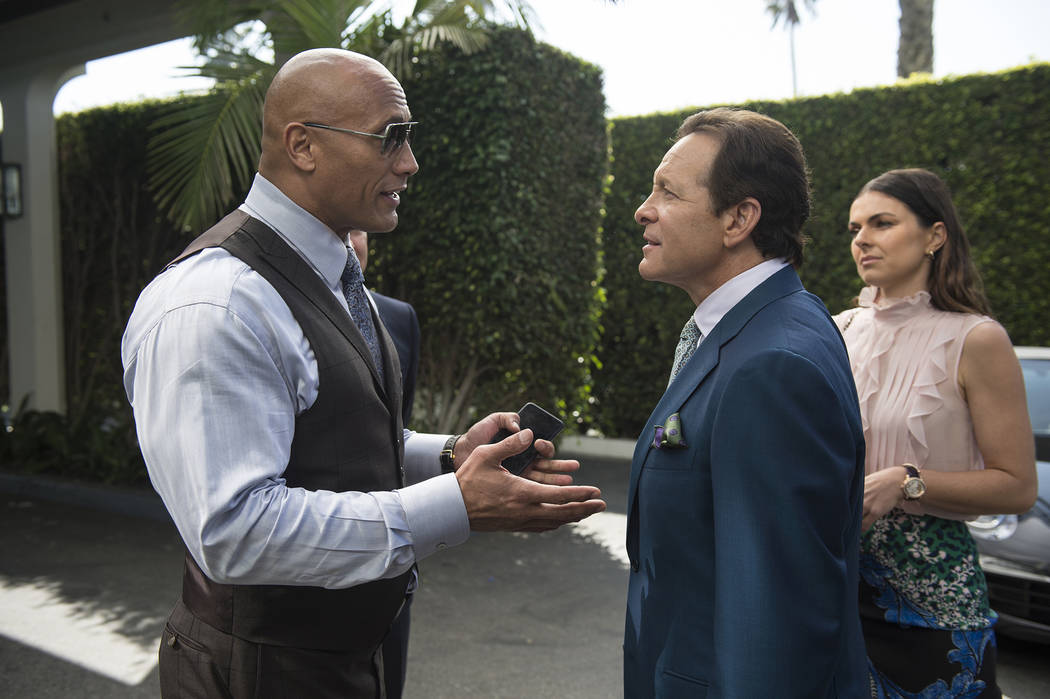 Stop me if this sounds familiar.
An effort to move the Oakland Raiders to Las Vegas begins with the public backing of a billionaire casino owner. The first sign of NFL support comes from the Dallas Cowboys. And, oh yeah, that billionaire also happens to own the Las Vegas newspaper.
This isn't a refresher course titled "How the Raiders Came to Vegas." It's the seasonlong story arc on "Ballers" (10 p.m. Sunday, HBO).
To be fair, though, the show's writers did take a few liberties. Casino owner Wayne Hastings Jr. is portrayed by Steve Guttenberg. The name of his newspaper is the Las Vegas Post. And I don't recall the pursuit of the Raiders being announced by a former NFL star immediately after he flipped a monster truck at Sam Boyd Stadium.
Coming from most of the creative team behind HBO's "Entourage," "Ballers" always has felt like the second act of that series. Crammed full of sex, drugs and flashy things, "Ballers" focuses on Spencer Strasmore (Dwayne Johnson), a retired NFL player embarking on a second career managing the finances of current athletes.
In one of the series' many cameos, NBA superstar Steph Curry calls to check in on Spencer with a totally authentic-sounding, "What up, Spencey Spence Spencey Boo?"
Spencer's boss/partner, Mr. Anderson (Richard Schiff), has been trying for decades to invest in that "magical little oasis in the middle of the desert known as Las Vegas." But casino mogul Hastings isn't interested in Anderson's money. He can find investors anywhere. The only thing that piques his curiosity is when, at the end of Sunday's third-season premiere, Spencer mentions his desire to bring an NFL team to Las Vegas.
The first scene of the second episode finds Spencer in the back of a Rolls-Royce, being driven down the Strip and into the parking garage of The Cosmopolitan. It's never mentioned by name, but it's the casino Hastings calls home.
When Spencer's friend and current Miami Dolphins wide receiver Ricky Jerret (John David Washington) says all he wants is a massage and a nice meal, Hastings steps in. "I'll get you into Momofuku," he declares. "Best Asian in town."
Momofuku's great and all, but I'm pretty sure a famous NFL player could wrangle a reservation without the casino owner's help. Heck, I'm pretty sure I could.
At check-in, Spencer trades suites with Cris Carter so the NFL Hall of Famer can have the "Cousteau Suite" with its "giant aquarium with iridescent fish." (Try asking for that the next time you book a room at the Cosmo.) Spencer takes the presidential suite instead, noting, "I look more presidential than you, anyway" — a not-so-subtle nod to Johnson's rumored political aspirations.
The four "Ballers" episodes made available to the press play out more like a documentary/infomercial than an actual comedy.
"It's not easy convincing the taxpayers and the stadium committee to pay for something they see as the most expensive tourist trap on the planet," the city's female mayor warns Spencer during a round of golf at Bali Hai.
Is this an actual script or are the writers just stitching together Facebook comments?
Since he's played by Dwayne Johnson, Spencer has things covered. Dwayne Johnson's characters always do.
In addition to the monster truck stunt, Spencer is the smiling, public face of the endeavor. "Who else are you going to trust to push football in Vegas?" he asks. "Siegfried & Roy?"
And he's clearly done his homework "The metro in Vegas is over 2 million," he says in stating his case. "Over 40 million people visit per year spending over — listen to this — over $30 billion per year."
Does it sound like he's reading from a press release from the Las Vegas Convention and Visitors Authority? Absolutely.
This is not the stuff of great comedy. It's barely the stuff of interesting TV.
But if Johnson decides to delay that possible presidential bid, he could always use the office of the mayor of Las Vegas as a steppingstone.
He certainly seems to know enough about the city.
Contact Christopher Lawrence at clawrence@reviewjournal.com or 702-380-4567. Follow @life_onthecouch on Twitter.