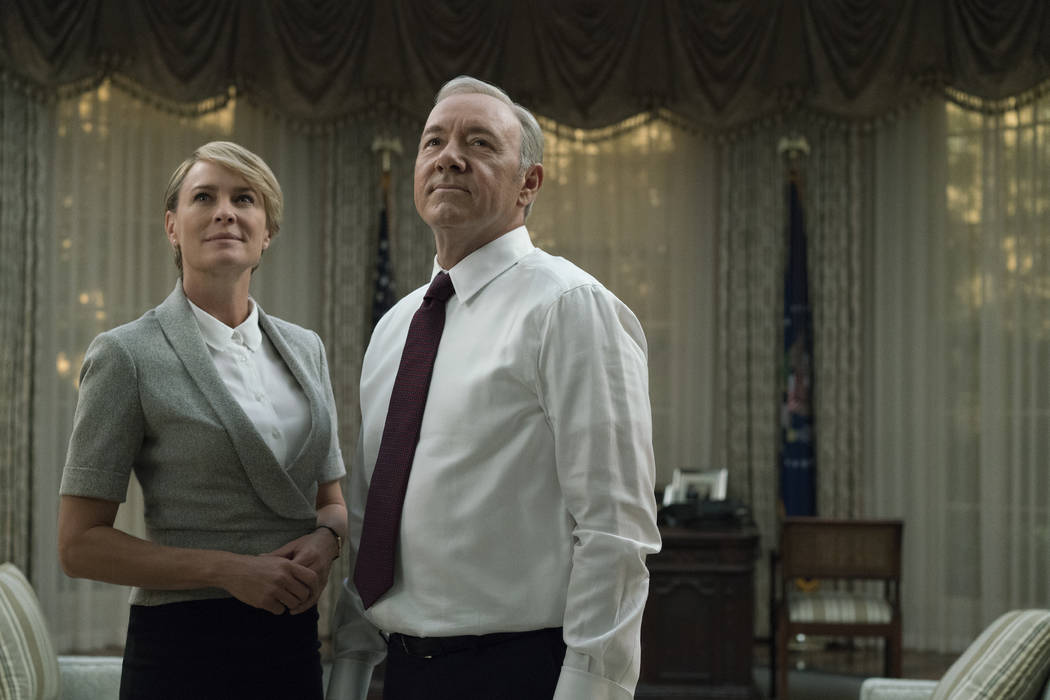 Yeah, it's miserable outside. But hang in there: Winter is coming.
At least on TV as "Game of Thrones" makes its summer debut.
In addition to the usual summer shows with Las Vegas ties — "Penn & Teller: Fool Us," "America's Got Talent," "American Ninja Warrior" and "Masters of Illusion" — NBC's "World of Dance" competition unites Planet Hollywood headliner Jennifer Lopez and Rancho High grad Ne-Yo as judges. And Gordon Ramsay, who's slowly taking over the Strip, adds his (approximately) 137th Fox series, "The F Word with Gordon Ramsay."
Here's a look at those and the rest of what television has to offer this summer as you hunker down and wait for the real winter to get here. And, as always, dates and times are subject to change.
The big ones
"Game of Thrones" (9 p.m. July 16, HBO) unveils a shortened seven-episode seventh season.
President Frank Underwood (Kevin Spacey) will try to upstage what's currently going on in the White House in "House of Cards" (Tuesday, Netflix).
Taking place over just three days, the new season of "Orange Is the New Black" (June 9, Netflix) picks up in the aftermath of last season's finale with the inmates in control of Litchfield.
The survivors will try to rebuild society on what was once the U.S.-Mexico border in "Fear the Walking Dead" (9 p.m. June 4, AMC).
And when Jesse Custer (Dominic Cooper) realizes God is missing from Heaven, he hits the road — along with his true love (Ruth Negga) and a 119-year-old Irish vampire (Joseph Gilgun) — to find him in the supernatural "Preacher" (10 p.m. June 25, AMC).
Shows to anticipate
Historical looks at Los Angeles are all the rage this summer. "I'm Dying Up Here" (10 p.m. June 4, Showtime) digs into the competitive world of its fabled 1970s stand-up comedy scene. A few years later, "Snowfall" (10 p.m. July 5, FX), from co-creator John Singleton, focuses on the origins of the city's crack epidemic in 1983. And, set in 1985, the comedy "GLOW" (June 23, Netflix) follows an out-of-work actress (Alison Brie) who makes it as a member of the Gorgeous Ladies of Wrestling.
It's going to be a big summer for Stephen King fans. An eerie haze rolls into Bridgeville, Maine, isolating the residents from the rest of the world, in "The Mist" (10 p.m. June 22, Spike). And a killer (Harry Treadaway) taunts a retired detective (Brendan Gleeson) into hunting him in "Mr. Mercedes" (8 p.m. Aug. 9, DirecTV), adapted by David E. Kelley.
Elsewhere, Marvel finally assembles Matt Murdock/Daredevil (Charlie Cox), Jessica Jones (Krysten Ritter), Luke Cage (Mike Colter) and even that bland Danny Rand/Iron Fist (Finn Jones) in "The Defenders" (Aug. 18, Netflix).
A Manhattan therapist (Naomi Watts) develops intimate relationships with the people in her patients' lives in the steamy "Gypsy" (June 30, Netflix).
With the influence of Hitler's Germany on the rise, Monroe Stahr (Matt Bomer) battles his boss (Kelsey Grammer) for control of their movie studio in "The Last Tycoon" (TBA, Amazon), based on F. Scott Fitzgerald's final work.
The weird blue superhero is back in the reboot of "The Tick" (Aug. 25, Amazon).
And a Nevada hitman (Chris O'Dowd) teams with a washed-up Hollywood producer (Ray Romano) in "Get Shorty" (10 p.m. Aug. 13, Epix).
Final seasons
Nine months after the nuclear explosion at the end of Season 3, most of the surviving humans are working for the Master and the rest of the strigoi on "The Strain" (10 p.m. July 16, FX).
Matt LeBlanc's (Matt LeBlanc) acting days seem to be behind him as the ridiculous game show he hosts becomes a smash hit on "Episodes" (10 p.m. Aug. 20, Showtime).
The Florida Keys' Rayburn family reaches the end of their downward spiral on "Bloodline" (Friday, Netflix).
The Clone Club is about to be disbanded as Sarah (Tatiana Maslany) and her sestras ready for their final showdown with Rachel (Maslany) on "Orphan Black" (10 p.m. June 10, BBC America).
Alvey (Frank Grillo) gets back into the cage, and Talia Shire joins the cast playing his mother, on the MMA drama "Kingdom" (8 p.m. Wednesday, DirecTV).
And Benedict Arnold (Owain Yeoman) seeks revenge on George Washington (Ian Kahn) on "Turn: Washington's Spies" (9 p.m. June 17, AMC).
New dramas
"Will" (9 p.m. July 10, TNT) showcases the reckless life of a young William Shakespeare, while "Still Star-Crossed" (10 p.m. Monday, ABC) follows the Montagues and Capulets in the aftermath of the deaths of Romeo and Juliet.
A psychic, a witch, an angel, a vampire and a werewolf walk into a bar — just kidding, they're some of the central characters in the drama "Midnight, Texas" (10 p.m. July 24, NBC), based on the series of books by Charlaine Harris ("True Blood").
A news producer (Paula Patton) somehow knows when, where and how her 8-year-old daughter will be murdered, she just doesn't know by whom, in "Somewhere Between" (10 p.m. July 24, ABC).
An asteroid is just six months from colliding with Earth in the drama "Salvation" (9 p.m. July 12, CBS).
A young mother (Jessica Biel) has no idea why she committed a shockingly violent act, but a detective (Bill Pullman) is determined to find out in "The Sinner" (10 p.m. Aug. 2, USA).
An L.A. cop is forced to take part in a cross-country death race in cars fueled by human blood in "Blood Drive" (10 p.m. June 14, Syfy).
The anthology series "Room 104" (11 p.m. July 28, HBO) focuses on the guests who pass in and out of a particular motel room.
Treasure hunters scour the planet for artifacts in the adventure series "Hooten & The Lady" (9 p.m. July 13, The CW).
And "The Bold Type" (9 p.m. July 11, Freeform) goes behind the pages of a fictional women's magazine.
New comedies
Kathy Bates stars as the owner of a California weed dispensary in "Disjointed" (Aug. 25, Netflix), from Chuck Lorre ("The Big Bang Theory," "Two and a Half Men").
Drugs, organized crime and French tips collide in "Claws" (9 p.m. June 11, TNT), set in a Florida nail salon.
Colin Jost and Michael Che prove they're ready for prime time as the hosts of "Saturday Night Live: Weekend Update" (9 p.m. Aug. 10, NBC).
Marlon Wayans stars in the family sitcom "Marlon" (9 p.m. Aug. 16, NBC).
And the Aussie comic enters the late-night fray with "The Jim Jefferies Show" (10:30 p.m. June 6, Comedy Central).
New unscripted shows
It's going to be a summer of nostalgia with new versions of "Love Connection" (8 p.m. Thursday, Fox), "The Gong Show" (10 p.m. June 22, ABC) and "Battle of the Network Stars" (9 p.m. June 29, ABC).
Popular apps serve as the basis for the game shows "Beat Shazam" (9 p.m. Thursday, Fox) and "Candy Crush" (9 p.m. July 9, CBS).
It will be a busy summer for Steve Harvey as he hosts "Little Big Shots: Forever Young" (8 p.m. June 21, NBC), which is just like "Little Big Shots" only with senior citizens, and "Steve Harvey's Funderdome" (9 p.m. June 11, ABC), in which entrepreneurs compete for the studio audience's affections as well as the money to finance their ideas.
"World of Dance" (10 p.m. Tuesday, NBC) will award $1 million to the winner of its all-styles competition.
Cooking demonstrations as well as adventures with celebrities and fans are the basis for "The F Word with Gordon Ramsay" (9 p.m. Wednesday, Fox).
And a new singing competition is determined to give the world exactly what it needs, another boy band, in the cleverly titled "Boy Band" (8 p.m. June 29, ABC).
Contact Christopher Lawrence at clawrence@reviewjournal.com or 702-380-4567. Follow @life_onthecouch on Twitter.
Other returning shows
"Whose Line is it Anyway?" (9 p.m. May 29, The CW)
"America's Got Talent" (8 p.m. May 30, NBC)
"Animal Kingdom" (9 p.m. May 30, TNT)
"The Carmichael Show" (9 p.m. May 31, NBC)
"MasterChef" (8 p.m. May 31, Fox)
"Nashville" (9 p.m. June 1, CMT)
"Flaked" (June 2, Netflix)
"Shadowhunters" (8 p.m. June 5, Freeform)
"Stitchers" (9 p.m. June 5, Freeform)
"Queen of the South" (10 p.m. June 8, USA)
"Dark Matter" (8 p.m. June 9, Syfy)
"Wynonna Earp" (10 p.m. June 9, Syfy)
"Celebrity Family Feud" (8 p.m. June 11, ABC)
"$100,000 Pyramid" (10 p.m. June 11, ABC)
"American Grit" (9 p.m. June 11, Fox)
"American Ninja Warrior" (8 p.m. June 12, NBC)
"So You Think You Can Dance?" (8 p.m. June 12, Fox)
"Superhuman" (9 p.m. June 12, Fox)
"Spartan: Ultimate Team Challenge" (10 p.m. June 12, NBC)
"To Tell the Truth" (10 p.m. June 14, ABC)
"Grantchester" (9 p.m. June 18, PBS)
"Queen Sugar" (10 p.m. June 20, OWN)
"Wrecked" (10 p.m. June 20, TBS)
"Hollywood Game Night" (8 p.m. June 22, NBC)
"The Wall" (9 p.m. June 22, NBC)
"The Night Shift" (10 p.m. June 22, NBC)
"Playing House" (11 p.m. June 23, USA)
"Power" (9 p.m. June 25, Starz)
"Big Brother" (8 p.m. June 28, CBS)
"Younger" (10 p.m. June 28, TV Land)
"Zoo" (10 p.m. June 29, CBS)
"Masters of Illusion" (8 p.m. June 30, The CW)
"Killjoys" (8 p.m. June 30, Syfy)
"Penn & Teller: Fool Us" (8 p.m. July 10, The CW)
"The Fosters" (8 p.m. July 11, Freeform)
"Suits" (9 p.m. July 12, USA)
"Shooter" (10 p.m. July 18, USA)
"Ballers" (10 p.m. July 23, HBO)
"Insecure" (10:30 p.m. July 23, HBO)
"Ray Donovan" (9 p.m. Aug. 6, Showtime)
"Difficult People" (Aug. 8, Hulu)
"Bachelor in Paradise" (8 p.m. Aug. 8, ABC)
"The Last Ship" (9 p.m. Aug. 20, TNT)
"Endeavour" (9 p.m. Aug. 20, PBS)