Hockey movies to help get you through the NHL's coronavirus shutdown
Updated March 16, 2020 - 11:26 am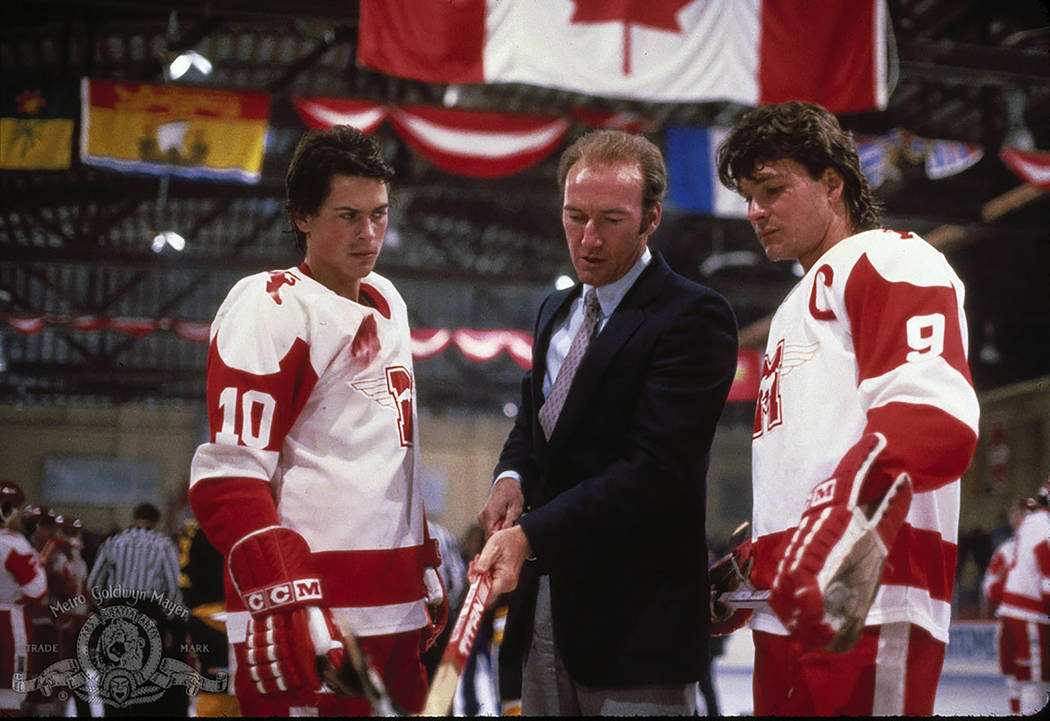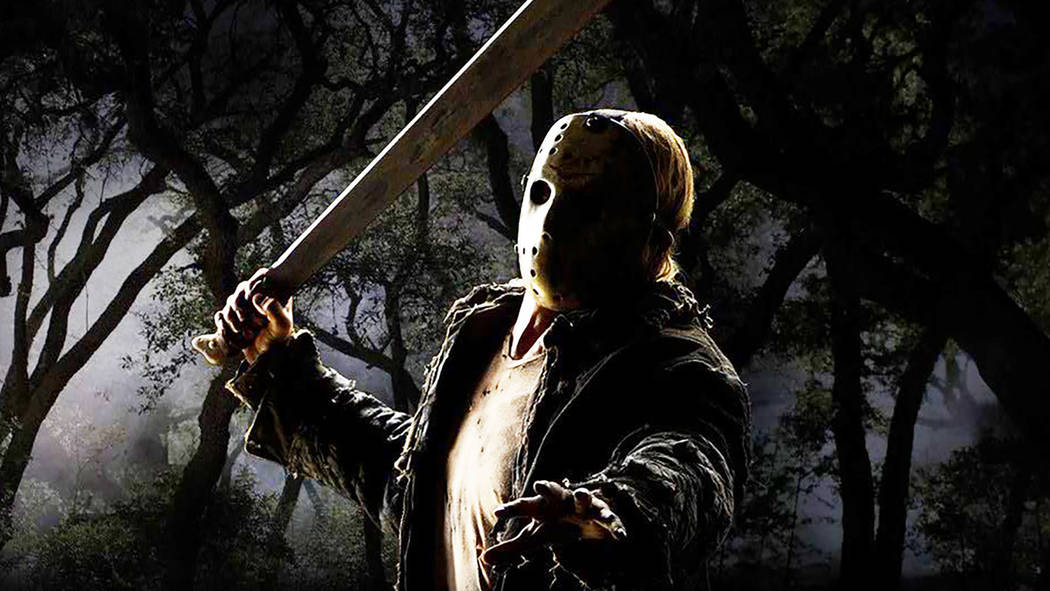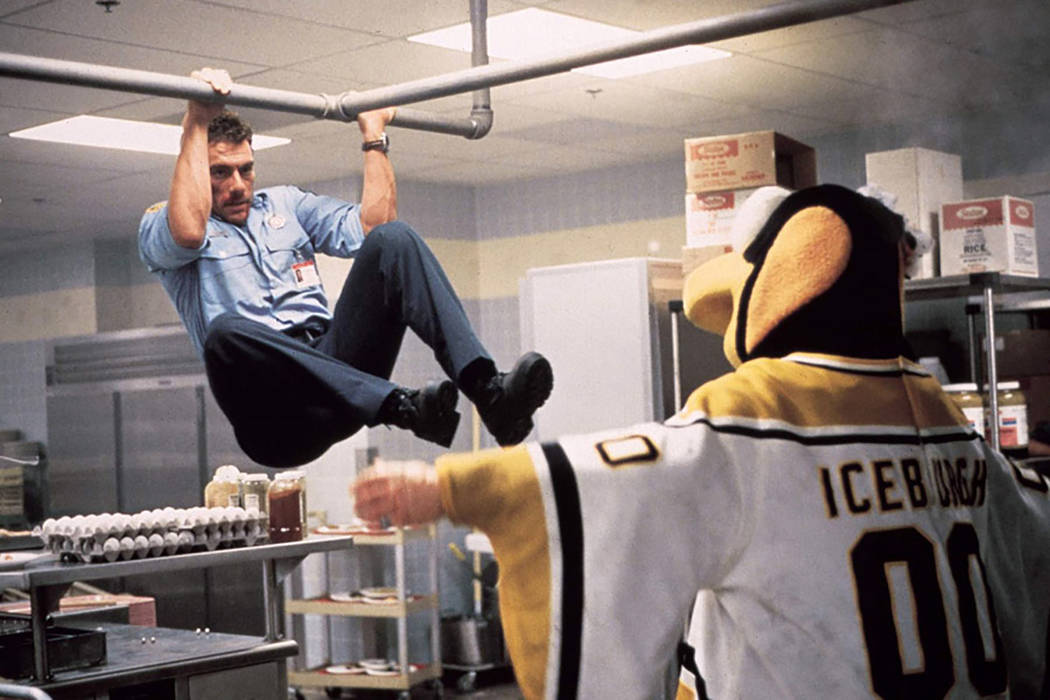 A version of this story appeared on June 7, 2018.
Anyone else missing hockey?
With the NHL season on hold in response to the coronavirus outbreak, it's going to be a while before we can hope to see the Golden Knights again.
But there's still hockey to watch — at least in movie form.
"Slap Shot," "Miracle" and "The Mighty Ducks" trilogy are the obvious choices. But after that?
Here's a look at some lesser-known movies to help ease your hockey withdrawals:
"Youngblood" (1986)
Exquisitely named teenager Dean Youngblood (Rob Lowe), who's blessed with fast legs but slow fists, moves from New York to Ontario so he can toughen up and earn a professional contract alongside teammates played by eventual "Point Break" co-stars Patrick Swayze and Keanu Reeves. The only thing worse than Reeves' French-Canadian accent may be the fight in which Youngblood and his thuggish rival spend a painfully long time fencing with their sticks before dropping gloves.
"Goon" (2011)
When a video of his fight in the stands with a rival player goes viral, a dim-bulb fan (Seann William Scott) gets a shot as the brutal enforcer for his hometown team in this comedy that could be considered the spiritual successor to "Slap Shot."
"Mystery, Alaska" (1999)
After a glowing article about the weekly hockey game in tiny Mystery appears in Sports Illustrated, the New York Rangers come to challenge the locals on the town's frozen pond — as National Hockey League teams are wont to do — in this dramedy starring Russell Crowe, Hank Azaria and Burt Reynolds.
"Sudden Death" (1995)
The vice president is held hostage in a luxury suite during Game 7 of the Stanley Cup Final, the old Pittsburgh Civic Arena is wired with explosives, and it's up to the fire marshal (Jean-Claude Van Damme) to save the day. First, though, he'll have to survive a three-minute brawl with a villain who's wearing the mascot suit — it's honestly one of the silliest onscreen fights you'll ever witness — and briefly tend goal for the Penguins, eight years before Marc-Andre Fleury would.
"The Deadliest Season" (1977)
Gerry Miller (Michael Moriarty) is sent down to the minors to develop a more aggressive style of play, then ends up facing manslaughter charges after a particularly violent hit, in this TV movie that's mostly notable as the first onscreen appearance by the newcomer playing Gerry's wife: Meryl Streep.
"Idol of the Crowds" (1937)
Maine chicken farmer Johnny Hanson (John Wayne) gets his shot playing with the New York Panthers and, for some reason, brings a 12-year-old orphan along to the big city. Johnny becomes a star and soon attracts the attention of gamblers, a gangster and a dame. But who cares about any of that? It's John Wayne on ice skates!
"MVP: Most Valuable Primate" (2000)
An escaped university research chimpanzee named Jack becomes the star player on a Canadian youth hockey team. Ridiculous? You betcha. But Jack still looks more comfortable on skates than the Duke.
"Breakaway," aka "Speedy Singhs" (2011)
Rajveer Singh (Vinay Virmani) longs to play for his hometown Toronto Maple Leafs, despite the objections of his traditional Sikh family. So he convinces a former NHL player ("Youngblood's" Rob Lowe) to coach his pickup team made up of other players of Indian descent. A couple of the requisite Bollywood-style dance numbers are thrown into the mix, although, oddly, not during the cameo/performance by Toronto's own Drake.
"Friday the 13th Part III" (1982)-"Friday the 13th" (2009)
Granted, they aren't exactly hockey movies. But, after not being seen in the first two installments, that old-fashioned goalie mask became Jason Voorhees' trademark. Plus, there's all that slashing.
Contact Christopher Lawrence at clawrence @reviewjournal.com or 702-380-4567. Follow @life_onthecouch on Twitter.