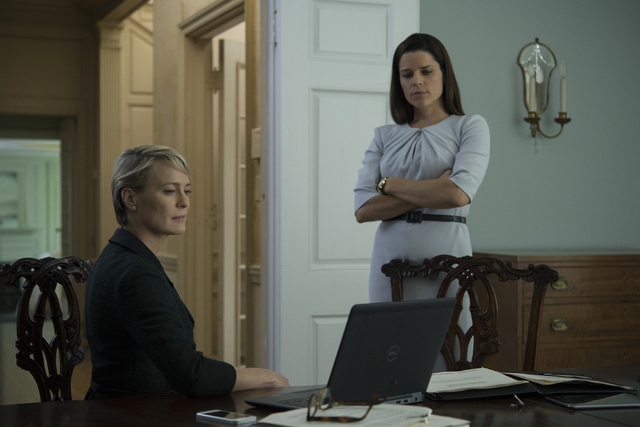 He has no moral compass, has ruined countless lives and has murdered at least two acquaintances with his own hands. Yet, were he campaigning in the real world, Frank Underwood still would be one of the more reasonable choices this primary season.
Such is the reality to which "House of Cards" (12:01 a.m. Friday, Netflix) returns.
You can almost hear President Underwood (Kevin Spacey) out on the campaign trail, trying in vain to get the media to care about his beloved jobs program, America Works, amid the shouting and caterwauling about sweating and spelling errors, high-heeled boots and tiny hands.
How would he compete for attention in an election cycle that's already seen one candidate tell anyone who would listen about that time he stabbed a guy? By bragging about having had an affair with a reporter before shoving her in front of a moving train? Or by boasting about killing a congressman and making it look like a suicide?
Even if Underwood sought headlines by revealing that he and the first lady, Claire (Robin Wright), once had a threeway with a Secret Service agent, some former reality-show host would just call him a loser before saying something weird about menstruation and confirming once again that, if said reality-show host's daughter weren't his daughter, "perhaps (he'd) be dating her."
When he was introduced three short years ago, Underwood was a shocking, Machiavellian monster. Today, he'd be an also-ran. Today, he'd be Jeb.
The last time we saw them, Underwood had just won the Iowa caucus, and Claire announced she was leaving him.
The latter development wasn't just a tease. As things pick up in season four, Claire has decided her husband has become a detriment to her ambitions and returns home to Texas, and her estranged mother (Ellen Burstyn), to plot her future. Those plans rely heavily on a savvy political strategist (Neve Campbell) and the whims of a veteran congresswoman (Cicely Tyson).
Meanwhile, Underwood's chief of staff, Doug Stamper (Michael Kelly), has returned from killing and burying Rachel (Rachel Brosnahan) in the New Mexico desert in order to help his boss undermine Claire.
One of the problems that's always plagued "House of Cards" is that Underwood never has had a worthy adversary for his chicanery. Claire is more than up to that challenge. But at what cost?
The series began with Underwood serving as the House Majority Whip. By the end of season one, he'd maneuvered his way into the vice presidency. A year later, he was in the Oval Office. Now, by playing the "War of the Rose Garden" card so soon, it's hard to envision an interesting scenario for season five.
To get there, though, Underwood will have to survive the challenge from Democratic rival Heather Dunbar (Elizabeth Marvel) and New York's popular Republican governor (Joel Kinnaman). He'll also have to overcome what the series paints as a horribly damaging racial scandal.
Kudos to Underwood both for recognizing the Ku Klux Klan and realizing he should distance himself from the organization. But the sad reality is, that sort of incident likely would only boost his poll numbers were he running in this election cycle.
It's just another unfortunate reminder that the real world has moved past this once-Mephistophelean president.
By comparison, Underwood is nearly as quaint and cuddly as Jed Bartlet pardoning a turkey on "The West Wing."
Contact Christopher Lawrence at clawrence@reviewjournal.com. On Twitter: @life_onthecouch.
Like Neon Las Vegas on Facebook: