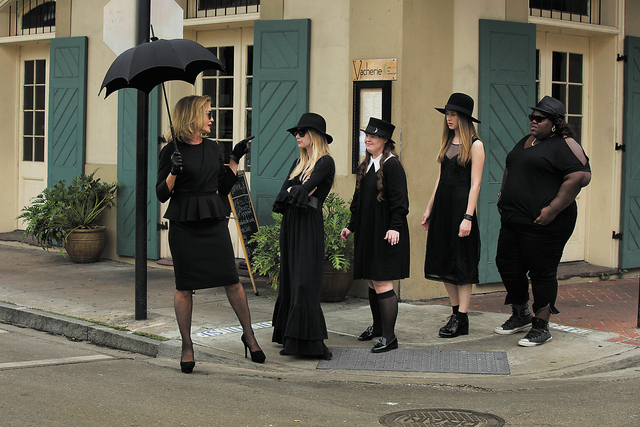 Television has long been a haven for witches.
Samantha Stephens. Sabrina Spellman. Willow Rosenberg. The Halliwell sisters. Kris Kardashian.
Admittedly that last one's still just a theory, but it's one of shockingly few explanations for her family's success.
Anyway, plenty of witchy women are about to join their ranks with dramas that are up to their eyes of newt in talented actresses.
First up, "Witches of East End" (10 p.m. Sunday, Lifetime) features Julia Ormond, Virginia Madsen and Reno's Madchen Amick in the story of a family of small-town witches, some of whom have no idea they're witches.
But the real anticipation, the sort of thing that should get your shiver senses tingling, is reserved for "American Horror Story: Coven" (10 p.m. Wednesday, FX).
For its third installment, the anthology series that so far has featured demonic possessions, alien abductions and a rapey ghost in a gimp suit settles into a New Orleans school for witches.
"AHS" repertory players Jessica Lange, Sarah Paulson, Taissa Farmiga, Frances Conroy and Lily Rabe are joined in "Coven" by Kathy Bates, Angela Bassett, Gabourey Sidibe, Emma Roberts and Patti LuPone.
It's the best cast yet for what is hands down the creepiest show on TV. And that's saying something for a medium that also includes the likes of "Dance Moms" and "Extreme Cougar Wives."
Sign of the times: Given the state of reality TV, it feels like it was only a matter of time. The only real question was whether it would end up on E! or Bravo. But thanks, as it were, to "The People's Couch" (11:30 p.m. Sunday, Bravo), you can spend a half-hour watching people watching TV. Not celebrities, not comedians, just random people watching TV. Yes, really.
Sshhh!: "Criss Angel BeLIEve," not to be confused with the magician's similarly titled if not similarly capitalized show at Luxor, doesn't debut until Oct. 15. But the series, in which Angel gives a "behind the curtain" look at new illusions, is offering fans a sneak peek episode at 11 p.m. Tuesday on Spike.
Tats entertainment: Speaking of Spike, Las Vegan Joey "Hollywood" Hamilton, who works out of Club Tattoo in the Miracle Mile Shops at Planet Hollywood Resort, is one of three artists competing for $100,000 in the finale of the channel's "Ink Master" (9 p.m. Tuesday).
Back for more: If a series never really goes away can it really have seasons? While talking with the "Pawn Stars" gang over the years, even they've admitted to having no idea what season their show was on. Now, History seems to have given up on counting them altogether. Whatever the season, a new batch of "Pawn Stars" episodes debuts at 9 p.m. Thursday on History.
Stay classy: Tchaikovsky's "Eugene Onegin," a co-production of the Metropolitan Opera and English National Opera, will be shown at 6:30 p.m. Wednesday at the Cannery, Colonnade, Orleans, Sam's Town, Santa Fe, South Point and Village Square. Come back at 7:30 p.m. Thursday to any of those theaters except the Cannery for "Vermeer and Music: The Art of Love and Leisure," a celebration of Dutch artist Johannes Vermeer based on an exhibit at the National Gallery, London.
Contact Christopher Lawrence at clawrence@reviewjournal.com or 702-380-4567.