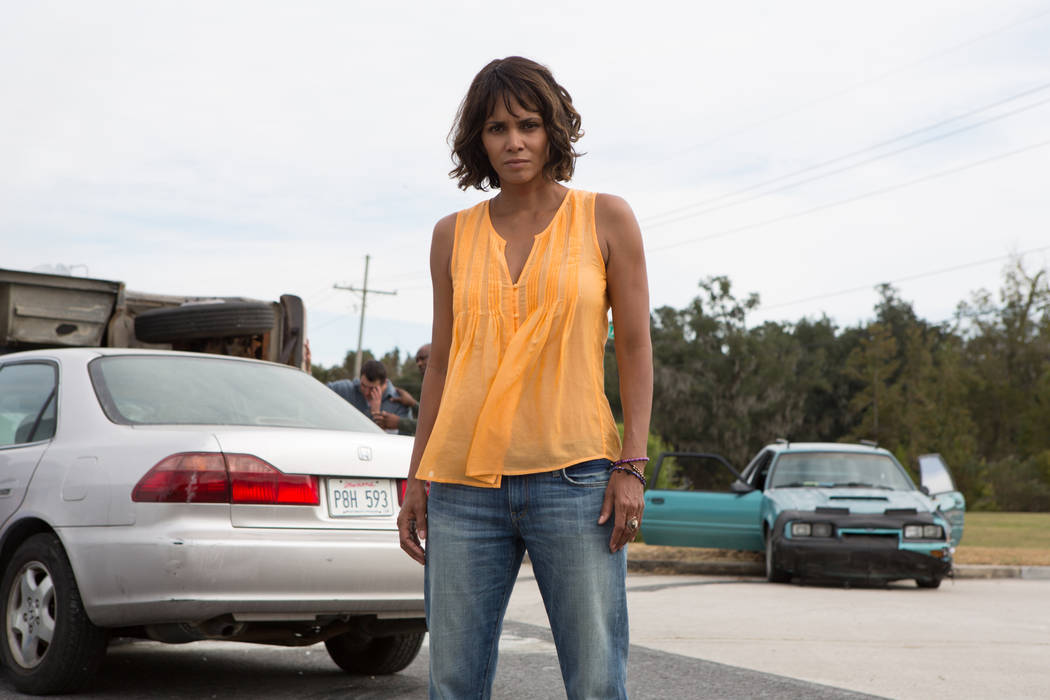 The best thing about "Kidnap," aside from its almost preposterously brief 82-minute running time? The car that the kidnappers use is an unmistakable Mustang hatchback beater that they've hilariously, misguidedly equipped with a front-end bra.
You couldn't find a less discreet way of human trafficking without involving the Goodyear Blimp.
I mean, Halle Berry's good, too. Way too good for "Kidnap," which is little more than typical Lifetime fare with a modestly higher budget. But, hey, she produced it. She knew what she was getting herself into.
Karla Dyson (Berry) is a harried diner waitress and devoted mother to her 6-year-old son, Frankie (Sage Correa). When she returns after briefly leaving him unattended at a fair to take a call from her divorce attorney, Frankie's nowhere to be seen.
While frantically searching the park, Karla sees him being dragged into that car that would only blend in at a junkyard, hops into her minivan and gives chase. The next 45 minutes or so is just a whole lot of Halle Berry screaming, praying, talking to herself and causing no telling how many wrecks in the wake of her pursuit.
Karla temporarily backs off whenever the kidnappers — Generic Female Meth Head (Chris McGinn) and Generic Male Meth Head (Lew Temple) — visibly threaten Frankie. The fact that Generic Female Meth Head, a snarling brute of a woman, wears a "Love Taker" T-shirt is the most threatening act of all. Heck, it's the stuff of nightmares.
Unlike the "Taken" movies, Karla has no particular set of skills. So when she briefly loses them, she stops to ask a soda jerk if he's seen a man and a little boy. First, who hasn't seen a man and a little boy? Second, a soda jerk?! "Kidnap" has spent the past several years growing moldy on a shelf, but it was filmed in 2014, not 1964.
A lot can be done with the premise of a character alone in a car. Tom Hardy was fantastic in 2014's "Locke" as he drove a BMW from Birmingham to London, while his life fell apart through a series of phone calls, just to be there in time for the woman with whom he had a one-night stand to deliver their baby.
But "Locke" was written and directed by "Peaky Blinders" creator Steven Knight, who was nominated for an Oscar for writing 2003's "Dirty Pretty Things." "Kidnap," meanwhile, hails from writer Knate Lee, an associate producer on "Jackass 3D," and director Luis Prieto, who's helmed two episodes of Syfy's "Z Nation" and one of CBS' "Code Black."
To their credit, the filmmakers milk "Kidnap's" wafer-thin premise for all it's worth — and then some.
Roughly five of those 82 minutes are devoted to home movie-style footage representing Frankie's youth. Several more minutes play up his love for hiding and playing Marco Polo, which feels like a lazy attempt to set up a plot point later in the movie. In reality, it's even lazier, because there's no payoff.
My drive to and from the theater came within 10 minutes of "Kidnap's" running time and delivered nearly as much suspense.
"Kidnap" hits theaters less than two weeks after Charlize Theron used a Comic-Con tribute to speak out about action movies that require a female character to lose a family member in order to take action. "So we need a reason to become a warrior," she said of Hollywood's thinking. "And I have a problem with that, because we really are warriors, and it's time for us to be shown that way."
Berry's Karla isn't much of a warrior, but she's certainly a mama grizzly.
As lackluster as "Kidnap" is — the whole thing feels less like a theatrical feature film than some elaborate tax write-off — at least the distributor showed it to local critics, unlike Sony's high-profile "The Dark Tower."
So draw your own conclusions about that Stephen King adaptation.
But if it's as cheap-looking and generic as "Kidnap," it's going to be a miserable weekend at the multiplex.
Contact Christopher Lawrence at clawrence@reviewjournal.com or 702-380-4567. Follow @life_onthecouch on Twitter.