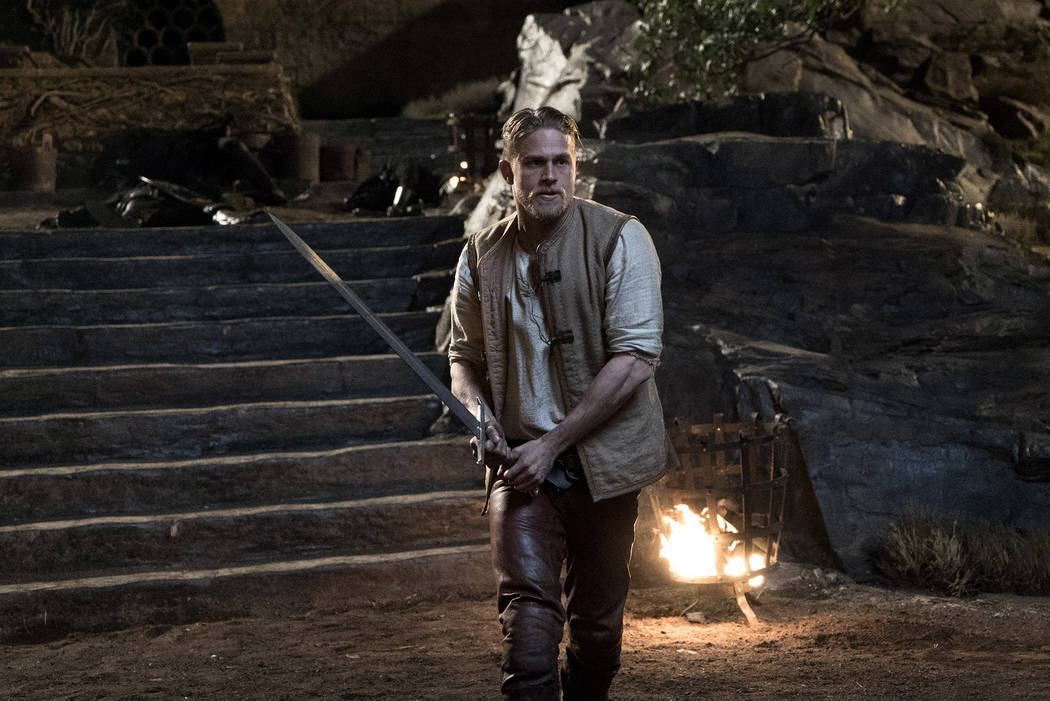 Where would writer-director Guy Ritchie be without the public domain?
His career got off to a rollicking start with 1998's "Lock, Stock and Two Smoking Barrels" and 2000's "Snatch." But his work took a nosedive thereafter, roughly coinciding with his 2000-08 marriage to Madonna, until he emerged in 2009 with "Sherlock Holmes" and its follow-up, 2011's "Sherlock Holmes: Game of Shadows."
Now, he's back with "King Arthur: Legend of the Sword," based on another public domain character. Much like with the "Sherlock Holmes" movies, Ritchie makes decidedly aggressive alterations to the story as we've come to know it.
King Uther Pendragon (Eric Bana) survives an attack by elephants the size of mountains led by the evil wizard Mordred (Rob Knighton) only to be murdered by his brother, Vortigern (Jude Law, "Sherlock Holmes' " Watson.) But before Vortigern can end the bloodline, a young Arthur is sent off in a small skiff, Moses-style, and raised in a brothel/fight club in Londinium.
Arthur (Charlie Hunnam, "Sons of Anarchy") emerges from almost daily beatings as a street tough in charge of a small criminal syndicate that includes the brothel. He has no idea who his parents were until, like every man his age, he's rounded up, put on a barge and sent to Camelot to try to remove Excalibur from the stone.
Once he does, the power of the sword knocks him unconscious, and King Vortigern condemns him to a public beheading to preserve his reign. Then Arthur is saved by a mage (Astrid Berges-Frisbey) and introduced to a rebel alliance made up of Uther's advisers Bedivere (Djimon Hounsou) and "Goose-Fat" Bill (Aidan Gillen). No Lancelots here, the movement grows to include Arthur's allies Wet Stick (Kingsley Ben-Adir), Back Lack (Neil Maskell) and Kung Fu George (Tom Wu), one of the most Ritchian inventions in a movie full of them.
Co-written by Ritchie, his screenwriting partner Lionel Wigram and Joby Harold (the upcoming "Robin Hood" revival), "Legend of the Sword" may be the most entertaining Arthurian movie since "Monty Python and the Holy Grail" — not that they're in any way similar. But it's cheeky and full of Ritchie's sense of fast-talking humor.
As Arthur, Hunnam provides the perfect amount of attitude and swaggering charisma as he grows into the man who would be king. It's the best evidence yet that he may have what it takes to be a leading man on the big screen.
For all its dirt and grit, though, "Legend of the Sword" is a stylish affair. Not only is it blessed with some visually impressive fight scenes, its wardrobe choices are inspired. Arthur dresses like a combination of Rusty Griswold after his Italian makeover in "European Vacation" and Bane, with that sweet pimp coat, from "The Dark Knight Rises." Vortigern, meanwhile, often looks as though he's been dressed by Sir John of Varvatos.
From the time it was announced, "Legend of the Sword" sounded like a dud, much like Ritchie's 2015 reimagining of "The Man From U.N.C.L.E." Both, though, turned out to be surprisingly engaging.
Ritchie is attached to direct Disney's live-action remake of "Aladdin," starring yet another public domain character.
After the success he's had dealing with them over the past few years, it's enough to make you wonder what he could do with other overused characters such as Ebenezer Scrooge or Zorro.
Contact Christopher Lawrence at clawrence@reviewjournal.com or 702-380-4567. Follow @life_onthecouch on Twitter.