Las Vegas artist passionate about 'Skin Wars'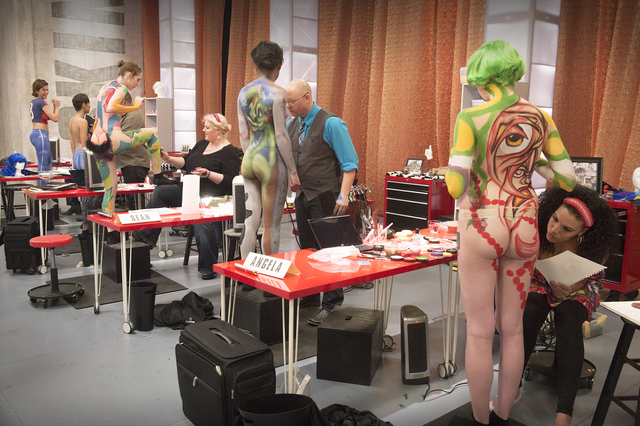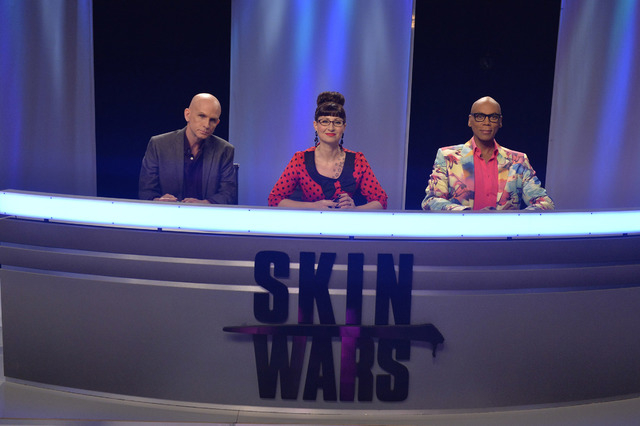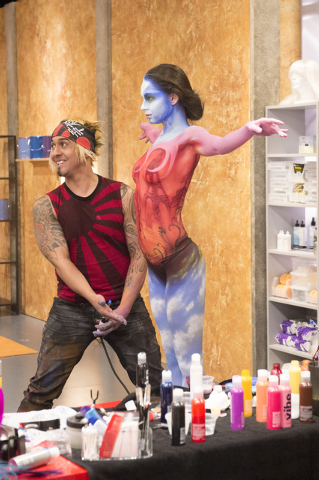 Each week on "Skin Wars" (9 p.m. Wednesday, GSN), one contestant will see all of his hard work go down the drain.
Literally.
At the end of every episode of the body-painting competition, the eliminated artist's living canvas steps into a shower near the judges' table and rinses off the results of hours and hours of painstaking effort.
That ephemeral nature of the medium is part of what attracted Las Vegan Robin Slonina — who helped create "Skin Wars," produces it and serves as a judge — to body painting in the first place.
"It's so vibrant to me as an art form because it's temporary," she says. "And you have to seize and embrace the experience while it's right there in front of you, because tomorrow it will be gone."
In 2005, Slonina moved to the valley from Chicago, where she earned an art degree from the School of the Art Institute. Her first local job was painting murals at the Cashman Field concession stands. She'd only had "a bit" of experience body painting and had never used an airbrush when, while displaying some of her work in the Arts District, she was approached for a body-painting gig.
"Like all good freelance starving artists, I said, 'Of course I can do that!' And then I ran home and jumped online and figured out how to do this."
Slonina opened Skin City Body Painting, located at 1800 Industrial Road, the following year.
Various production companies have contacted her about a workplace-style reality show set in her studio. "While that idea is compelling, and it may still happen," she says, "I was even more excited about bringing the art of body paint to a wider audience and letting body-paint artists from all over the country shine."
One of those 10 artists who'll be competing for the "Skin Wars" $100,000 prize is Las Vegan Gear Boxxx, a former street graffiti artist.
"I had known of Gear, and had respected his work from afar," Slonina says. But while she's "been dying to hire him," she resisted the urge so that he could compete on "Skin Wars" without any hint of favoritism.
Slonina is joined on the judge's panel by body paint legend Craig Tracy — "He's considered the best of the best," she says — and, for extra fabulousness, RuPaul, who's pretty famous for his own transformations. The series is hosted by Rebecca Romijn who, in addition to having been painted for her role as Mystique in the original "X-Men" movies, was the first supermodel to be covered in paint for the Sports Illustrated swimsuit issue.
As for the competition itself, the format should be familiar to anyone who's seen the likes of "Top Chef," "Project Runway," "Face Off" or any of the tattoo competition shows. "Skin Wars" feels right at home on cable. It just feels a bit out of place on GSN, formerly the Game Show Network, which counts among its few original series "American Bible Challenge" and "It Takes a Church," a dating show that enlists contestants' congregations to help them find a mate.
But Slonina insists the series wasn't toned down for its conservative home. In fact, despite its nude models and those episode-ending showers, "Skin Wars" was designed to de-emphasize the inherent sexiness of body painting.
"I think at times, it's looked at as a very sexual or scandalous type of art," she says. "And I really hope that this show is going to open the eyes of the world to see that it's a true art form."
For any locals 21 and older who want to have their eyes opened a few hours early, Slonina is hosting a premiere party from 7 p.m. to midnight Wednesday at Inspire Theater, 501 Fremont St. She promises "a huge, blowout bash" with live demonstrations "and, of course, lots and lots of body-painted models."
Slonina hopes it's the first of many such parties. She's so excited, she's already looking forward to season 13 of "Skin Wars."
"This has been a passion project of mine for over five years now," she says.
"It was worth the wait, because I'm so proud of the show and so honored to be a part of it."
Magic men: A whole gaggle of local magicians, including Mac King, Nathan Burton, Rick Thomas, Jan Rouven, Jeff McBride, Chipper Lowell, Murray and Shimshi will be featured on the new series "Masters of Illusion" (8 p.m. Friday, KVCW-TV, Channel 33).
Looking for love: Fresh off "The Bachelorette," Las Vegan Marquel Martin continues his quest on "Bachelor in Paradise" (8 p.m. Monday, KTNV-TV, Channel 13).
Special screenings: The Seventh Annual Las Vegas Film Festival runs through Sunday. See www.lvff.com for details.
Contact Christopher Lawrence at clawrence@reviewjournal.com or 702-380-4567.