Las Vegas pickpocket steals the show in 'Focus'
February 23, 2015 - 4:27 pm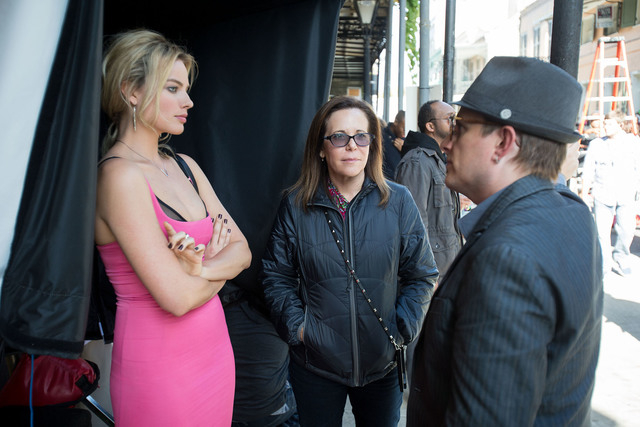 T heatrical pickpocket.
It sounds like someone who'd be lurking in the background of one of those Joel Schumacher "Batman" movies. You know, next to the artistic muggers and the flamboyant burglars.
But Las Vegan Apollo Robbins has carved out a niche in the magic world thanks to his almost supernatural ability to take something off or place something on practically anyone. He estimates he's picked more than 250,000 pockets — "FBI, U.S. Marshals, I've stolen from everybody pretty much I can think of," he says — in the name of entertainment. And those skills, as well as his knack for social engineering and applied deception, not to mention his near encyclopedic knowledge of cons, will be on display starting Friday in the new Will Smith movie, "Focus."
"Overall, we created maybe 40 bits, I'd say, for all the actors throughout the film," Robbins says on the phone from England while promoting the movie.
"We" includes his wife and partner in crime, fellow deceptionist Ava Do. Robbins, 40, credits her interest and eventual degree in psychobiology with expanding his horizons beyond traditional pickpocketing, something he picked up while growing up in Missouri with two half-brothers who weren't shy about stealing.
"I started studying magic," he recalls, "and I tried to mix the magic in with what I saw them do." After moving to Las Vegas 18 years ago, Robbins honed his skills at Caesars Magical Empire until it closed in 2002.
The full range of his talents can be seen in "Focus," in which Smith stars as an expert con man who falls for his protege, played by Margot Robbie ("The Wolf of Wall Street").
"Focus" is written and directed by the "Crazy, Stupid, Love" team of Glenn Ficarra and John Requa, and from what Robbins has heard, that movie's co-star, Ryan Gosling, was initially in talks to play the lead. Although Robbins doesn't think they've ever met, he says Gosling recommended him to the duo.
"From what I understand, he mentioned the idea of besides just a thief, what if he was a little bit more cerebral and was kind of like a psychological thief that was interested in neuroscience and these other things."
Once Robbins signed on and Smith joined the cast, they spent about two weeks together in Las Vegas, including a trip to the Def Con hacker convention.
"He was more interested in psychology," Robbins says, so he sat the actor down with his friend Roderick William Dee, aka Rod the Hop, who was No. 34 on the Gaming Control Board's Excluded Person List until his death in 2013. Some of Dee's friends pitched in as well.
"Will defaults to being a super nice guy, that's who he really is. And he really feels compelled to make people happy," Robbins says. "And I needed him to understand and be able to feel comfortable with making people squirm and feel uncomfortable. And so I put him in situations where he needed to try to do that, and to not let them off the hook, and use their misery kind of like handles like a con man would."
His work with Robbie was more hands on, as he taught the Australian actress to swipe watches, wallets, camera lenses and other valuables as part of one of the movie's signature scenes. By the end of their work together, Robbie was able to execute the moves on location in New Orleans' French Quarter without any Hollywood fakery.
"It's incredible that she pulled that off," Robbins says. "In that environment, where she also hadn't practiced having 700 people walking through in that tight space, too. And they were telling her, 'OK, you have to do this left-handed now, 'cause we need the shot from another angle.' And she was doing it, which is pretty incredible. … The stuff that's in there is really hard, I can attest to that."
Robbins and Do also recruited and trained the extras in that scene, and if you look closely, you can spot them trailing Robbie. "We're moving behind her catching the wallets and watches and pulling them away from her."
As a reference point, if it looks or sounds cool or shady and it takes place in the first half of the movie before the action moves to Argentina, odds are Robbins was involved with it. He's listed early in the closing credits as "con artist adviser/pickpocket design."
It's the latest unexpected twist in a career that's also included consulting on the TV shows "Leverage" and "Brain Games," giving a celebrated TED Talk and being published in the journal "Frontiers in Human Neuroscience."
Up until a lengthy profile ran in The New Yorker in 2013, he was in line to be an adjunct professor at Yale as part of the U.S. Special Operations Command's Center for Operational Neuroscience. It never opened because of what Robbins calls some miscommunication. "They basically had rioting and picketing, saying we're going to bring Guantanamo to Yale."
In reality, the program was designed to teach subjects such as critical thinking and overcoming cultural biases, "all these things," he says, "that they would have been very happy that our U.S. soldiers were interested in learning."
Instead, Robbins says, "it really just went down in flames as we quietly watched."
The Yale post would have been yet another job that kept Robbins away from home. His main source of income is keynote speaking, and in 2008, after the economy cratered, he started having to travel to those companies that once came to him. Robbins now spends "a solid 50 percent" of the year on the road.
But that could change soon.
He's turned down previous offers to launch a show on the Strip because he has reservations about seeing his face plastered on billboards and taxis. In lieu of that, Robbins says he's working with Base Entertainment to create an "experience-based" show, such as the environmental "Sleep No More" in New York.
"That got me excited, because I don't want it to be about me standing up on a stage with my billboard and my smile or whatever going around," he says. "I want to see, could I create an experience that would affect the audience, give them a story to tell for the rest of their life. I don't want them to sit as a voyeur just watching something happen."
For now, the main obstacle is finding the time in his schedule. In addition to his speaking and consulting gigs, he's spent the past several weeks traveling to promote "Focus."
So for now, the only way for fans to see him perform, unless they happen to be at one of his corporate engagements, is on YouTube.
"Which makes them want to hunt you down, which is kind of a cool thing," Robbins admits. "At the same time, I like the seduction of that. I like the nonchalance of leaving them wanting more."
Contact Christopher Lawrence at clawrence@reviewjournal.com or 702-380-4567.