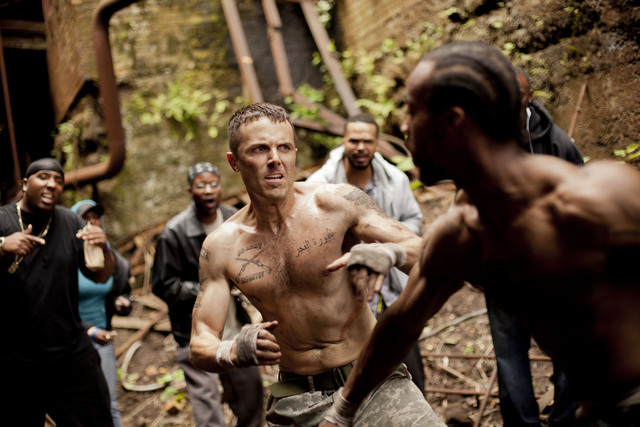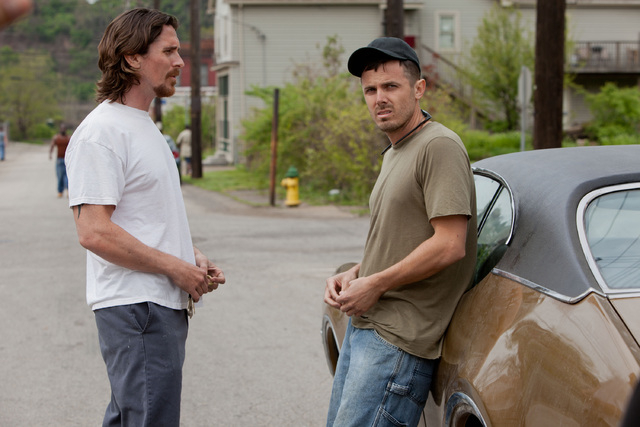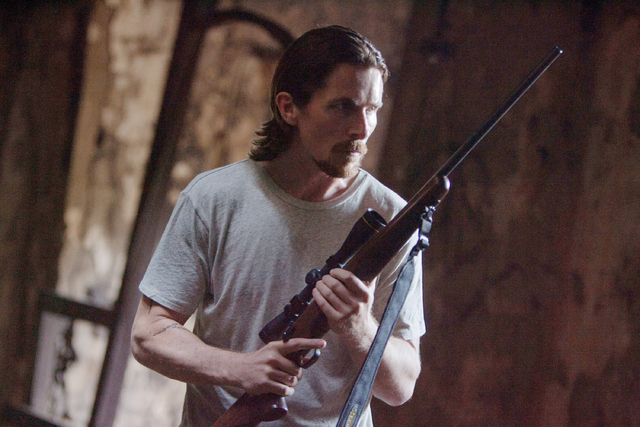 Shortly after announcing to the world that they're expecting a baby, a couple of teens are sent to kill each other, as well as a beloved 80-year-old woman and other national heroes, all to distract and entertain the oppressed, disenfranchised masses.
Yet, somehow, "The Hunger Games: Catching Fire" isn't Woody Harrelson's bleakest movie this holiday season.
And I'm not talking about that animated turkey "Free Birds," either.
"Out of the Furnace" is the fabulously downbeat tale of steelworker Russell Baze (Christian Bale), his damaged younger brother, Rodney (Casey Affleck), and Harlan DeGroat (Harrelson), the loony-from-the-boonies who comes between them.
The crumbling, Rust Belt hamlet of Braddock, Pa., makes "Justified's" Harlan County look like South Beach. Opportunities are as rare as sunny days. So although Russell stayed behind to work in the mill that ultimately killed their father, Rodney escaped to the Army.
After four tours in Iraq, he returns to Braddock, mentally broken from the horrors of war but physically sound. So physically sound that he tries to eke out a living in brutal, bare-knuckle fights run by bookie John Petty (Willem Dafoe).
Petty begs Rodney to get a job in the steel mill and be more like his brother. But Rodney's cocky, stubborn and just foolish enough to get himself into serious trouble — which he does after pleading with Petty to score him one last, big fight run by DeGroat in the hills of New Jersey.
Rodney never returns, and Braddock's sheriff (Forest Whitaker), who moved in on Russell's girlfriend (Zoe Saldana) while he was serving time for a violent DUI, runs into jurisdictional issues with the investigation.
DeGroat is such a sociopath, and he's surrounded by so many of his fellow hill people who look like they've come straight from a "Deliverance" cosplay convention, even the New Jersey cops won't go near him without a SWAT team.
So Russell, an experienced hunter, takes matters into his own hands.
"Furnace's" plot is almost stunningly straightforward. Rodney won't be dissuaded from making horrible decisions, Russell won't be thwarted from finding answers and DeGroat won't be anything less than 10 pounds of crazy in a 5 pound sack.
There are no twists, no turns. There's literally nothing fancy about it. Director Scott Cooper ("Crazy Heart"), who scripted "Furnace" with Brad Ingelsby, just trusts his talented cast to burrow deep into their roles.
Harrelson gets the flashiest part, as DeGroat has "(Expletive) You" tattooed on the underside of his fists, a thing for turquoise jewelry and manages to ruin hot dogs in much the same way Matthew McConaughey forever tainted chicken legs thanks to that scene from "Killer Joe."
Shortly before DeGroat roughs up his date in "Furnace's" opening moments, she warily declares, "You makin' me uncomfortable." She's not alone.
As DeGroat says when Russell asks, during their first icy encounter, if he has a problem with him: "I gotta problem with everbody."
Bale and Affleck don't get anything that showy. They simply convey all the love and despair in the world with glances and body language. The Brothers Grim seem cursed by birth, and Bale and Affleck wear their fates with haunted resignation.
They're not alone in their gloom. When Russell asks his uncle Red (Sam Shepard) how he's doing, Red isn't "good." He isn't "fine." All he can muster is that he's still breathing. In "Furnace" parlance, he's "still this side of the grass."
The only person more miserable would have to be "Furnace's" sound mixer. With Harrelson doing his best Sling Blade impression, Bale's famously raw whisper, Affleck's raspy honk and Whitaker's gruff, croaky death rattle, you'll spend the first few minutes each actor is onscreen wishing you could hand them a lozenge.
You'll also spend the first few minutes after the end of "Out of the Furnace," which feels like half of its 116-minute running time, wondering if that's really all there is.
Refreshingly, in a lean, mean, no-frills, no-artifice way, it is.
Contact Christopher Lawrence at clawrence@reviewjournal.com or 702-380-4567.
Review
"Out of the Furnace"
116 minutes
R; strong violence, language and drug content
Grade: B
At multiple locations