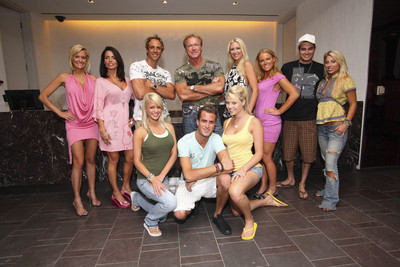 You get the feeling that it's only a matter of time before the Palms becomes thE! Palms.
Sure, the resort has played host to shows from other cable channels — after all, MTV's "The Real World" introduced the hotel to most of America — but over the past year or two, roughly a gajillion series, most of them on E!, have filmed there.
And with the arrival of the second season of "Sunset Tan" (10:30 p.m. today, E!) — 30 percent of which will take place at the Palms — the hotel essentially has become a TV backlot worthy of its own (sadly still fictitious) tour.
"On your right is the Hart and Huntington Tattoo Company from 'Inked.' We're walking. We're walking. Here's The Pearl, where Britney hit rock bottom and Kid Rock clocked Tommy Lee during the VMAs. That's one of the blackjack tables Jenny McCarthy rolled around and burped on during 'Party @ the Palms.' Before we get to the Hugh Hefner Sky Villa and Playboy Club from 'The Girls Next Door,' several places where the Kardashian girls looked puzzled during 'Keeping up with the Kardashians,' the recording studio from 'Living Lohan' and the suite from 'The Real World,' I should mention an additional tour of all the nooks and crannies where the 'Real World'-ers hooked up. But it's an extra 99 bucks, rubber gloves not included, and it takes a day and a half."
For its part, LA Sunset Tan, on the sixth floor of Palms Place, already is attracting curious onlookers.
"There's so many people that walk in, they like tiptoe in, and they freak out when they see me," says "Sunset Tan" cast member Janelle Perry, whose efforts to open the Vegas location are a major part of season two. "They're like, 'Oh my God, you actually work here!'
"It's a real job. We're all real employees. We're not actors," Perry continues. "You know, a lot of reality TV lately, a lot of it's fake. We're real employees with real drama."
That's true, to an extent, but large portions of "Sunset Tan" feel so manipulated, they make "The Hills" look like a Ken Burns documentary. Especially when it comes to the too-stupid-to-live Olly Girls. (Although I'm convinced the two really are classically trained actresses in the middle of an elaborate, Andy Kaufman-style piece of performance art.)
Despite being fired last season, the duo are back in tonight's premiere in a series of ever more ridiculous, obviously staged jobs that ends with one of them — I still can't tell them apart and don't really care to — dressed as a banana and the other as a hot dog to promote the grand opening of what must be the worst ever idea for a fusion restaurant.
While Perry stresses that nothing on the show is scripted, she admits that half of the show comes from producers introducing situations — perhaps the customer in tonight's episode who wants to be spray-tanned to match his prosthetic leg — to see how cast members react.
"Fifty percent of it they produce for us. They set up the scene," she says. "But it's whatever we do in the scene is what makes the reality of it."
One of the things producers have in store for season two is a greater emphasis on the employees' outside lives, which means, oddly, little time in the sparkling new salon, but plenty of scenes showing off the Palms' other assets.
It's probably just as well, as there's no way the smallish space, filled with beds that resemble Doc Brown's De Lorean, could contain all of the show's orange-hued madness. (Seriously, is it my TV or are most of the show's "tans" colors that don't exist in nature?)
"There is so much more drama on season two than season one," Perry says. "I couldn't believe season one when I saw it. I was, like, 'Whoa. We're a bunch of crazies!' I'm like, 'I thought we were just a bunch of cool L.A. chicks running tanning salons.' You know, absolutely not. We're a bunch of loonies!"
Christopher Lawrence's Life on the Couch column appears on Sundays. E-mail him at clawrence@reviewjournal.com.