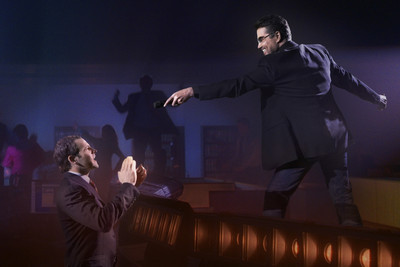 You could hand David Lynch a video camera, 120 minutes of tape and a bag of peyote. Have him follow Andy Dick and Gary Busey as they run amok through Burning Man. Even throw in scenes of James Earl Jones reading from "The Vagina Monologues."
It still wouldn't be as weird as ABC's new Thursday block of "Lost" (9 p.m. KTNV-TV, Channel 13) and "Eli Stone" (10 p.m.). It's the head-scratchingest, "what the (expletive)?"-iest two hours on TV.
When last we saw the island, eight loooong months ago, Jack (Matthew Fox) made contact with the outside world; a good-sized chunk of the Others were blown into, well, good-sized chunks; and Charlie (Dominic Monaghan) gave his life to save Claire and the baby. (Really, Charlie, Claire and the baby? Who cares about Claire and the baby?)
But most all that was forgotten once a suicidal Jack, strung out on Oxycodone, uttered those five little words: "We have to go back!"
Jack's whole story in the season finale was a flash-forward? He and Kate (Evangeline Lilly) — and no telling who else — made it off the island? And now at least one of them is going to find a way back? What in the name of invisible Jacob is going on here?
If you need a "Lost" refresher, the first three seasons can be streamed for free at ABC.com. Or, there's the recap special, "Lost: Past, Present & Future" (8 p.m. Thursday).
But only more new episodes will help you with the big mysteries unleashed way back in May. Who's really on the freighter Jack contacted? Who's in the coffin? Who's waiting for Kate at home? And what's the deal with future Jack's hobo beard?
The only certainties are that the new episodes will offer a mix of flashbacks and flash-forwards; at least five new characters, including ones played by Fisher Stevens and Jeff Fahey, will turn up; Michael (Harold Perrineau) is coming back; and, barring a swift end to the writers strike, fans will only get half of what already was a shortened 16-episode season.
Like its lead-in, answers aren't exactly "Eli Stone's" strong suit.
When the drama opens with Armani-clad lawyer Eli (Jonny Lee Miller) waiting at the foothills of the Himalayas for his sherpas, one of whom bears a striking resemblance to Abe Vigoda, you get the feeling you're watching something different.
By the time Eli's sex life is interrupted by an impromptu George Michael concert in his living room, different has been run out of town by random and its partner in crime, bizarre.
Obviously, the pop star isn't really in Eli's apartment. True, he's spent more time performing community service than performing his hits lately, but his schedule isn't that open.
The bad news is, Eli has an inoperable brain aneurysm that could kill him at any moment. The good news is, it's one of those wacky, made-for-TV aneurysms that leads to all sorts of madcap visions.
If being stalked by half of Wham! weren't enough, Eli also "sees" a trolley car in the lobby of his San Francisco firm, a biplane chasing him down the street, and his couch, on which he's making out with his fiancee (Natasha Henstride), transported to both a battlefield and a church.
But with the help of a quirky acupuncturist (James Saito), who believes Eli is a prophet, he's starting to see what he sees as more than abstract hallucinations. Eli soon ditches the multinational conglomerates he represents and begins following his visions to the odd little cases that will make the world a better place.
Co-creator Greg Berlanti, who's behind the ABC hits "Brothers & Sisters" and "Dirty Sexy Money," seems to have been studying recent shows that didn't quite work.
"Eli Stone" gets the whimsy thing right where "Pushing Daisies" just tries too hard. It avoided "The Knights of Prosperity's" biggest mistake — only signing Mick Jagger, the best thing in the pilot, for one episode — by having Michael appear in four of the 13 completed episodes. And it incorporates the occasional musical numbers far better than "Viva Laughlin" — after all, they're only taking place inside the head of a nut job.
The British born Miller, the first Mr. Angelina Jolie, is a fine actor, but he's miscast here. He seems to be channeling Tate Donovan, and his American accent doesn't always work.
And with the show's offbeat cases — black-on-black discrimination and suing the Catholic Church to void an annulment — and moments of song, you'd swear Berlanti has David E. Kelley tied up in his basement and is pumping him for information.
But "Eli Stone" is still the most instantly likable new drama you're going to see for quite a while.
The fact that it's weird enough to hang with "Lost" is just the icing on its strange little cake.
Christopher Lawrence's Life on the Couch column appears on Mondays. E-mail him at clawrence@reviewjournal.com.
REALITY CHECK
Will the women's team ever win? Softball player Jennie Finch became the fourth player fired from "The Celebrity Apprentice."
Other reality show contestants getting the boot last week include:
"Crowned": Christan and Ada
"Make Me a Supermodel": Dominic
"Project Runway": Victorya
— REVIEW-JOURNAL