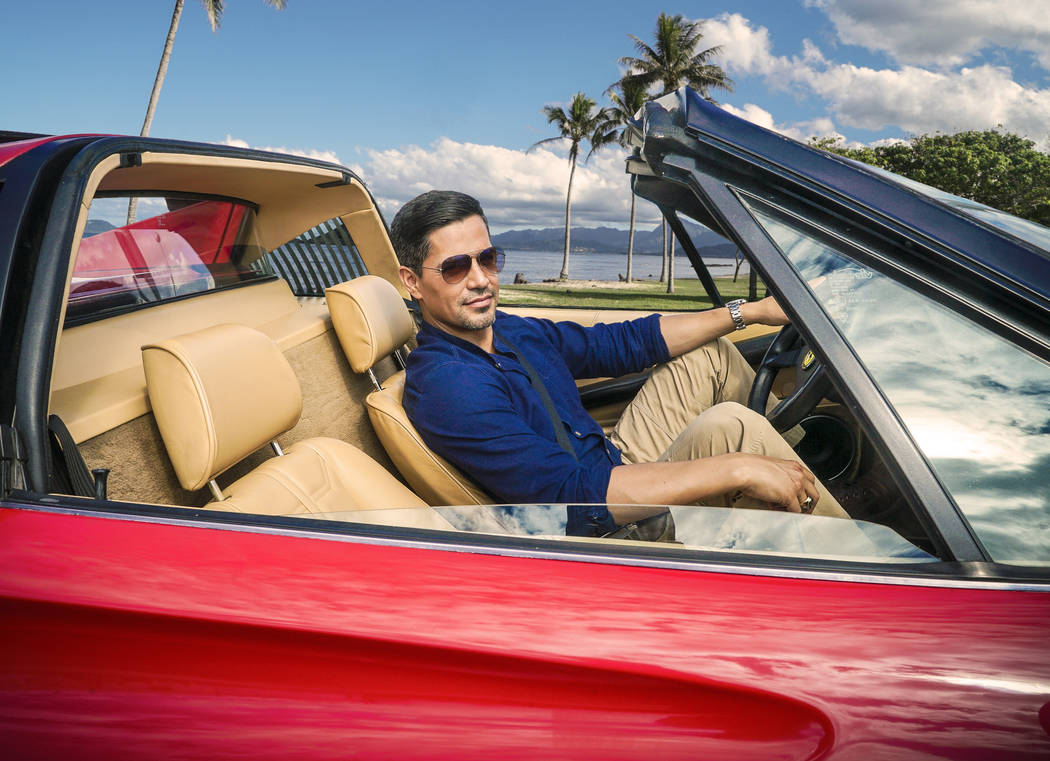 I don't want to say CBS is completely bankrupt when it comes to originality, but this is the network that's about to launch a Dick Wolf procedural about the FBI that's called "FBI."
Granted, CBS has bigger worries right now. (See Moonves, Les.) But have you looked at its prime-time lineup lately?
"Hawaii Five-0," "MacGyver" and "S.W.A.T."? Remakes.
"Survivor"? Another remake.
"Young Sheldon"? Spinoff.
"NCIS"? Spinoff.
"NCIS: Los Angeles" and "NCIS: New Orleans"? Spinoffs of a spinoff.
"Murphy Brown"? Revival.
"Elementary"? Public domain.
"Bull"? Based on Dr. Phil. Seriously.
As embarrassing as all this is — and it's shameful, really — it has nothing on the cultural lowpoint that is "Magnum P.I." (9 p.m. Monday). Of all the CBS remakes, this is the one that, depending on your age, actually feels as though someone is reaching back into your childhood and ruining even more of it.
There probably isn't much overlap between "Survivor" viewers and fans of the Swedish hit "Expedition Robinson," on which it's based. "S.W.A.T." lasted just two seasons from 1975 to '76. Will Forte's "MacGruber" chewed up any fond memories of "MacGyver" and then dribbled the crumbs onto its shirt. And while "Hawaii Five-O" — the original used the letter "O" instead of a zero — lasted an impressive 12 seasons, its biggest contributions were its swingin' theme song and "Book 'em, Danno."
"Magnum," though. Man. That's hallowed TV ground.
Tom Selleck won an Emmy for his portrayal of Thomas Magnum, the Ferrari-driving private investigator who crashed in novelist Robin Masters' guest house. The late John Hillerman took home one as well as Jonathan Higgins, the Hawaiian estate's excruciatingly proper majordomo. The series, which ran from 1980 to '88, was nominated for outstanding drama three times.
The new version will be lucky to nab a nomination at the People's Choice Awards, where this year, "WWE Raw" is up for TV show of the year.
Magnum was the poster boy for the era's hirsute masculinity, and the former Navy man's service in Vietnam was never far from the foreground. Those experiences forged a brotherhood with his fellow veterans Theodore "T.C." Calvin (Roger E. Mosley) and Orville "Rick" Wright (Larry Manetti).
In updating the story, the remake includes a brief flashback to Afghanistan and the service of Magnum (Jay Hernandez), T.C. (Stephen Hill) and Rick (Zachary Knighton), but it's more along the lines of "we spent some time as prisoners of war, and then we all bought matching rings."
Higgins, rechristened Juliet (Perdita Weeks), still hates Magnum, but she can't be bothered to dress in Hillerman's matching khaki button down-and-shorts ensemble that made him look as though he were in command of a very casual military unit.
The lads — Dobermans named Zeus and Apollo — are there, as is T.C.'s yellow-, orange- and brown-striped helicopter that barely made sense in 1980.
One thing that hasn't returned in the remake is the comma. "Magnum, P.I." is now "Magnum P.I." This definitely is a geeky sticking point. But even this Magnum is quick to point out that he isn't a "private eye." He's a "private investigator." Anyone who's that big of a stickler surely would insist on the proper comma.
The biggest problem, though, aside from the fact that the series exists in the first place, is that Hernandez's Magnum is nearly as charisma-free as he is mustache-free — the character's iconic lip sweater has been replaced by a scruffy, stubbly little goatee.
To steal what surely was a joke used by Mad Magazine, Cracked or both, this "Magnum P.I." is closer to "Magnum P.U."
Selleck is 73 years old and already on the CBS payroll, thanks to "Blue Bloods." Get him on a plane, throw a Detroit Tigers cap and some short shorts on him, and I guarantee the result would be better than this.
It couldn't be much worse.
Local ties
Tom Selleck's TV career is most identifiable with Hawaii. But he's spent some time in Las Vegas.
Well, in "Las Vegas."
When James Caan checked out of the fictional Montecito resort in 2007, Selleck signed onto the NBC drama as the casino's new owner, billionaire oilman A.J. Cooper. He was only there for the show's fifth and final season, but "Las Vegas" marked just his second stint as a series regular, following his short-lived 1998 comedy "The Closer," since "Magnum, P.I."
His "Magnum" co-star Larry Manetti, meanwhile, was a regular at the Plaza in downtown Las Vegas when it was owned by Barrick Gaming. In 2004, Manetti opened an eponymous restaurant inside the casino, where he hosted weekly celebrity brunches.
Contact Christopher Lawrence at clawrence @reviewjournal.com or 702-380-4567. Follow @life_onthecouch on Twitter.