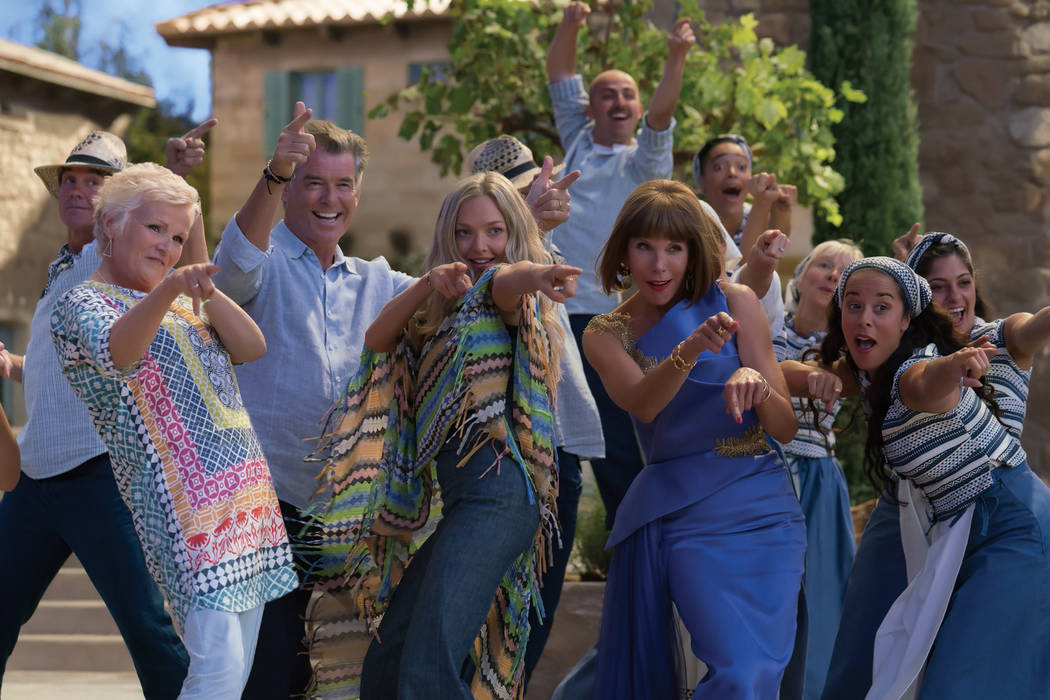 There's more than a hint of resignation in the title. It practically sounds like a sigh.
"Mamma Mia! Here We Go Again."
It's been 10 years since Meryl Streep et al. helped turn ABBA's back catalog, as well as fodder for a Maury Povich episode, into a musical sensation that grossed $610 million worldwide. "Mamma Mia!" was every bit as ramshackle as the hotel that was constantly falling down around Streep's Donna Sheridan. "Here We Go Again" finds the former farmhouse, rechristened Hotel Bella Donna, ready for its grand reopening — although taking a wrecking ball to the whole thing would have been far more appropriate.
Remarkably, "Here We Go Again" reassembles every key cast member, although the plot — or what passes for a plot — feels as though it were slapped together as much as a means to incorporate still more ABBA songs as to accommodate the actors' busy shooting schedules. ("Pierce Brosnan, you free? Perfect.")
Sophie (Amanda Seyfried) is there from the beginning. Tanya (Christine Baranski) and Rosie (Julie Walters) are around pretty much throughout. Other characters, though, wander in and out, two returnees are absent for the first hour for no real reason, and two of the biggest names show up only for a few minutes near the end.
Instead, most of the heavy lifting is done by actors portraying Donna, her friends and her lovers Sam, Bill and Harry during that wild summer of 1979 when she first visited the Greek island of Kalokairi.
Lily James is radiant as a young Donna. Jessica Keenan Wynn and Alexa Davies successfully mimic Donna's Dynamos, Tanya and Rosie. In descending order of accuracy, Hugh Skinner (Colin Firth's Harry), John Dylan (Stellan Skarsgard's Bill) and Jeremy Irvine (Brosnan's Sam) serve as the objects of Donna's very divided — and often fleeting — affections.
What none of them accomplishes, however, is adding anything to the story. All the pertinent details of the flashbacks were summed up by a couple of lines of exposition in the original. Sure, with "Here We Go Again," moviegoers will learn precisely how Donna found her overalls, but as "Solo: A Star Wars Story" proved, no one really needs to see that kind of thing.
Not only does "Here We Go Again" rehash the stories told in the original, it brings back the missed-ferry contrivance more than once — forget opening a hotel; the smart money is in the much-needed ferry business — as well as several of the songs.
Granted, my knowledge of ABBA's musical output isn't exactly what you'd call vast, but I'm not sure whether I was more surprised to learn that "When I Kissed the Teacher" was a song, or that it was deemed appropriate to be the first musical number in a movie opening in 2018.
Then again, I'm still confused as to whether ABBA exists in the "Mamma Mia" universe. Is that why all the characters know the words to these songs? Did Bill hear them on Kalokairi and take them back to his native Sweden, a la Chuck's cousin Marvin Berry in "Back to the Future"?
This may be the biggest downer of a musical since "Les Miserables." I'd written in my notes that it feels like "The Best Exotic Marigold Hotel: The Musical" long before I realized that "Marigold Hotel" screenwriter Ol Parker wrote and directed "Here We Go Again."
Cher, the sequel/prequel's biggest addition, portrays Sophie's grandmother, Ruby, a singer who "hasn't been seen outside of Las Vegas in decades" — even though she's essentially playing Cher. (Pay no attention to the fact that Donna said her mother was dead in the original.)
If you enjoyed "Mamma Mia," odds are you'll like this one, too — albeit somewhat less.
I love a good musical. I even love a bad musical — "Grease 2" is a personal favorite. But "Mamma Mia! Here We Go Again" is simply forced, listless and borderline excruciating.
The next line in the titular lyrics, following "Mamma mia, here I go again" is "My my, how can I resist you?"
Quite easily, it turns out.
Contact Christopher Lawrence at clawrence@reviewjournal.com or 702-380-4567. Follow @life_onthecouch on Twitter.