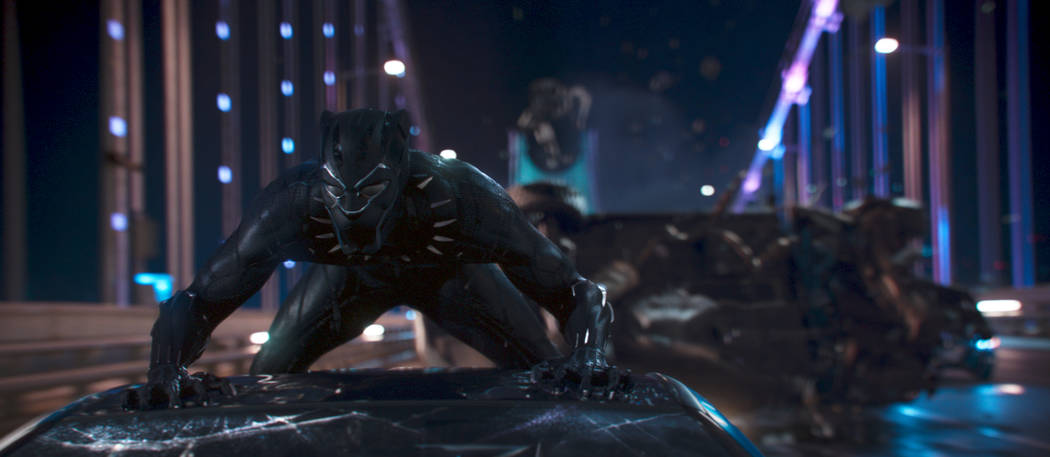 The one consistent flaw in the Marvel Cinematic Universe — aside from having to hold your bladder through a good 10 minutes of credits for the final scene — is the lack of decent, or even memorable, bad guys who aren't named Loki.
I adored "Thor: Ragnarok." It came out just three months ago. Yet it took some serious concentration to recall who the villain was, and she was played by two-time Oscar winner Cate Blanchett.
"Black Panther" solves this problem with Erik Killmonger (Michael B. Jordan). Not only is he a strong, magnetic lead, unlike most Marvel bad guys — who not only know they're evil, they revel in it — Killmonger sees himself as the hero. He even wants the same result as the actual hero, T'Challa (Chadwick Boseman), aka Black Panther. But, much like Malcolm X and Martin Luther King Jr. before them, they have vastly different ideas about how to achieve that goal.
Picking up a week after the death of T'Challa's father, Wakandan King T'Chaka (John Kani), in "Captain America: Civil War," "Black Panther" finds T'Challa preparing for his coronation.
It's a difficult time in Wakandan history, as the isolationist African nation is being drawn into external conflicts. To the outside world, Wakanda is one of the poorest countries on the globe. But a look through its cloaking mechanism reveals a thriving, vibrant metropolis of untold technological advances, thanks to its vast deposits of vibranium. (You remember vibranium. The rarest, most valuable mineral on Earth was used to forge Captain America's shield.)
Wakandans fight only when absolutely necessary, and their rulers have always feared exposing their wealth and fantastically futuristic technology because of all the outsiders that would come streaming in. Many are still reeling from the deadly 1992 vibranium theft led by Ulysses Klaue (Andy Serkis), the South African arms smuggler introduced in "Avengers: Age of Ultron."
T'Challa's ex, Nakia (Lupita Nyong'o), a Wakandan spy who's first seen rescuing trafficked women, believes the Wakandans should share their technology to improve the lives of their neighbors. The outsider Killmonger also wants to share the vibranium, so that the 2 billion people who look like them can rise up, murder every world leader and their families and take over the planet.
Director Ryan Coogler ("Fruitvale Station," "Creed"), who co-wrote the script with Joe Robert Cole ("The People vs. O.J. Simpson: American Crime Story"), has crafted a world of striking dualities. Wakanda is a bustle of open-air markets on dirt streets while maglev trains whoosh by overhead. A massive, "Lord of the Rings"-style battle is a mix of primitive and futuristic weapons. And the movie's score features African drums, rhythms, chants and cries alongside a soundtrack curated by Kendrick Lamar.
"Black Panther's" cast is extraordinary. In addition to the director's longtime collaborator Jordan, Nyong'o is joined by fellow Oscar winners Forest Whitaker and Angela Bassett as well as current best actor nominee Daniel Kaluuya ("Get Out") and "This Is Us" Emmy winner Sterling K. Brown.
Boseman has made a career out of playing groundbreaking figures — Jackie Robinson, James Brown, Thurgood Marshall — yet Black Panther may be his most momentous one yet. Movies this big with predominantly black casts come around roughly, let's see, never. You can almost see the pride on screen. It's practically a character.
Even the Black Panther suit, made of nanites that redirect the energy they absorb, serves as a metaphor — the more hits T'Challa takes, the stronger he becomes.
Coogler also has created more roles for strong women — super strong, badass women — than the rest of the MCU. The Dora Milaje, the king's elite all-female security force, is led by the powerful Okoye (Danai Gurira, "The Walking Dead's' Michonne). And Letitia Wright steals every scene she's in as Shuri, T'Challa's bratty younger sister and Wakanda's leading tech expert.
"Black Panther" is an important movie that doesn't feel like being forced to eat kale, thanks to car chases, shootouts and subtle bursts of humor.
This isn't coming from a place of "white guilt." And it certainly isn't social justice warrior-ing. "Black Panther" is simply a gorgeous movie like absolutely nothing else that's come before it.
There's been a lot of online chatter from white moviegoers, complaining that there's no way they can relate to a black superhero who lives in Africa. To this, I can't help but ask, how exactly is it that you relate to a billionaire inventor, a Norse god or a scientist who turns into a green monster every time he gets upset?
Review
Movie: "Black Panther"
Running time: 134 minutes
Rating: PG-13; prolonged sequences of action violence, and a brief rude gesture
Grade: B
Now playing: At multiple locations
Contact Christopher Lawrence at clawrence@reviewjournal.com or 702-380-4567. Follow @life_onthecouch on Twitter.
Review
Movie: "Black Panther"
Running time: 134 minutes
Rating: PG-13; prolonged sequences of action violence, and a brief rude gesture
Grade: B
Now playing: At multiple locations