'Megan Leavey's' story deserves telling, maybe not on the big screen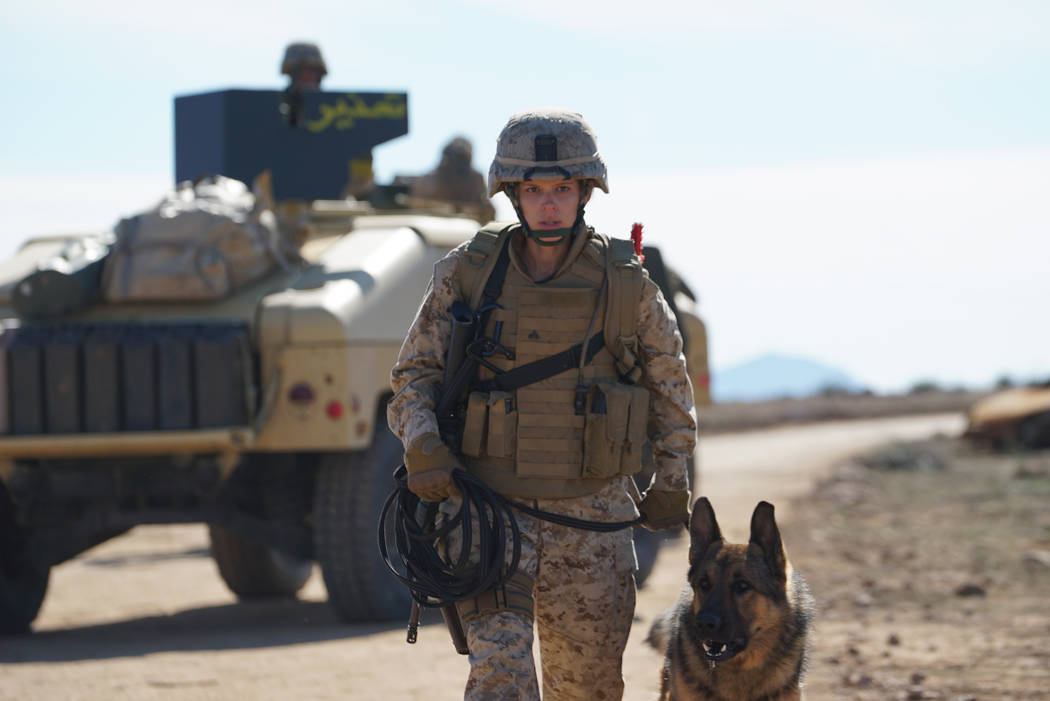 If Animal Planet were in the original movie business, "Megan Leavey" would be a perfect fit.
It's the heartwarming story of the intense emotional bond between the titular Marine (Kate Mara) and her bomb-sniffing dog, Rex. And it shines a light on the vital work these animals perform, as well as the toll it takes on them. It just doesn't feel like the sort of thing many potential viewers are going to want to schlep out to a theater to see.
By enlisting in the Marines, Megan escapes the strained relationship with her mother (Edie Falco), who can't understand her or her decision, which she learns of only by finding a recruiting brochure as Megan arrives at Camp Pendleton.
While her mother's no prize winner, Megan isn't exactly the finest recruit to ever step off that bus. She's not much to speak of on the obstacle course or the rifle range. After a night of drinking, she's caught urinating in the bushes and sentenced to hosing out the K9 unit's kennels. But what's intended as punishment turns into a calling as Megan grows to like it there and finally gets her act together so she can qualify to be a dog handler.
Even after she makes the cut, though, Megan isn't given a dog until Rex, a German shepherd with aggression issues, bites his handler, breaking six bones in his arm. A bonding session on the night before they ship out to Iraq ends with Megan telling Rex, "We are so not ready for this."
Against the odds, they perform admirably, locating numerous hidden explosives and saving countless lives. Then, six months into their seven-month tour, they're blown up by a bomb that was buried too deep for Rex to sniff. Still, they both finish the mission, for which Megan is given a Purple Heart, and are sent home to recuperate.
Rex, though, is the only one sent back to active duty.
Megan has a romance with a fellow dog handler (Ramon Rodriguez), but Rex is her one true love. She falls apart without him while her repeated attempts to adopt Rex are denied. "They're not pets. They're not even dogs anymore," her sergeant (Common) tells her. "They're warriors." And they come home from war with the same mental issues as other warriors.
"Megan Leavey" features nice supporting work by Bradley Whitford, playing Megan's sympathetic father, who encourages her to crawl out of her funk and keep fighting to adopt Rex. And director Gabriela Cowperthwaite ("Blackfish") certainly knows her way around an animal story, even if the script — by Pamela Gray ("A Walk on the Moon"), Annie Mumolo ("Bridesmaids") and Tim Lovestedt — is written by the numbers.
At times, "Megan Leavey" feels like the longest public service announcement you'll ever see.
But it's an inspiring, little-known story that deserves telling. Just not necessarily on the big screen.
Contact Christopher Lawrence at clawrence@reviewjournal.com or 702-380-4567. Follow @life_onthecouch on Twitter.
Review
Movie: "Megan Leavey"
Running time: 116 minutes
Rating: PG-13; war violence, language, suggestive material, and thematic elements
Grade: B-
Now playing: At multiple locations