Michelle Pfeiffer steals scenes in HBO's Bernie Madoff movie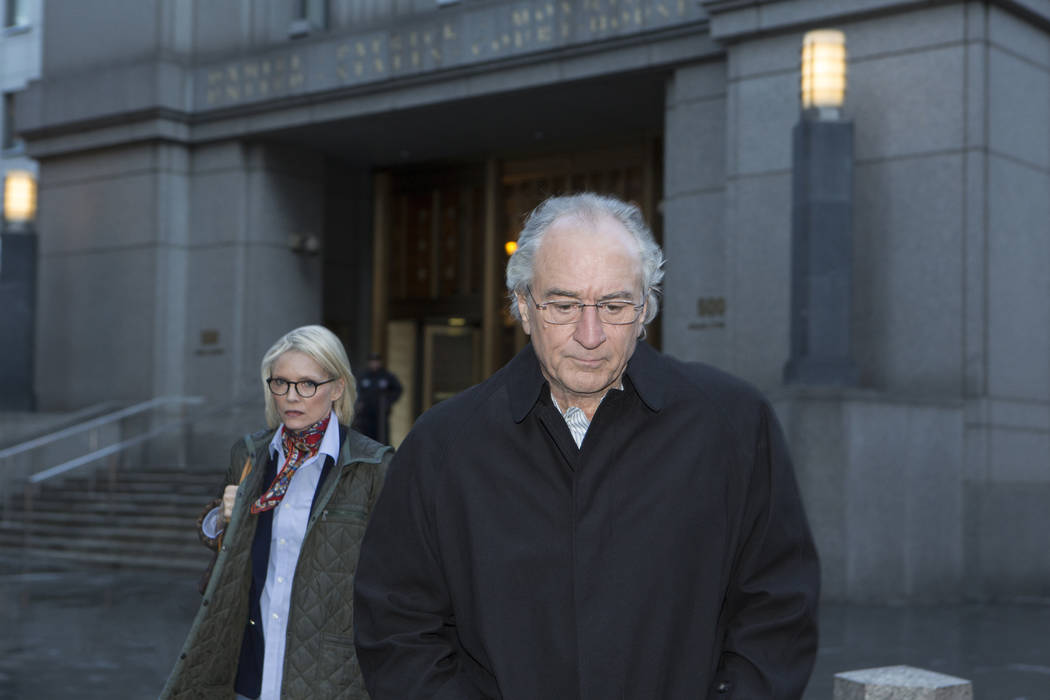 I spent a good portion of my adolescence knowing with full certainty that, if I were ever granted a dying wish, it would be for Michelle Pfeiffer to serenade me with "Cool Rider," her big number from "Grease 2."
Even today, were I given, say, three dying wishes, that still would be firmly in the mix.
So you can imagine how thrilling it was to see the actress, who's worked rather sparingly this millennium, as Ruth Madoff to Robert De Niro's Bernie in "The Wizard of Lies" (8 p.m. Saturday, HBO).
"He seemed relaxed, unfailingly candid, earnest and trustworthy," Diana B. Henriques says of Bernie. The author of the book "The Wizard of Lies: Bernie Madoff and the Death of Trust," on which the script is based, plays herself in the movie. "That is his blessing and his curse."
Indeed, as the perpetrator of a $65 billion fraud, Bernie rarely conveys much emotion about the consequences of his actions. "Are you gonna go to jail?" Ruth asks once she learns the severity of Bernie's crimes. "I dunno," he says. "Probably."
Probably!
Bernie also shows little if any remorse, considering he was taking money from whomever he could get it — friends, family and, most damningly, Nobel Peace Prize winner and Holocaust survivor Elie Wiesel — to maintain the charade.
"These people had a little greed in them," he says at one point, claiming his investors were accomplices because they never looked too hard at his business dealings. "This isn't even about me," he explains later. "This country needs a villain. Someone to send to the gallows so everyone will feel OK about living under a rigged system."
He may not have worried about the thousands of families whose lives he ruined, but he cares very deeply for one that he destroyed: his own.
His sons, Mark (Alessandro Nivola) and Andrew (Nathan Darrow), are hounded by the press and presumed guilty by association, even though they were the ones who turned Bernie in to the FBI. Mark goes down the rabbit hole of online comment sections and begins losing his mind. Andrew eventually stops taking his calls, and neither of them will speak to Ruth because she stood by Bernie.
"There's no way to say it, but none of it's real," Bernie says during a hastily called family meeting once he could no longer hide his deception. With the help of his endearingly smarmy associate Frank DiPascali (Hank Azaria) — "Is it fair to say," an investigator asks, "that because of all these lies, you got rich?" "Well," he responds, "I didn't get paid per lie, ma'am." — Bernie hasn't executed a trade in 15 years. All the records, shares, every piece of paperwork was fake.
Since they work with their father, Mark and Andrew have a sense of what he's telling them, but Ruth is simply baffled. Told it was all a Ponzi scheme, all she can ask is, "What's a Ponzi scheme?"
Oh, Ruth. Oh, poor, poor Ruth.
Soon, the paparazzi are sprinting after her. She's receiving icy glares from neighbors. She's even banned from the hair salon to which she's been loyal for 15 years. "How," she wonders, sounding utterly mystified, "did I get to be this age without doing anything on my own?"
Director Barry Levinson intersperses clips of news reports, a "60 Minutes" spot and late-night jokes from Stephen Colbert, Bill Maher, David Letterman and "Saturday Night Live." There's a jarring, hallucinatory scene that sprinkles in some visual flair. But, while it's a relief to once again see De Niro in a quality project that has nothing to do with Martin Scorsese or David O. Russell, "The Wizard of Lies' " greatest special effect is Pfeiffer.
"What do I have to do with it? Why does the world hate me? They all think I'm some kind of a mastermind," her Ruth complains as she matter-of-factly readies her jewelry to give to family and friends so she can swallow a bowl full of Ambien and die in peace.
"But anybody in the know knows you weren't the mastermind," Bernie tells her. "That's nonsense."
"Thanks," she replies, dryly. "I already wanna kill myself. You wanna make me feel worse?"
It's that type of moment that makes it such a remarkable feeling to see Pfeiffer on screen again.
And that, unlike much of Bernie's life, is no lie.
Contact Christopher Lawrence at clawrence@reviewjournal.com or 702-380-4567. Follow @life_onthecouch on Twitter.