Mobster tale 'Black Mass' solid but falls short of greatness
September 18, 2015 - 1:24 pm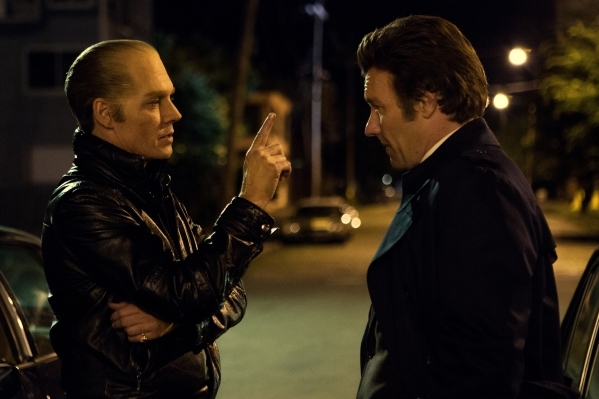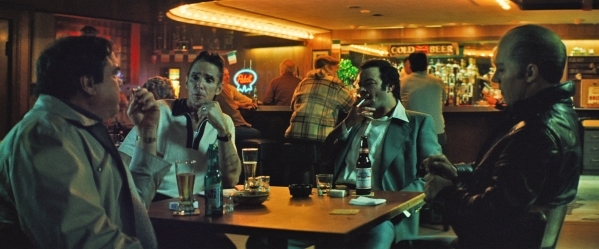 Not long into "Black Mass," director Scott Cooper's grim tale of Boston mobster James "Whitey" Bulger and his dealings with the FBI, I started trying to guess the fate of each new character as part of a game I called "Whacked or Not Whacked."
Spoiler alert: The result was usually Whacked.
Based on the book "Black Mass: Whitey Bulger, the FBI, and a Devil's Deal" by Dick Lehr and Gerard O'Neill, the Boston Globe reporters who, in 1988, broke the story that Bulger had spent the previous 13 years as an FBI informant, the film should feel like a best-picture front-runner. "Black Mass" boasts a stellar cast of actors performing at or very near the top of their games, and the story is one of those nearly-too-crazy-to-be-true tales beloved by Oscar voters. But while it's a solid, often compelling effort, "Black Mass" never elevates to that higher plane. It's missing that spark, that extra oomph shared by the greats.
Framed by testimony given by three of his closest associates — henchman Kevin Weeks (Jesse Plemons), hit man John Martorano (W. Earl Brown) and right-hand man Stephen Flemmi (Rory Cochrane) — "Black Mass" chronicles the rise of Bulger (Johnny Depp) from a small-time Southie hood to a criminal kingpin under the watch, if not with the outright support, of the FBI.
Agent John Connolly (Joel Edgerton) grew up with Whitey and his younger brother, state senator Billy Bulger (Benedict Cumberbatch), in the same South Boston neighborhood. With the Angiulo family controlling the city's organized crime out of North Boston, Connolly approaches Bulger to let him know that Gennaro Angiulo is about to have him killed for encroaching on his territory. And hey, Connolly tells him, since we're already here, why don't you inform on the Angiulos and help me bring them down?
Despite his sometimes rodentlike appearance, Bulger isn't a rat. But he also isn't a dummy, and he decides to use the FBI to fight his battles and eliminate the competition. "I don't consider this rattin' or informin'," he later says. "This is business."
Bulger's notoriety is the draw of "Black Mass," but the film is every bit as much the story of the almost Faustian bargain Connolly makes with his childhood friend. What begins as a burning desire to rid Boston of the mafia leads to Connolly's falling down a rabbit hole, somewhere between denial and criminal, as Bulger's Winter Hill Gang grows ever more violent.
Before long, Connolly is giving Bulger credit for information provided by others and going so far as to discredit, and perhaps even cause the demise of, a witness looking to testify against Bulger. Marianne Connolly (Julianne Nicholson) doesn't know the extent of her husband's transgressions, but she doesn't like what she sees: the flashy suits, the gold watch, even the way Connolly walks is different.
There's no such change in Bulger.
Alternately charming and terrifying, he's shown pulling his car over to help — or, rather, order his associates to help — a little old lady put away her groceries. Coming home for the night long after sunrise, he plays cards with his Ma (Mary Klug) and loses, seemingly just so she can scoff, "Did you learn nothing in prison?" And when his beloved son (Luke Ryan) with his longtime girlfriend (Dakota Johnson) is punished for fighting in school, Bulger corrects him. He didn't get in trouble for hitting a classmate but for doing it in front of witnesses. "If nobody sees it," he tells the child, "it didn't happen."
He's also shown committing and ordering brutal murders, sometimes for the most minor of offenses. "Make him an offer to buy the company," Bulger tells an associate when their interest in a Miami jai alai outfit is compromised. "I tried. He won't sell." To which Bulger icily responds, "Would his widow sell?"
It's a terrifically subdued performance, full of quiet menace, from Depp. But director Cooper ("Crazy Heart," "Out of the Furnace") and screenwriters Jez Butterworth ("Edge of Tomorrow") and Mark Mallouk are never able to convey much about who Bulger is or why he did what he did.
Still, it can't be overstated just how refreshing it is to see Depp, after a string of goofy misfires from "Dark Shadows" through "Mortedcai," playing a real person instead of just a collection of tics and eccentricities. Depp still relies on plenty of makeup, some prosthetics and some chilling blue contacts to transform into Bulger — and, in the process, look a bit like Ray Liotta's wayward uncle. But his performance is outstanding.
"Black Mass" may not be transcendent, but, thankfully, it also isn't "Transcendence."
— Contact Christopher Lawrence at clawrence@reviewjournal.com. On Twitter: @life_onthecouch.