Movie screening brings motocross stars back to Caesars Palace, site of historic backflip
October 17, 2016 - 6:53 pm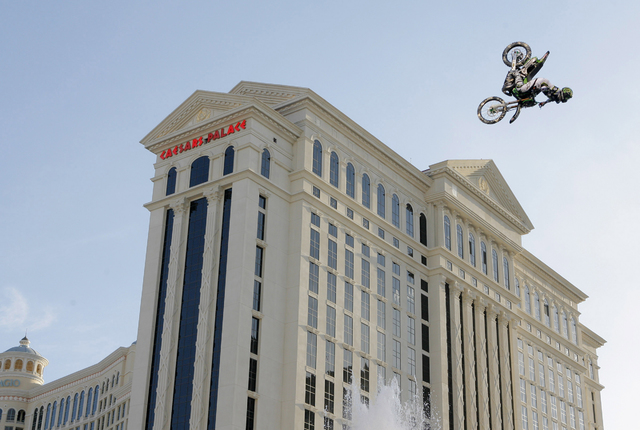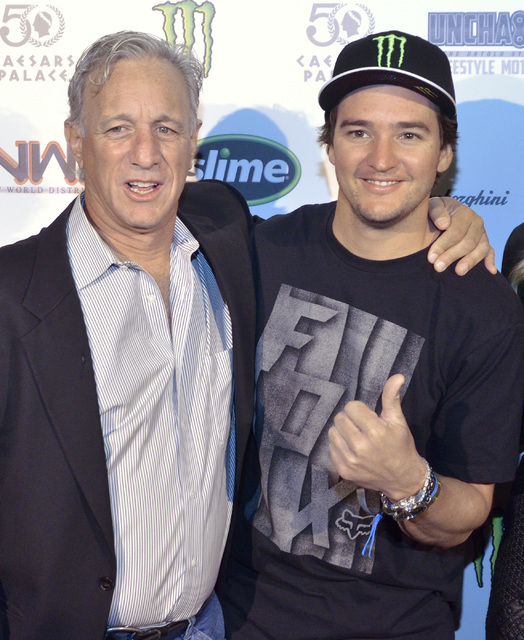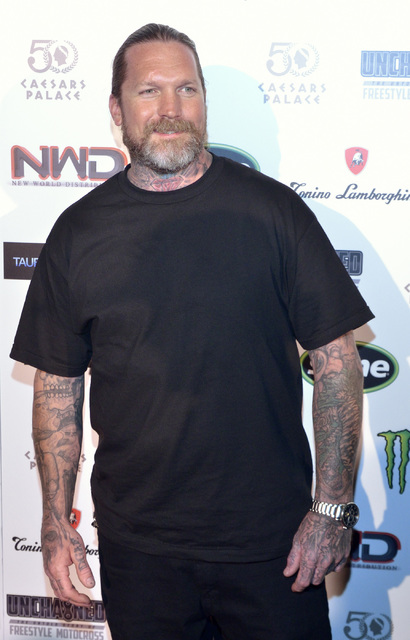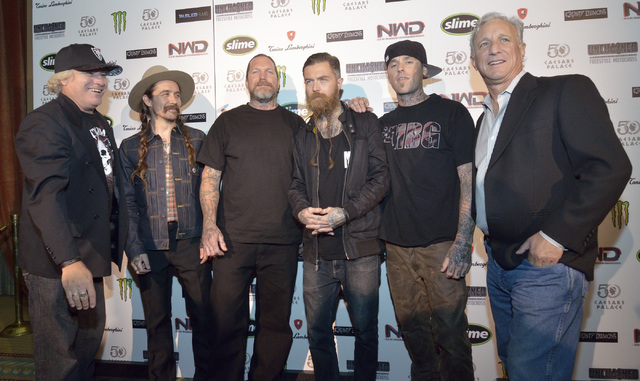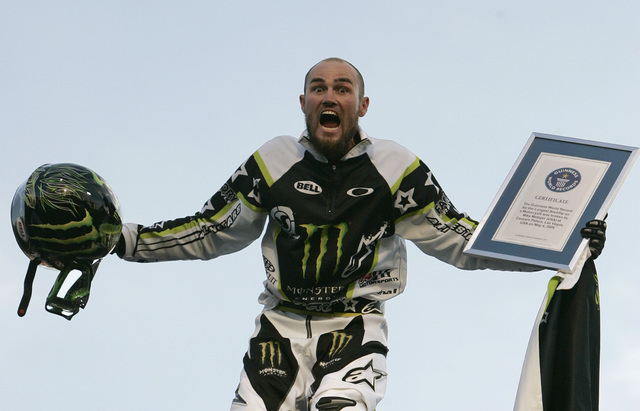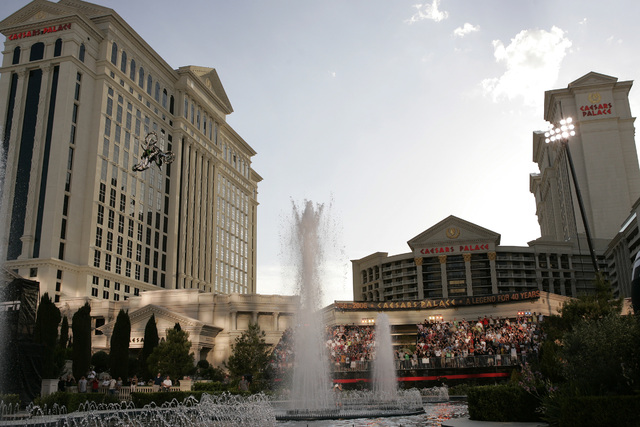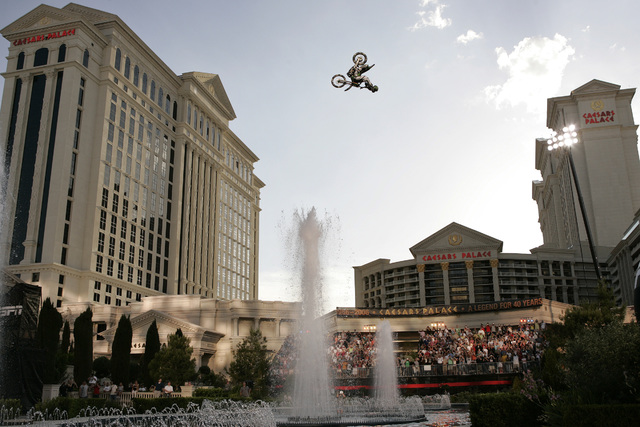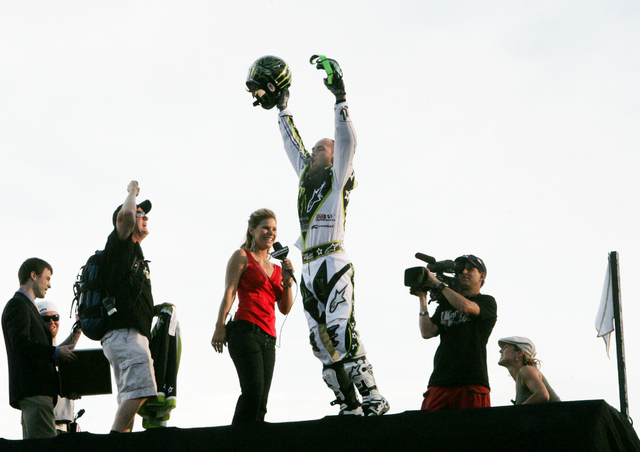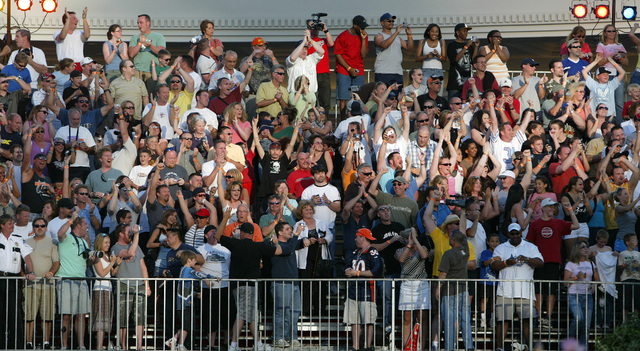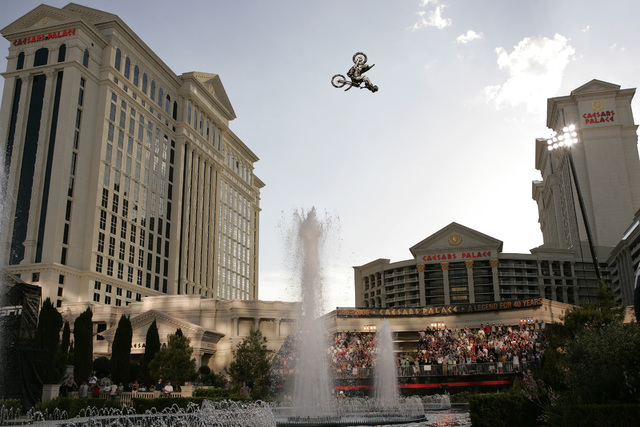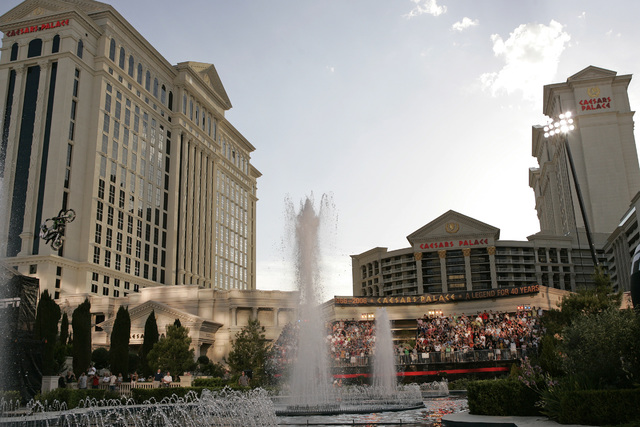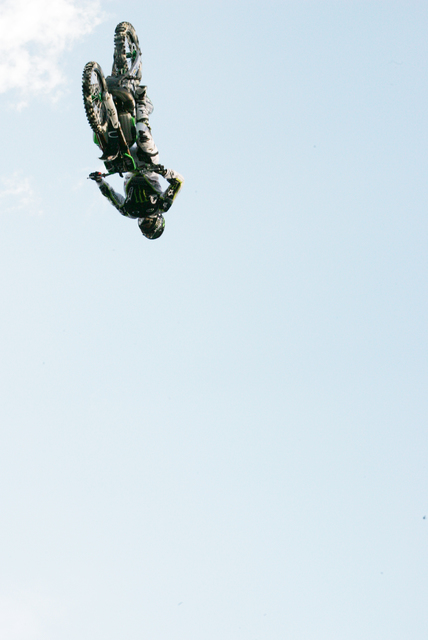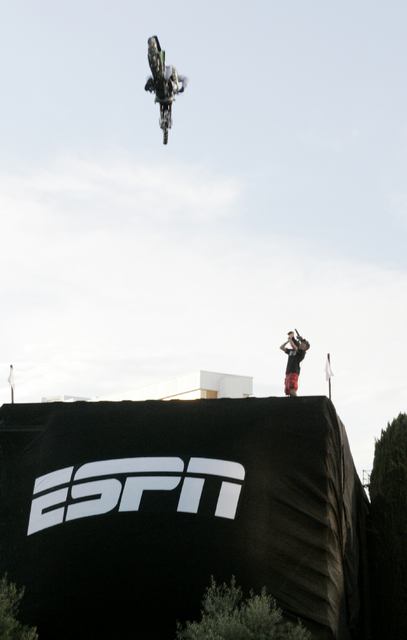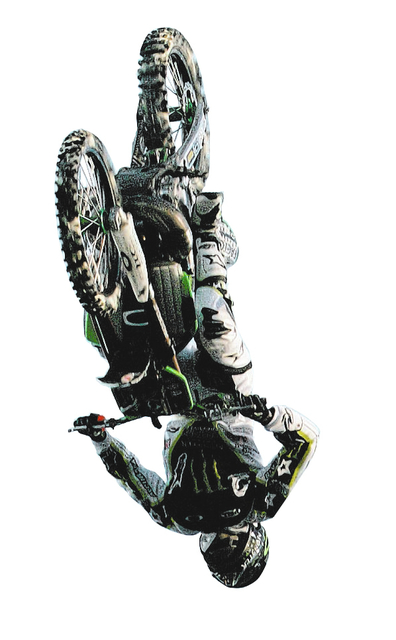 The scene more closely resembled a reform-school reunion than a red carpet movie premiere.
With the AMA Monster Energy Cup in town at Sam Boyd Stadium, Caesars Palace hosted a special Friday-night screening of the documentary "Unchained: The Untold Story of Freestyle Motocross."
Attendees sported mohawks, beard braids and bodies that were covered in more ink than pigment. The event was co-sponsored by something called Slime.
With some of the world's biggest risk-takers gathered under one roof, it was overheard during a photo opp that if anything were to happen to Caesars that night, there would be no more crazy people left in the world.
The speaker obviously hadn't been following this election season.
As executive producer and narrator Josh Brolin was noticeably absent from the red carpet, the man of the hour was Mike Metzger. The 40-year-old, known as the Godfather of Freestyle, was back at the hotel where in 2006, he completed a backflip over the Caesars Palace fountains, 39 years after a standard jump over them nearly killed Evel Knievel.
"It's cool," Metzger said of returning to the scene of the feat that broke the world record for longest backflip. "Actually, a couple of weeks ago when I was here for (the Interbike International Expo), I was here with my two sons, Mryie and Maxton, who are 13 and 7. It was pretty cool just to, like, walk out to the fountains and be able to share the memories and be, like, 'This is what I jumped.' "
Footage of the jump and other moments with Las Vegas ties make up a big part of "Unchained," which is available on digital platforms and is scheduled be broadcast at 2 p.m. Sunday on ABC and 7:30 p.m. Monday on ESPN2 as part of the channels' X Games coverage.
Directed by Paul Taublieb and Jon Freeman, "Unchained" is a story of rebels and misfits, triumph and recklessness, that's accessible even to viewers who don't know freestyle pioneer Carey Hart from "Sunglasses at Night" singer Corey Hart.
The scene Friday night was a far cry from the early days of motocross, when it was controlled by Japanese motorcycle manufacturers. "They wanted to go down this NASCAR approach: collared shirts, very clean-cut image, no individualism whatsoever," longtime Las Vegan Carey Hart says in the documentary. "No colored hair, no visible tattoos, no piercings."
Back then, riders would sneak off into the California desert on the weekends to freeride, preforming tricks to impress their friends. Their hobby remained a secret until it was captured by filmmakers Freeman and Dana Nicholson in 1994 for a VHS tape called "Crusty Demons of Dirt." It sold 100,000 copies in its first year and inspired a generation of riders.
By 1998, a freestyle motocross competition aired on ESPN2, and the next year, the sport debuted as part of the X Games. But by 2000, freestyle already was growing stale.
"When you went to a freestyle contest, it was the same repetitive trick after trick after trick," Jody Weisel, editor of Motocross Action Magazine, says in "Unchained." "I thought it was really going to die a natural death."
Then Hart moved next door to Vegas native and BMX champ TJ Lavin and started flipping BMX bikes. Soon, Hart became the first athlete to ever flip a supercross bike. It was historic, it opened up a whole new world of freestyle possibilities, and he didn't even fully land the trick. "Unchained" shows Hart trying the backflip again a year later, despite a broken collarbone. He ended up breaking 16 bones in his foot, four ribs, a wrist and his tailbone. "It thrashed me," Hart says.
Still, those injuries are nothing compared to some of the ones on display in "Unchained." Long jumper Seth Enslow, who also attended Friday's screening, injured himself so seriously during a 1999 jump in Apple Valley, California, breaking bones in his face and skull, that doctors literally had to peel his face off to repair the damage, then sew it back on. (Four weeks later, he was jumping again.)
Metzger eventually became the first rider to land a backflip and, before long, it was backflip or bust. If you couldn't land one — or didn't want to risk your life trying — your freestyle career was over.
As historic as Hart's first backflip was, the most famous inversion has to be Metzger's record-breaking Caesars Palace jump that aired on ESPN as part of the hotel's 40th anniversary celebration. It's a highlight of "Unchained," and the stunt still looks and feels remarkable a decade later.
Returning to the scene of one of the most iconic motorcycle jumps in history was a stroke of genius that garnered Metzger and freestyle motocross international attention. To this day, Metzger seems humbled by the connection to Knievel, with whom he spoke shortly before his moment of glory.
"It was pretty awesome to be able to say that I did it here in Vegas at Caesars' fountains," Metzger said Friday, "and just to be a part of Evel Knievel's legacy."
As "Unchained" goes on to show, riders are now landing double and even triple backflips as part of the never-ending race to break still more barriers.
They belong to a new generation, one that's become part of Mike Metzger's legacy.
Contact Christopher Lawrence at clawrence@reviewjournal.com. On Twitter: @life_onthecouch.