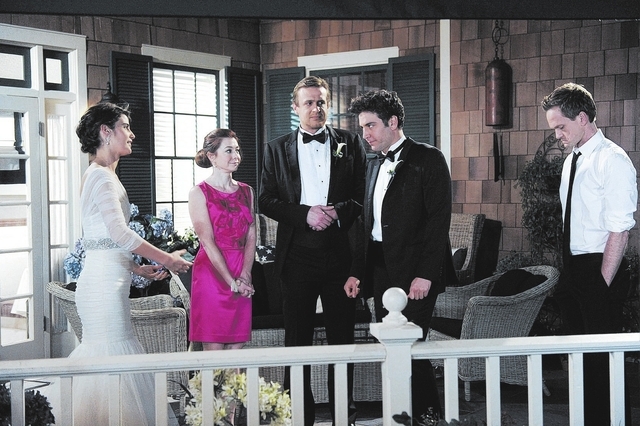 At this point, there's almost no chance that the ending will be legen — wait for it — dary.
This final season has so tarnished the legacy of "How I Met Your Mother," it would take something just short of divine intervention for the hourlong finale (8 p.m. Monday, KLAS-TV, Channel 8) to wash away the bad taste.
Setting the whole season inside Barney and Robin's wedding has been a fiasco. And last fall's early episodes that trapped Marshall inside an SUV with Sherri Shepherd were just plain excruciating.
I still tune in every week. What can I say, I'm a completist. But doing so lately has felt more like being on the losing end of a slap bet.
Everyone involved seemed ready to let the series end last season. Heck, Jason Segel has been wanting out for years. Then CBS opened its vaults, and the resulting episodes have felt so mercenary, so just-in-it-for-the-paycheck, they might as well have retitled it "How I Met My Money."
It's hard to believe a series that was so good for so long at coming up with recurring bits and structuring jokes to pay off months or even years later could have so completely lost its mojo. This downward spiral has even done the unthinkable by making me dislike Neil Patrick Harris. Just a little.
Years-long speculation that The Mother was dead has only intensified in recent weeks. I'd settle for Ted being dead the whole time and the revelation that it's the executor of his will who's reading all this to the kids. That, at least, would explain why Ted ends up sounding exactly like Bob Saget 16 years from now.
Then again, all of them — Teddy Westside, Robin Sparkles, The Barnacle, Marshmallow and Lily Pad — could be dead for all the difference it would make.
For all practical purposes, they stopped feeling alive months ago.
Is 'sexoirs' a word?: Even more surprising than the decline of "How I Met Your Mother," three of the guys from Showtime's Vegas-based "Gigolos" have written books. "Sexoirs of a Gigolo," a series of e-books by Nick Hawk, Ash Armand and Bradley Lords, is available on Kindle, Nook and iTunes.
Special screening: Say hello to Clarice again as a digitally restored version of "The Silence of the Lambs" returns to theaters. See it at 2 p.m. Sunday and 2 and 7 p.m. Wednesday at The Orleans, Sam's Town, Santa Fe, South Point and Suncoast.
Contact Christopher Lawrence at clawrence@reviewjournal.com or 702-380-4567.