'Ocean's 8' fails to generate many waves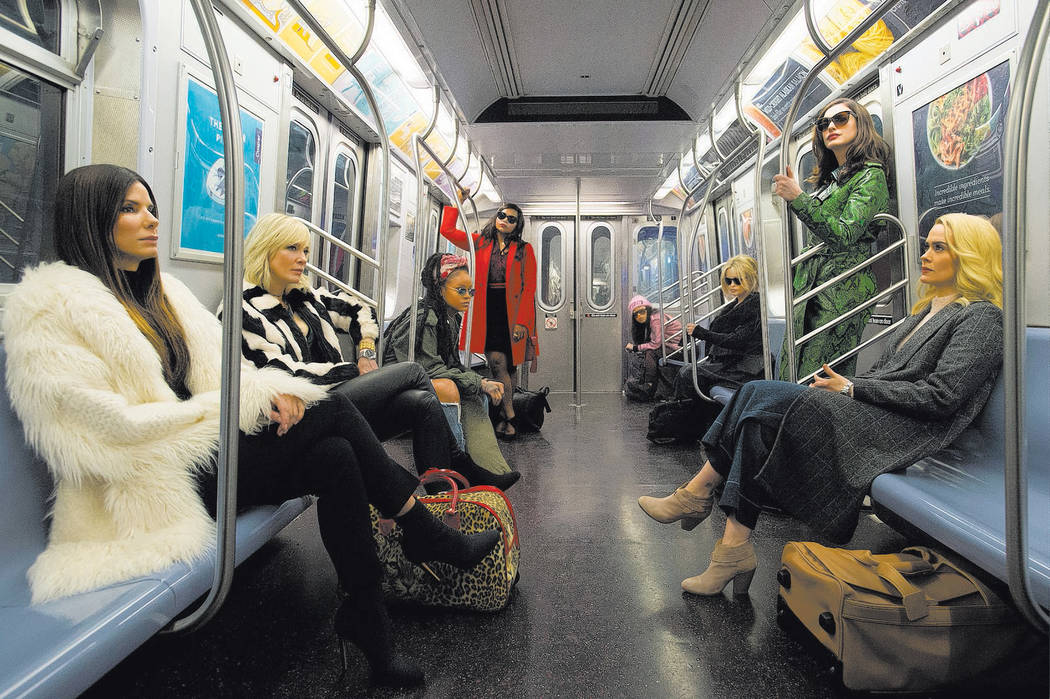 Eleven is greater than eight. It's also greater than 12 or 13. And, if memory serves, eight is slightly less than 13 but much greater than 12.
That isn't the product of a failing education system. It's an assessment of the "Ocean's" franchise, the latest installment of which finds Debbie Ocean (Sandra Bullock) stepping into her brother Danny's designer shoes.
The promising yet slight "Ocean's 8" begins the same way as 2001's "Ocean's Eleven" as an Ocean pleads her case before the parole board. Moments later, Debbie slinks out of prison after a five-year stretch looking fabulous in the same high-end dress in which she was busted.
The prison diet obviously agrees with some people.
Bullock nails the appropriate swagger as Debbie cleverly grifts her way back into a lavish lifestyle, but that burst of slyness is never again duplicated.
Debbie meets up with her partner, Lou (Cate Blanchett), and the two nicely replicate the George Clooney-Brad Pitt dynamic of the original trilogy. Bullock's playful confidence and throwback glamour are a good match to Clooney's, and I'd pay to see them star in one of those 1980s-style body-swap comedies.
To pull off the heist Debbie has spent the past five years planning, she and Lou begin assembling their all-female crew, including jeweler Amita (Mindy Kaling), fence-turned-soccer mom Tammy (Sarah Paulson) and street hustler Constance (rapper-comedian Awkwafina).
Finding a hacker proves problematic as Debbie keeps rejecting foreign candidates. "Aren't there any hackers who aren't Russians?" she complains. Lou responds, "There's barely any Russians who aren't hackers." It's one of the few times the script, by director Gary Ross ("The Hunger Games," "Seabiscuit") and newcomer Olivia Milch, rises above its pedestrian dialogue. The interactions between the characters rarely crackle the way they did within Clooney's crew.
Nine Ball (Rihanna), the hacker they eventually settle on, may have been the most difficult to locate. But it's bankrupt, has-been fashion designer Rose Weil (Helena Bonham Carter) who has the most responsibility: convincing Hollywood A-lister Daphne Kluger (Anne Hathaway) to let Rose dress her for the Met Gala, then acquiring the targeted 6-pound, $150 million diamond necklace for Daphne to wear.
"Ocean's 8" whiffs on its opportunity to make a social statement. Debbie insists on having an all-female crew because men always get noticed, women don't, and for once she wants to use that to her advantage. Then their heist takes place at the Met Gala, the one place on the planet where no one ever notices men.
As for that heist, there's simply no way it took Debbie five years to plan — unless she's really bad at her job.
The best thing about heist movies is all the impossibilities the thieves must overcome. But "Ocean's 8" offers little in the way of conflict, obstacles or setbacks.
In "Ocean's Eleven," to rob the Bellagio vault, Danny and his crew encounter "a security system that rivals most nuclear missile silos," including rotating six-digit access codes, fingerprint and voice recognition, motion detectors and "the most elaborate vault door ever conceived by man."
In "Ocean's 8," the necklace's clasp proves difficult to open.
The spinoff makes for a fun hang, especially when Bullock and Blanchett interact. And it's a pleasure to watch Hathaway as she leans into many of the negative assumptions and rumors about her.
But Kaling is underutilized, and scenes that feel like they should set up a coming-out party for Awkwafina, much like the way Tiffany Haddish broke out of last year's "Girls Trip," rarely materialize.
Although this "Ocean's" may not make many waves, it offers a relatively cool break from the summer heat.
Contact Christopher Lawrence at clawrence@reviewjournal.com or 702-380-4567. Follow @life_onthecouch on Twitter.