'Pawn Stars' cast reflects on road to Monday's 500th episode
Updated January 20, 2018 - 8:10 pm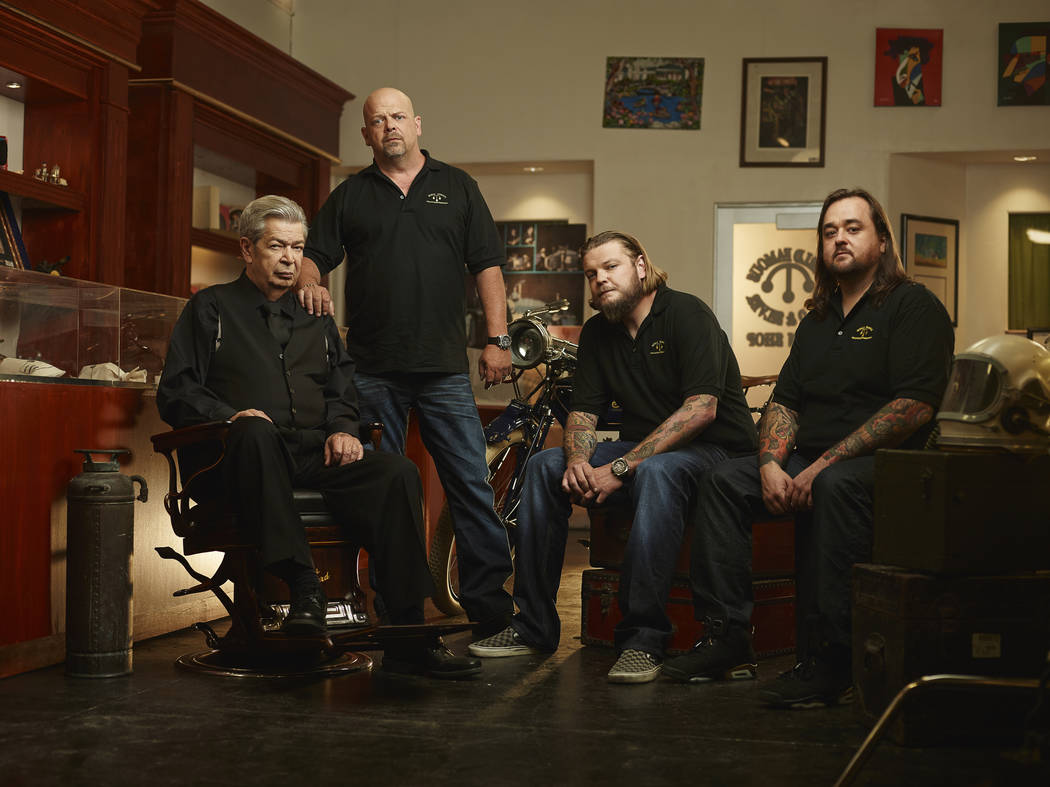 Much like the illegal fireworks that terrify your dog every Fourth of July and New Year's Eve, reality shows tend to burn bright and fast.
"Here Comes Honey Boo Boo" lasted just 55 episodes, "Jersey Shore" managed 71, and "Duck Dynasty" mustered 130. Even the mighty "Keeping Up With the Kardashians" is just now up to No. 210.
So did the cast of "Pawn Stars," which will air its 500th episode at 10 p.m. Monday on History, ever think they'd reach thatmilestone?
"Oh, no. I was hoping for a season or two and hoping it would help out business," says Gold & Silver Pawn Shop owner Rick Harrison. "I never thought it would turn into this."
His son, Corey, is more blunt: "Absolutely, positively, no (expletive) way."
As for Austin "Chumlee" Russell, he's just happy to be there. "The first two seasons, I know they did testing, and I didn't test very well," he reveals. "By the third season, though, I was definitely a staple on the show, and they couldn't get rid of me."
'The Old Man'
The fourth member of the cast, Rick's dad, Richard Harrison, scaled back his "Pawn Stars" appearances about a year ago.
"It was a third career I'd never even imagined: military then real estate then TV star," he said through a publicist. As for what he's enjoying most about his semiretirement, the 76-year-old Richard said, "spending more time with my wife and grandkids," before joking, "and not working with Corey, Chum and Rick every day."
Corey admits filming isn't the same now that the often taciturn Richard isn't as active with the show, before laughing. "It wasn't as if he was very active in the show when he was supposed to be active in it."
Turning serious, he says of his grandfather, "I'm pretty sure when he came to Las Vegas, dead broke and opened up a buy-and-sell store, that being an international celebrity … was never even in his wildest dreams. Getting to see what he created turn into something out of this world, that's really cool."
The early days
"I walked out of the first episode that we filmed and said, 'Oh, my God, what a waste of (expletive) time,' " Corey says. " 'No one's ever going to watch this.' "
"Pawn Stars" debuted July 26, 2009. After completing the first season, Corey was about to tell his father and grandfather that he didn't think all the additional work was worth the meager uptick in business. Then, over that Christmas, Corey took a cruise to Cabo San Lucas, Mexico. "I had people knocking on my room door asking if I could take a picture with their kid. I became, like, the entertainment."
He abandoned the cruise in Puerto Vallarta and caught a flight home. Within weeks, the Harrisons installed a velvet rope outside Gold & Silver, 713 Las Vegas Blvd. South, to control the mass of humanity trying to squeeze into the shop. The store, which had seen around 70 customers a day before the series began, would ultimately average 3,000 to 5,000 visitors each day with lines stretching down the block.
"The show definitely hit at the right time. It couldn't have been a better time for it to hit," Corey says. "Going back to the recession when the show popped off, people were broke. People were looking for what they could sell and make money on. And I think that's one of the reasons it became such a big hit and why people started watching it, because everybody kind of had that thing in their attic or their garage that might be worth some money and they didn't know. And in those times, I think people were really interested in finding out what stuff was worth."
The celebrity treatment
"I meet celebrities all the time, but I have no idea who they are, because I don't watch television," Rick says, followed by his famous laugh. "I read a book every night."
"I really am that nerd," the 52-year-old continues, "so when I get to go to the Smithsonian and get to go in the back rooms and play with stuff, things like that, for a guy like me, that's amazing."
Other perks have included a tour of the Crown Jewels, a party at the White House and the ultimate for a book collector: a personal tour of the Library of Congress, where Rick says he was able "to handle books no one else on the planet gets to handle."
Chumlee, who's known the Harrisons since he and Corey got into a fistfight in grade school, has had rappers Rick Ross, Wale and Riff Raff record in his home studio. "Most importantly," the 35-year-old says, "I probably never would have been able to give my mom a house if it wasn't for the show. That's one of the best things, one of the happiest moments."
"My life hasn't changed much," Corey, 34, insists. "I mean, just the stuff I have, I guess, is nicer."
But he isn't the same guy he used to be. He's roughly half that guy after having lost "a couple hundred pounds" thanks to surgery he was able to afford based on the show's success.
The workload
A few years ago, when "Pawn Stars" was among the most-watched series on television, the cast would spend nine months out of the year filming for 12 hours a day. Last year, it was down to four months of 12-hour days.
"There are plenty of days when I would love to get in my truck, drive to work, walk behind the pawn counter and just do a regular job. Buy a Rolex off a guy, pawn a few things, stuff like that," Corey says. "And that just doesn't happen anymore. Ninety percent of my transactions are done on TV now."
The cast hasn't been able to work the floor for years. For starters, whenever they'd come out of the offices, sales would screech to a halt as fans clamored for photos and autographs. Then there's the matter of secrecy. Pawning is essentially a banking transaction, and any photos showing the Harrisons or Chumlee doing their jobs would violate the privacy of their customers.
These days, Chumlee is more likely to be found next door at Chumlee's Candy on the Blvd., which he owns with his brother. As for Corey, "I've got an office upstairs I try to hit a couple of times a week. … We all have our titles, and stuff that we do there still. I guess last time I checked I was the COO. Luckily for all of us, we have a really, really good team behind us."
The future
Just as no member of the "Pawn Stars" cast saw the series lasting this long, none of them sees an end in sight.
"I think it can last for years," Rick says. "It's still fun, I enjoy doing it, and people all around the world love it."
"I don't feel like we're done yet. I feel like we have more to offer everybody out there," Chumlee adds. "How long can it go? I mean, hopefully as long as cable TV can sustain. I think cable TV has a better chance of going before us."
Even the once-pessimistic Corey admits, "I don't see it fizzling out anytime soon."
The youngest Harrison is grateful for the experience, however long it lasts.
"This is a wild ride that very few people in the world get to take," he reflects. "I got to take it with my best friend, my grandfather and my dad."
Contact Christopher Lawrence at clawrence@reviewjournal.com or 702-380-4567. Follow @life_onthecouch on Twitter.
International appeal
"Pawn Stars" airs in 150 countries and is translated into 38 languages.
"They dub my voice over in all these other languages, but they leave my laugh," Rick Harrison says, while laughing.
As much as he tries to avoid watching himself on TV, he's even been confronted with an episode in the Singapore airport.
"The show's got some of the most bizarre names overseas," he says, "because the whole 'Pawn Stars'/porn stars thing really doesn't translate."
In Spanish-speaking countries, its title translates to "The Price of History." In Italy, it's "The Family Business." Germans know it as "The Three Kings of the Pawnshop." And, if you're ever in Japan, Harrison says, you'll need to search for "American Treasure Hunters Appraisal Team Pawn Stars."