Pentatonix sends 'Caesars greetings' from Las Vegas in holiday special
Updated December 9, 2018 - 3:37 pm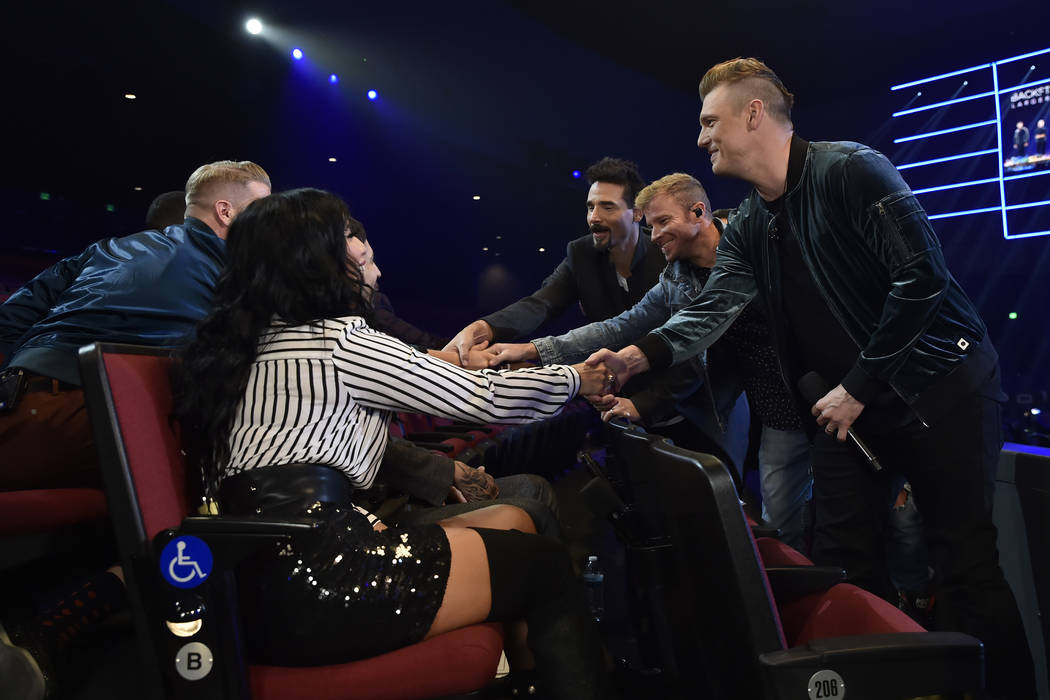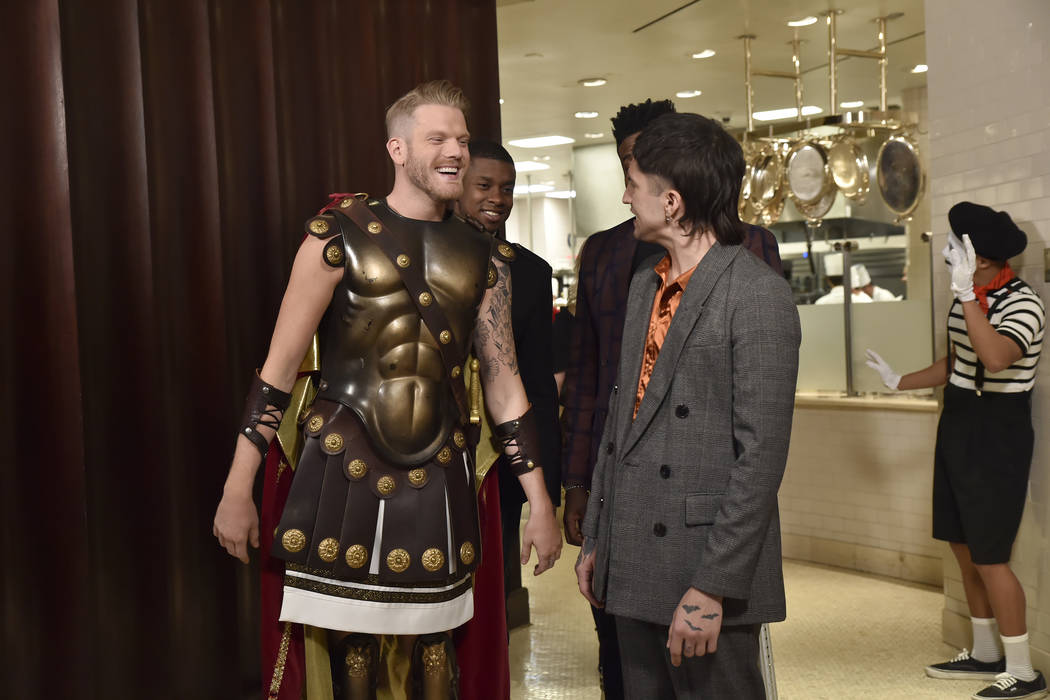 Any musical Christmas special worth its mistletoe knows the importance of special guests.
For its third NBC event, airing at 10 p.m. Monday, Pentatonix delivers Kelly Clarkson, the Backstreet Boys and Maren Morris, along with Penn &Teller.
The real guest stars, though, are the many, many Caesars Entertainment properties, including The Forum Shops, the Juno Garden wedding chapel and the Fly Linq zip line.
The absolutely bonkers result — truly one of the stranger things you'll see this holiday season — is called "Pentatonix: A Not So Silent Night." Possibly because "Pentatonix: Caesars Greetings" was a little too on the nose.
The a cappella singers wake up on Christmas morning, "Hangover"-style, inside a tricked-out Caesars Palace suite with no idea what happened the night before.
Scott Hoying is wearing a centurion costume. Kirstin Maldonado is dressed like a mime. Mitch Grassi looks like he mugged a Gazillionaire knockoff. And Kevin Olusola seems to be indulging in some serious Theo Huxtable cosplay. Only Matt Sallee, the newest member of the group, has any recollection of how they spent Christmas Eve.
"All I remember is Caesars' midnight buffet!" Hoying exclaims, before the group is shown sampling the wares and taking selfies at the Bacchanal Buffet. "Ohh, I'm pretty sure I dreamed about those crab legs," Maldonado adds.
The rest of the special finds Pentatonix retracing its steps and doing that beatbox-y thing all over Las Vegas — at least at the city's Caesars-owned properties.
Upon entering their suite for the first time, Hoying is stunned by the opulence. "Wow, Caesar, what can't you do? First the salad and now this."
They turn up in the seats at the Zappos Theater at Planet Hollywood Resort for "a little 10-part harmony" with resident headliners the Backstreet Boys.
They perform "Joy to the World" on the High Roller.
They take the stage — introduced by Penn Jillette and, to a lesser degree, Teller — for "Sweater Weather" and "Coldest Winter" in the duo's titular, sparsely filled theater.
They sing "Making Christmas" in the audience at "Absinthe" while a variety of acts perform behind them as part of what may be the strangest thing to ever take place inside that Spiegeltent. And, if you aren't familiar with "Absinthe," that's saying something.
For sheer randomness, though, it's hard to top what happens once Hoying acquires his centurion outfit. "Scott was anxious to give his new look a test run," Sallee narrates, "so we went to the Eiffel Tower Restaurant, where we ran into Kelly Clarkson."
Who among us hasn't?
"A Not So Silent Night" may be the most commercial piece of Christmas entertainment to grace our fair city since that Fashion Show spectacle that saw Santa and a troupe of dancers boogying down to a version of "Mr. Sandman" that managed to cram in the names of most of the mall's prominent tenants.
It's hard to knock any special that ends on such a charitable note, with Pentatonix performing and serving meals alongside Morris at the Las Vegas Rescue Mission.
Hard. But not impossible.
For starters, Olusola's Huxtable duds — a blue dress shirt and an unbuttoned plaid vest — are supposed to be, of all things, a pirate costume. Aargh, indeed.
Penn &Teller are featured, but they don't perform an illusion. Instead, Jillette, an unbelievably good sport, is presented as some type of sorcerer.
And what sadist made Maldonado, her broken ankle encased in a massive cast, struggle to balance on one foot during the majority of the group's performances? Would a crutch be considered too Tiny Tim? Was there no room under their tree for a chair?
All that, though, just adds to the delightful awkwardness that permeates nearly every scene of "A Not So Silent Night."
And it does little to obscure the special's message, which seems to be: Have a very Caesars Christmas, and an absolutely Caesars New Year.
Contact Christopher Lawrence at clawrence@reviewjournal.com or 702-380-4567. Follow @life_onthecouch on Twitter.
What to watch
It's an almost certain best picture Oscar nominee. Now you can see Alfonso Cuaron's "Roma" (Friday, Netflix) at home.
Based on John Grisham's nonfiction best-seller, the true-crime series "The Innocent Man" (Friday, Netflix) focuses on murders that shook Ada, Oklahoma, in the 1980s.
Get ready for the third season of "Crashing," coming in January, with Pete Holmes' second stand-up special, "Dirty Clean" (10 p.m. Saturday, HBO).
If you need a little witchcraft this Christmas, there's the stand-alone holiday special "Chilling Adventures of Sabrina: A Midwinter's Tale" (Friday, Netflix).