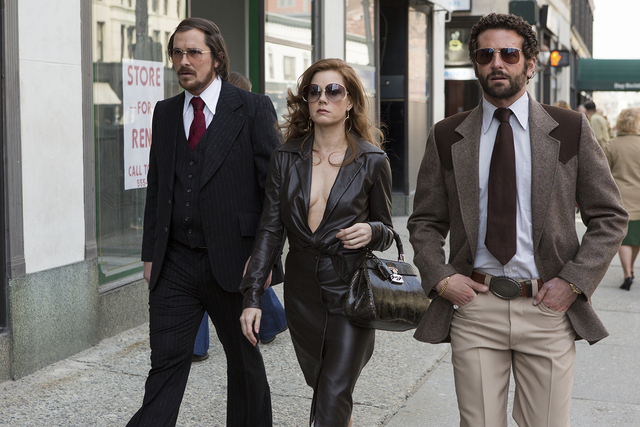 Fittingly for a movie all about characters pretending to be other people, "American Hustle" finds writer-director David O. Russell channeling Scorsese, Christian Bale doing his best De Niro and Jeremy Renner seemingly auditioning for the lead in "Funny How?: The Joe Pesci Story."
So when the real De Niro eventually turns up as a Miami mobster, it somehow feels both impossible and inevitable.
Throw in Amy Adams as a con artist posing as a British banking expert, Bradley Cooper as a reckless FBI agent with gold chains, a perm and chest fur that would make Steve Carell proud, and Jennifer Lawrence as a depressed, sunlamp-addicted homebody, and "American Hustle" offers some of the year's richest character work.
Ever-so-loosely based on the late-'70s Abscam corruption scandal — the movie opens with the disclaimer "some of this actually happened" — "American Hustle" looks like 1978 took a good, long look at itself in the mirror and threw up all over it.
Not surprisingly, Lawrence is fantastic. Reunited with "Silver Linings Playbook's" Russell, she's all accent and attitude. Whether she's dancing and singing along like a mental patient to "Live and Let Die" while cleaning the house or cursing her new microwave, aka "the science oven," she's a riot.
Russell continues to bring out the best in Cooper, who shares sexual heat, as well as some plunging necklines, with Adams' scammer, whose wardrobe keeps threatening to turn "American Hustle" into "American Hustler." The phone call, with both of them sporting curlers in their hair as they arrange to go dancing, is priceless.
Bale, though, steals the show as the swindler Cooper's agent traps into helping him arrest bigger fish. Letting his inner character actor out to play, Bale proudly displays the gut he added for the role. And the opening scene, in which he meticulously glues down a too-small hairpiece and his ridiculous combover, is among 2013's finest.
■ In with the new: You can head to the madness of the Strip on Dec. 31 and try to get on TV as Mario Lopez hosts Fox's "New Year's Eve Live." Or you can watch it all — as well as the pre-taped performances by Panic! at the Disco, J. Cole, Krewella and New Politics — from the warmth and comfort of home when the annual special airs tape-delayed locally at 11 p.m. on KVVU-TV, Channel 5.
■ A "Piece" of Britney: If you can't wait till Friday to see Britney Spears' "Piece of Me" at Planet Hollywood Resort, you can see her rehearsing as part of the fawning, two-hour extravaganza "I Am Britney Jean" (9 p.m. Sunday, E!). Besides promoting her Las Vegas residency, the special promises "an intimate look at one of the most overexposed yet under-revealed stars of today."
■ Local ties: The Browns — Kody, Meri, Janelle, Christine and Robyn — are back as "Sister Wives" (9 p.m. Dec. 29, TLC) returns for a batch of eight new episodes. And Drita, Renee and the gang head to Las Vegas for two episodes of "Mob Wives" (10 p.m. Thursday and Jan. 2, VH1).
Contact Christopher Lawrence at clawrence@reviewjournal.com or 702-380-4567.