'Rogue One' is the 'Star Wars' prequel you're looking for
December 13, 2016 - 9:00 am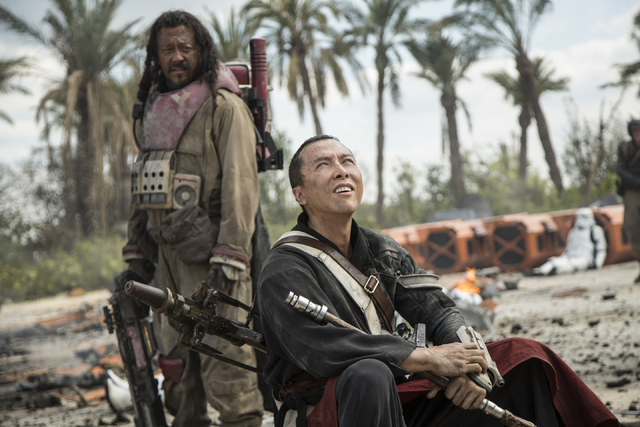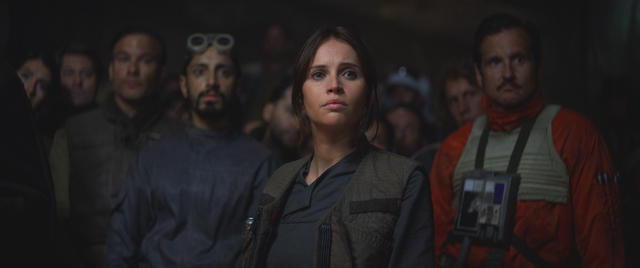 All it took was 17 years and the removal of George Lucas from the process to finally make a proper "Star Wars" prequel.
Unlike the much-derided Episodes 1-3, "Rogue One: A Star Wars Story" is a prequel in the truest sense as it follows the ragtag band of rebels who attempt to steal the plans for the Death Star in the weeks leading up to the events of the 1977 original.
But while it's a better movie than last year's "The Force Awakens," it's not as much fun.
For starters, "Rogue One" is a darker, grittier story. And it isn't revisiting beloved characters we hadn't seen in nearly four decades.
Not that "Rogue One" is lacking in the nostalgia department. "The Force Awakens" felt familiar because it was basically a thinly veiled remake of the movie now known as "Star Wars: Episode IV — A New Hope." "Rogue One" feels even more familiar because the set design, the costumes — it's as though everyone involved is wearing their throwback uniforms — and especially the technology feel lifted straight from the original. (Nothing bothered me more about the "Alien" prequel "Prometheus" than the fact that, despite taking place 30 years prior, the science and technology of "Prometheus" made the original's ship look like it was powered by a Commodore 64.)
Anyway, "Rogue One" opens with Director Orson Krennic (Ben Mendelsohn, Netflix's "Bloodline") tracking down Galen Erso (Mads Mikkelsen, "Doctor Strange"), an experimental physicist turned farmer, to bring him back aboard the stalled Death Star project in order to achieve "peace (and) security for the galaxy." "You're confusing peace with terror," Galen warns him. "Well," Krennic responds, "you have to start somewhere."
Galen sends his young daughter, Jyn, into hiding, where she's rescued by the radical rebel extremist Saw Gerrera (Forest Whitaker). When we next see Jyn (Felicity Jones, "The Theory of Everything"), she's fully grown and once again being rescued, this time from a prison labor camp convoy.
It seems Bodhi Rook (Riz Ahmed, HBO's "The Night Of"), an Imperial cargo pilot, has defected with news of plans for "a planet killer" and is being interrogated by Saw. But Alliance intelligence officer Cassian Andor (Diego Luna) thinks he can get to Bodhi and Saw through Jyn.
From there, "Rogue One" requires Jyn to learn to trust Cassian, as well as the droid K-2SO (Alan Tudyk), a former Imperial security guard. As a byproduct of his reprogramming, K-2SO says whatever comes to his "mind" — making him a cross between a simpler version of C-3PO and Sophia from the "Golden Girls."
They're joined in their mission by Chirrut Imwe (Donnie Yen), a blind monk who is one of the few who still believes wholeheartedly in The Force, and Baze Malbus (Jiang Wen), Chirrut's closest friend and sometime protector.
Director Gareth Edwards ("Godzilla") and screenwriters Chris Weitz ("About a Boy") and Tony Gilroy (the first three Jason Bourne movies) have crafted a movie about a rebellion that actually feels like a rebellion is taking place. The insurgents fight just as you'd expect against an occupying force. At times, it's uncomfortably close to movies like "Black Hawk Down" or "13 Hours," only told from the opposite perspective.
And the stakes are higher than they were during "The Force Awakens." Because this is a stand-alone movie, there are no future plans for any of these characters, so any of them could die at any moment.
That isn't to say there's no fun to be had in "Rogue One." Tudyk is a hoot as K-2SO, and I still got goosebumps when the rebel pilots scrambled for their X-wings to battle the old-school TIE fighters and Star Destroyers.
The movie works even if you only have a passing knowledge of the "Star Wars" universe or haven't seen the original in years. But there are several enjoyable callbacks and some eye-popping surprises for die-hard fans.
"Rogue One"may not have the built-in anticipation of "The Force Awakens," but it is the "Star Wars" prequel you're looking for.
Contact Christopher Lawrence at clawrence@reviewjournal.com. On Twitter: @life_onthecouch
Review
Movie: "Rogue One: A Star Wars Story"
Running time: 133 minutes
Rating: PG-13; extended sequences of sci-fi violence and action
Grade: B+
Opens Friday at multiple locations