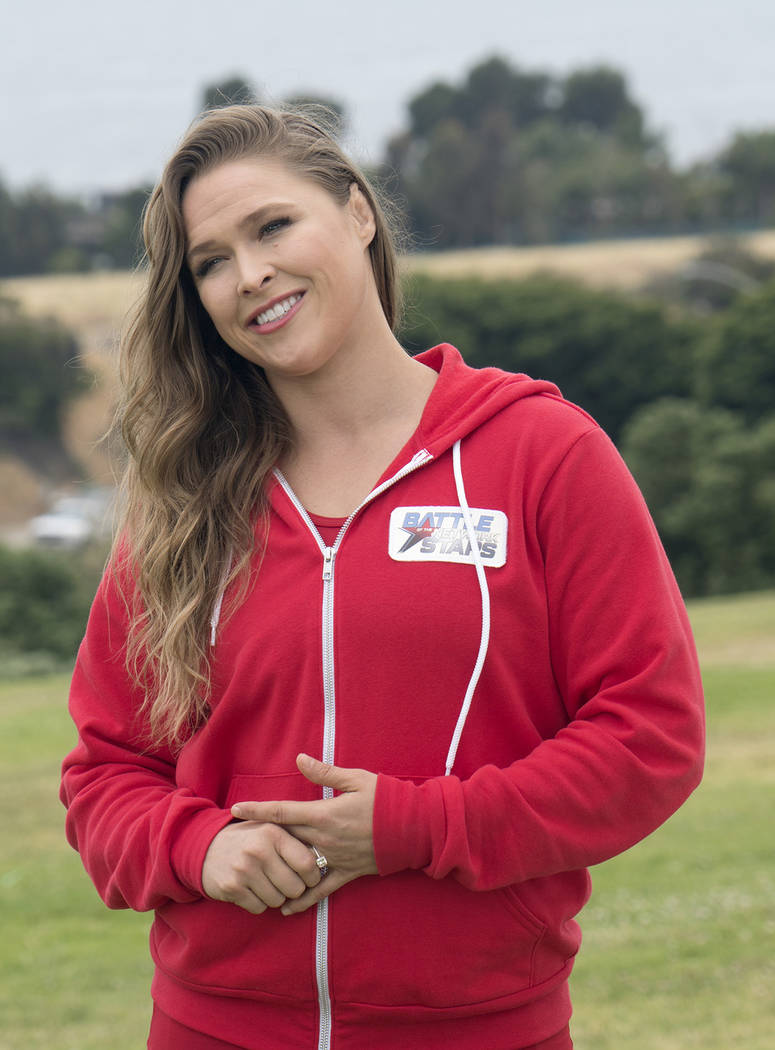 It's summer, and once again ABC is partying like it's 1979.
A low-rent 1979 at that.
For the third straight year, Steve Harvey is hosting back-to-back episodes of "Celebrity Family Feud" (8 p.m. Sundays). One of this week's episodes features the families of former NBA All-Stars Kareem Abdul-Jabbar and Ralph Sampson. The other, though, stretches the term "celebrity" past its breaking point by pitting Harvey's wife, two sons and two sons-in-law against his mother-in-law and his four daughters.
"The $100,000 Pyramid" (10 p.m. Sundays) is back, too. Hosted by Michael Strahan, this week's games have Green Bay Packers quarterback Aaron Rodgers taking on Fox Sports' Erin Andrews and actor Robbie Amell challenging his wife, "Designated Survivor's" Italia Ricci.
Anthony Anderson is once again hosting "To Tell the Truth" (10 p.m. Wednesday), with this week's "celebrity" panel consisting of Wanya Morris, Cheryl Burke, Rachel Dratch and Natasha Leggero.
And the revival of "The Gong Show" (10 p.m. Thursdays) debuted last week with its new host, "British comedic legend Tommy Maitland" — aka Mike Myers and 10 pounds of makeup. With this week's judging panel scheduled to comprise Fred Armisen, Elizabeth Banks and Will Forte, there's at least a hint of star power on there.
Unlike the network's next revival, "Battle of the Network Stars" (9 p.m. Thursday).
The original version, which started in 1976 and ran twice a year from 1977 to 1984, was a sweeps-month sensation and a treasure trove of nostalgic awesomeness. (Episodes turn up occasionally on ESPN Classics.)
From a historical perspective, watching Billy Crystal race past David Letterman on an obstacle course is mind-boggling. Even at the time, hearing Howard Cosell announce a game of celebrity Simon Says with all the fervor of an Ali prizefight was something to behold.
Befitting 1970s-era ABC, which was known as the home of "jiggle television," most events required the competitors — some of the biggest stars on television at the time who actually represented the networks they were on, hence the name — to be in bathing suits. Whether it was Heather Locklear rowing a kayak in a swimming pool or Tom Selleck stripping down to a Speedo to sit in a dunk tank, there was something for almost everyone to gawk at.
The new version, though, asks viewers to delight in the athletic exploits of the likes of Tom Arnold, Erik Estrada, Lou Ferrigno, Jimmie Walker and Danny Bonaduce.
No disrespect to any of the participants, but the biggest "star" on the new "Battle of the Network Stars" is Ronda Rousey, the permanent captain of the red team.
Considering the ages of some of the participants, it's almost surprising ABC didn't trot out Betty White to compete in 3-on-3 football.
Because, for the most part, the new cast is more likely to break hips than ratings records.
Contact Christopher Lawrence at clawrence@reviewjournal.com or 702-380-4567. Follow @life_onthecouch on Twitter.
Shows to know for the week ahead
■ Detective Inspector Alec Hardy (David Tennant) and Detective Sergeant Ellie Miller (Olivia Colman) begin investigating a sexual assault on the premiere of the final season of "Broadchurch" (7 p.m. Wednesday, BBC America).
■ When Jesse Custer (Dominic Cooper) realizes God is missing, he hits the road to find him, along with his true love (Ruth Negga) and a 119-year-old Irish vampire (Joseph Gilgun), in the second-season premiere of the supernatural "Preacher" (10 p.m. Sunday, AMC).
■ A Manhattan therapist (Naomi Watts) starts developing intimate relationships with the people in her patients' lives in the steamy "Gypsy" (Friday, Netflix).
■ Stefanie Martini takes over the role that made Helen Mirren a star as Jane Tennison investigates her first murder in the premiere of the prequel series, "Prime Suspect: Tennison" (10 p.m., PBS).