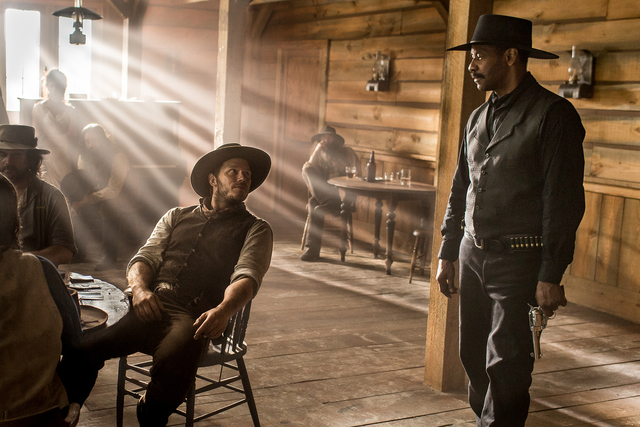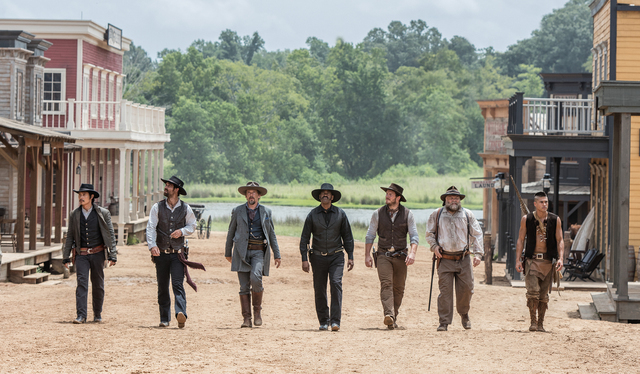 Before you go getting your hide chapped that Hollywood remade "The Magnificent Seven," remember one thing: "The Magnificent Seven" itself was a remake.
And this new "Magnificent Seven" has about as much in common with the 1960 version as that one did with its inspiration, 1954's "Seven Samurai." Or, for that matter, the many movies that it influenced, ranging from the 1986 comedy "Three Amigos" to Syfy's recent boy-band zombie-apocalypse Western "Dead 7."
Aside from a handful of borrowed lines, themes and characteristics from the original "Magnificent Seven," the action-packed threemake is just another modern take on the Western, albeit one with more humor and a much higher body count than you might expect.
This time, there's no Mexican bandito — well, there's no Eli Wallach portraying a Mexican bandito, because, yikes! — threatening a small, south-of-the-border village for its crops. Now it's robber baron Bartholomew Bogue (Peter Sarsgaard) terrorizing the presumably California town of Rose Creek in 1879 for its vast gold deposits.
Rose Creek's sheriff and deputies are bought and paid for, Bogue has brought in an army of hired guns, and townsfolk are callously being murdered in the streets. So the widow Emma Cullen (Haley Bennett) sets out to find protection, starting with duly sworn warrant officer Sam Chisolm (Denzel Washington).
The rest of the Seven are rounded out by gambler Josh Faraday (Chris Pratt), the traumatized Goodnight Robicheaux (Ethan Hawke) and his knife-wielding sidekick, Billy Rocks (Byung-Hun Lee). There's also Jack Horne (Vincent D'Onofrio), a mountain man who's also a mountain of a man, Mexican outlaw Vasquez (Manuel Garcia-Rulfo) and a Comanche named Red Harvest (Martin Sensmeier).
Written by Nic Pizzolatto (HBO's "True Detective") and Richard Wenk ("The Equalizer"), "The Magnificent Seven" serves as a reunion for Washington and Antoine Fuqua, who directed him in "Training Day" alongside Hawke, as well as in "The Equalizer."
Whereas the 1960 version had the Seven trying to turn a village of farmers armed with three rifles, agricultural tools and barstools into a well-regulated militia, Rose Creek is inhabited by dozens of able-bodied men with their own rifles. Why they all have rifles yet can't hit the broadside of a barn is beyond me, but it gives Pratt and Hawke's characters something to do in training them. "Ya'll go home, polish your rifles," Pratt's discouraged Faraday tells them. "Maybe the glint will scare them off."
Yet, lo and behold, when the final confrontation comes — and it's a doozy with bodies flying hither and yon (mostly hither, a few yon) — the residents of Rose Creek are more than ready to kill and die for their town.
After what seems a half-hour of nonstop shooting and only occasional reloading — this is, after all, still a Western — one of the characters cries out, "We're running out of ammo, boys!"
Well, I'd hope! There's so much lead flying around, the Seven could have melted it all down and built a dome around Rose Creek instead.
Washington is his usual cool self. Hawke and D'Onofrio get a few nice actorly moments. And Chris Pratt runs around doing Chris Pratt-y things. When his Faraday has trouble following the more eloquent parts of Hawke's dialogue, Robicheaux promises to "try to use one-syllable words from now on." Faraday's response? "What's a syllable?"
As the big, bad Bogue, though, Sarsgaard really isn't around enough to make much of an impression. And the filmmakers bafflingly hold back the original's iconic score until the closing credits when it would have added so much to the final battle.
There isn't anything particularly magnificent about the Seven or the movie itself, even though it makes for a fun, summery popcorn movie in the early days of fall.
But "The Pretty Good Seven Who Often Crack Wise While Blowin' Up Stuff Real Good" doesn't exactly roll off the tongue.
Contact Christopher Lawrence at clawrence@reviewjournal.com. On Twitter: @life_onthecouch.
Review
Movie: "The Magnificent Seven"
Running time: 133 minutes
Rating: PG-13; extended and intense sequences of Western violence, and for historical smoking, some language and suggestive material
Grade: B-
Now playing: At multiple locations