'Sharknado' chews the scenery in Las Vegas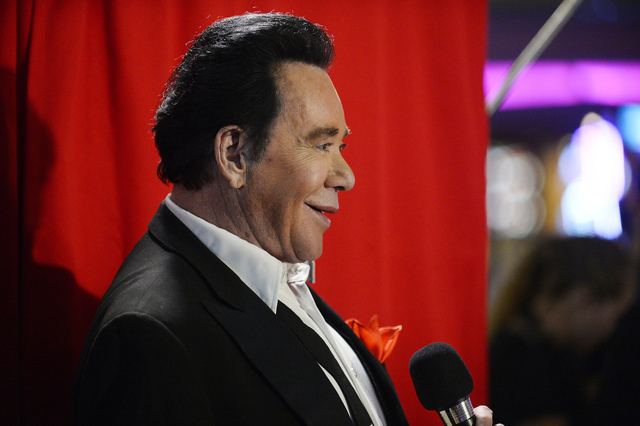 What did the Stratosphere ever do to Ian Ziering?
The hotel has played a central role in exactly two movies: 2005's "Domino," with Keira Knightley portraying real-life bounty hunter Domino Harvey, and "Sharknado: The 4th Awakens" (8 p.m. Sunday, Syfy).
Ziering starred in both productions, and both left the Stratosphere obliterated — at least onscreen.
"We decimated this hotel," the actor said of the "Domino" special effects. "Blew the top of it off."
Ziering was back in Las Vegas in March for two days of inflicting even more fictional damage on the hotel while filming the latest "Sharknado."
According to the plot, previous sharknados created so much interest that tech billionaire Aston Reynolds (Tommy Davidson) built Shark World casino, complete with a 25-story aquarium loaded with sharks. Coincidentally, the grand opening is the same weekend Ziering's Fin Shepard is attending a family reunion at the Stratosphere.
Then a sandstorm hits, sending sharks flying through town like so much trash from those Republic Services trucks.
"Miraculously and luckily," Ziering said, "Fin Shepard is here to make sure his family is safe."
'AMAZING AND RIDICULOUS'
"Everything's going according to plan," Ziering said. "We plan for chaos, and we're right on target for that."
Considering it's Syfy's biggest annual event, the "Sharknado" set was incredibly loose. Surprisingly little security. No barricades to keep onlookers at bay. No one seemingly sure when or if celebrities would show up for their cameos.
"It's an amazing and ridiculous way to make movies," admitted Thunder Levin, who's written each installment of the franchise. "But then again, we're making a ridiculous movie, so it all seems to work out."
As the star of all four movies and a co-executive producer, Ziering is the unofficial mayor of Sharknadoville. When he wasn't in a scene, Ziering was busy directing traffic and keeping tourists from wandering into shots. When Vince Neil wrapped his cameo, Ziering came over to hug him, take photos and thank him for his participation.
Ziering did the same for Wayne Newton, who for some reason was standing in front of a red curtain beneath an escalator singing the "Sharknado" theme song, reading the lyrics — "Go, go, go, go, go, go, go; run away from the Sharknado" — off cue cards.
Making matters worse, he wasn't as easily recognizable as perhaps the "Sharknado" producers had hoped.
Onlooker: "Who's that?"
Me: "Wayne Newton."
Onlooker: "Who's Wayne Newton?"
Some variation of this happened at least a half-dozen times.
CAMEOS APLENTY
Another of Ziering's unofficial duties: peer-pressuring reporters into being spur-of-the-moment extras.
After an interview, Ziering asked if I wanted to run through the back of a scene while Neil shot craps.
I demurred.
Come on, it's fun, he said.
Nope, I'm good.
After the third try, and not wanting to appear rude, I agreed.
Seconds later, with no instruction whatsoever, I lined up alongside a handful of actual extras. Then someone yelled "Shark," we ran like crazy people directly at another group of extras, bobbing, weaving and smacking into them along the way. Then, for some reason, we reversed course and ran the other way — since apparently that's how people are supposed to react to the presence of sharks on a casino floor.
For continuity purposes, we had to keep doing it. And doing it. And doing it some more. It's a wonder no one suffered a concussion.
Mercifully, my scene didn't make the cut. But look for our own Doug Elfman, front and center in a bar scene. Moments later, Mike Weatherford saves Norm Clarke from certain death atop the Stratosphere tower.
Other Las Vegans making cameos include the Chippendales — who spring into action like a team of shirtless superheroes, with one of them punching out a shark with his crotch — UFC fighters Frank Mir and Roy Nelson, Frank Marino and his Divas, Susan Anton and Carrot Top as an Uber driver with a penchant for prop comedy.
'CRAZIER AND CRAZIER'
Las Vegas is such an iconic destination, it's seemed like a natural setting for a "Sharknado" movie ever since the first one took social media by storm back in 2013. So why did it take so long to get one here?
"I think the obvious answer is, it took a while for sharks to get that far inland," writer Levin said.
But when you're bending the laws of physics past the breaking point at every turn, what's one more twist?
"Nonsense," Levin said in mock indignation. "Everything in 'Sharknado' is absolutely, 100 percent scientifically accurate. Everybody knows that."
Sharks end up devouring passengers on the rides atop the Stratosphere's tower. They of course make their way into the Fountains at Bellagio. And, in an inspired scene, Fin sails the Treasure Island pirate ship down a flooded Strip.
Unlike other productions that film in Las Vegas — "Jason Bourne," for example, which is currently tearing up the Strip on the big screen — "Sharknado: The 4th Awakens" didn't exactly have the time or resources for much preproduction. Heck, the entire movie was shot in 15 days. So Levin had to write the script without some of the usual advantages.
"You know, this is a very low-budget film," he said, stating the obvious. "They don't have the kind of location-scouting funds to send the writer off to get absolute verisimilitude. I'd been in Las Vegas once. In 1986. I went on Google Street View to see what things were like."
For all the hoopla, Las Vegas only gets about 25 minutes of actual screentime. "Most people would kill to have a sharknado for only a minute!" Levin said, laughing.
But there's no reason to think the franchise can't return.
"This is kind of turning into a summer series," Ziering said. "And there are many ideas floating around for subsequent episodes to continue this, and they just get crazier and crazier."
In fact, Levin said he just submitted proposals for the fifth, sixth and seventh "Sharknado" movies.
"And I don't know if they're going to go for it, because it's even more out there to be honest with you," he admitted. "And they might decide I've just gone off the deep end and need to be institutionalized or something."
Contact Christopher Lawrence at clawrence@reviewjournal.com. On Twitter: @life_onthecouch