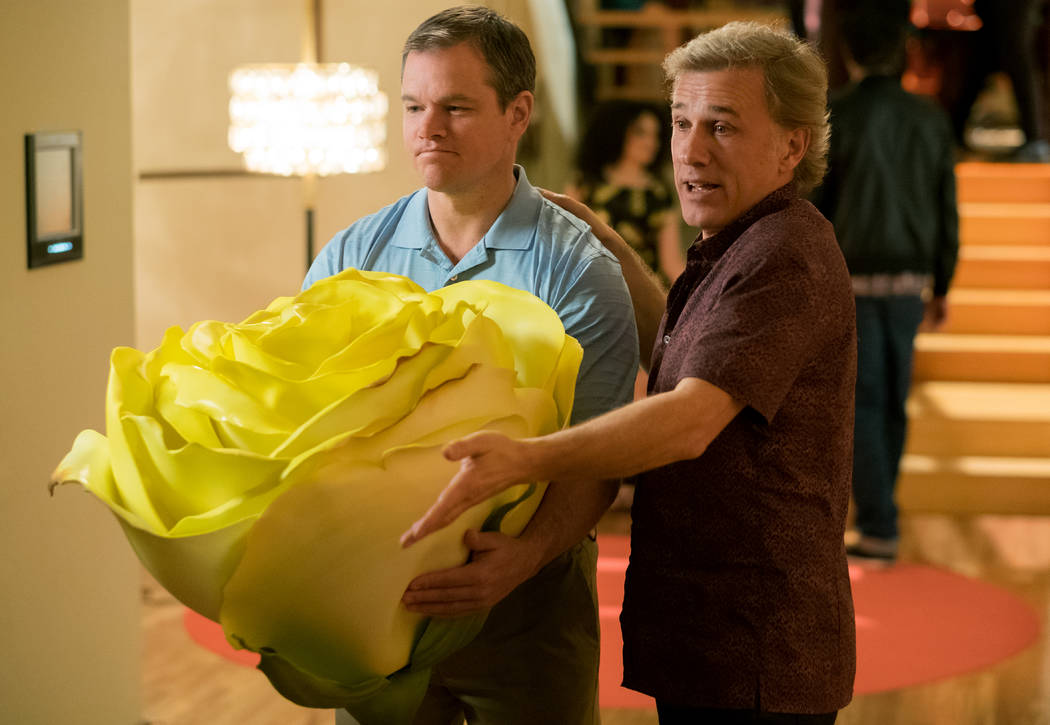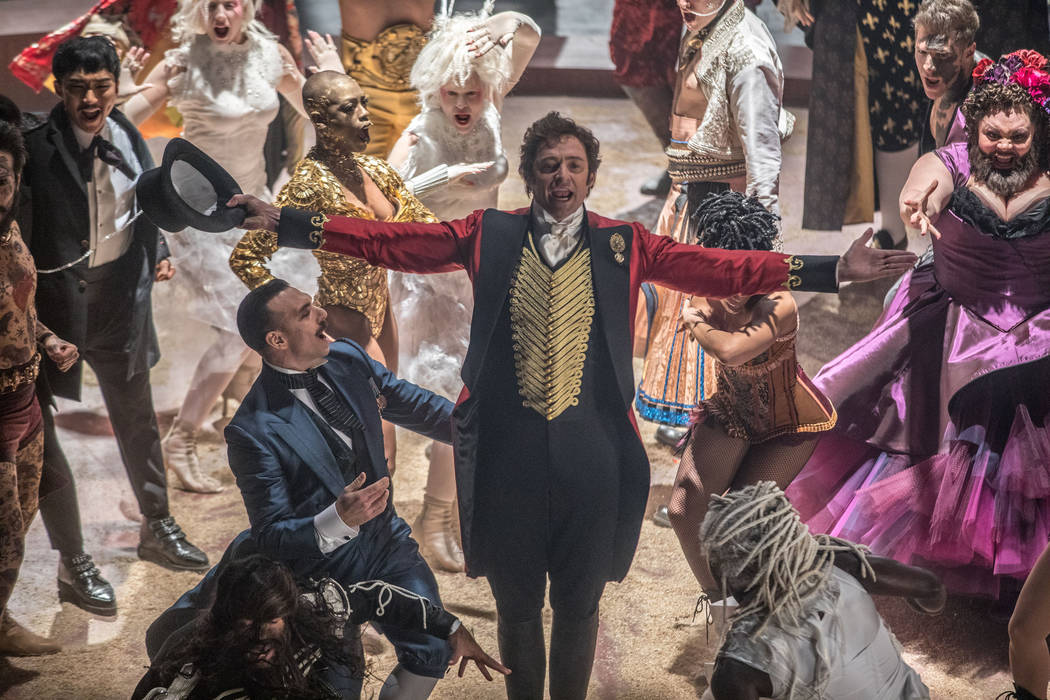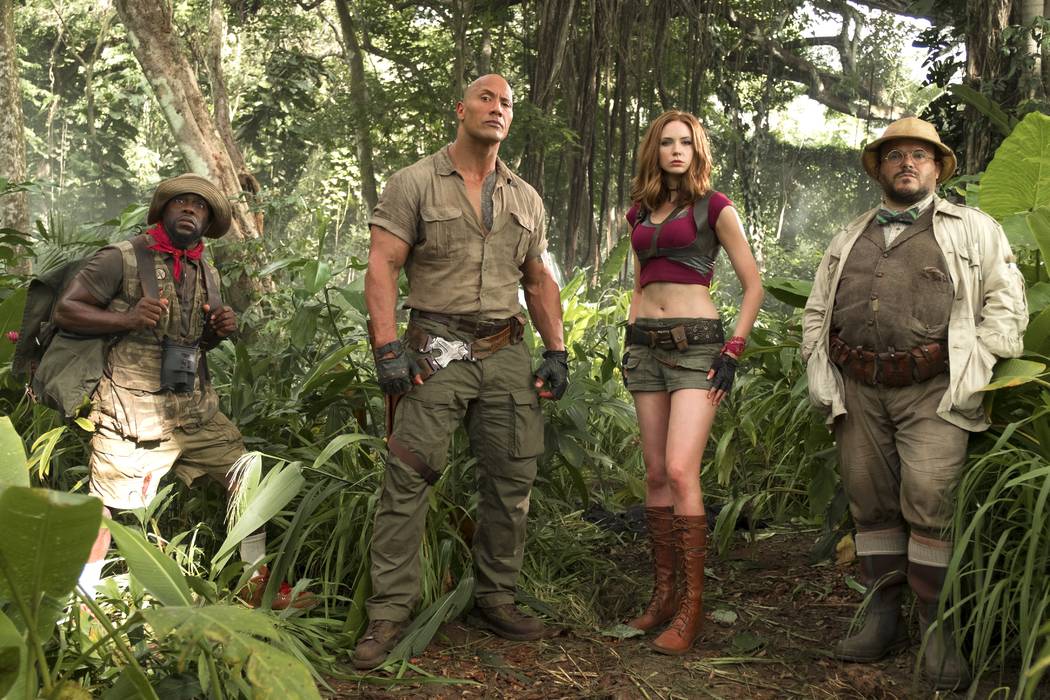 Christmas is coming early at the multiplexes.
"The Greatest Showman" and "Jumanji: Welcome to the Jungle" hit theaters Wednesday, and "Darkest Hour," "Downsizing," "The Shape of Water," "Pitch Perfect 3" and "Father Figures" arrive Friday.
I wasn't able to watch everything because of conflicting screening times, but here's a guide to the films I saw to help you sort out your holiday weekend moviegoing. (For reviews of Christmas Day releases "All the Money in the World" and "Molly's Game," see Friday's Neon.)
'The Greatest Showman' (B)
This musical look at the life of P.T. Barnum (Hugh Jackman) puts a glossy sheen on his relationships with those he exploited as "freaks." And it doesn't take into account his legacy of the nearly 150 years of suffering endured by exotic animals. But, man, are those songs catchy!
"The Greatest Showman" bursts out of the gate at a breakneck pace. In the first half-hour, young Barnum is orphaned and cast out onto the streets, marries his privileged childhood sweetheart (Michelle Williams), has two daughters, fails at multiple careers, opens a museum of curiosities and moves from a cramped apartment with a leaky roof to an ostentatious mansion near her disapproving parents.
Then things come to a screeching halt as the story gets bogged down with Barnum's flirtations with legitimacy and Swedish singer Jenny Lind (Rebecca Ferguson).
Moviegoers won't learn much about Barnum here — and that's not really the point. "The Greatest Showman" is the type of spectacle he was known for delivering. From the dazzling aerial number featuring Zac Efron and Zendaya as part of a cross-generational Disney Channel romance to the foot-stomper "The Greatest Show," the music and choreography are decidedly and modernly anachronistic. It's more Cirque than circus.
Songwriters Benj Pasek and Justin Paul ("La La Land," "Dear Evan Hansen") perfectly encapsulate the movie's themes with "This Is Me," which celebrates being comfortable in your own skin, whether it's a hue that's socially unacceptable for the times, has hair where it shouldn't, or is stretched over a body that's disproportionately tall, small or wide.
'Jumanji: Welcome to the Jungle' (C)
I have no idea who the target audience is for this sequel/reboot/offshoot, but I wouldn't object to them being put on some sort of watch list.
Nothing too invasive or anything. I'm simply suggesting that anyone who likes their family movies to cater to 8-year-olds while also including a good bit of cursing and at least two jokes too many about Jack Black's penis might be worth keeping an eye on.
Four high-schoolers serving detention find a dusty video game console and a "Jumanji" cartridge. When they start to play, they're sucked inside the world of the game and the bodies of the characters they've chosen. Nerdy germaphobe Spencer (Alex Wolff) becomes the heroic Dr. Smolder Bravestone (Dwayne Johnson). Self-conscious Martha (Morgan Turner) turns into the scantily clad martial arts master Ruby Roundhouse (Karen Gillan). Massive jock Fridge (Ser'darius Blain) is a diminutive zoologist (Kevin Hart). And selfie queen Bethany (Madison Iseman) becomes trapped in the body of a chubby cartographer (Jack Black).
If Hollywood has to make another "Jumanji" movie, this is a great concept, especially whenever Johnson has to channel his inner, insecure teenager.
Black's "there's a gorgeous teenage girl inside me" shtick is masterful, but, like the movie, it goes on for way too long.
Aside from a handful of genuinely funny, can't-help-but-laugh moments, though, this trip to the jungle is anything but welcome.
'Darkest Hour' (B)
As she's being prepped for her first day with Winston Churchill (Gary Oldman), his new secretary (Lily James) is warned, "He mumbles, so it's almost impossible to catch everything."
Mercifully, he's not too difficult to understand. But Oldman so disappears into the character, with the help of untold pounds of prosthetics and padding, it's as though director Joe Wright ("Atonement") discovered a brilliant, portly, 60-something actor just walking about the streets of London.
Focusing on Churchill's first few weeks as prime minister, "Darkest Hour" opens on May 9, 1940, as Hitler stands poised to conquer Europe, the entire British Army is stranded in France and the British Parliament has lost faith in its leader, Neville Chamberlain (Ronald Pickup).
The 65-year-old cigar-chomping, booze-swilling Churchill, who holds court in bed and dictates speeches while splashing around in the bath, replaces Chamberlain the next day.
King George VI (Ben Mendelsohn) wants nothing to do with him. Chamberlain immediately begins plotting his ouster. He's constantly being told to seek a peace treaty with Hitler. And there's the never-ending problem of getting those 300,000 troops home from France.
If you've seen "Dunkirk," that movie makes for a pretty big spoiler, but the two films actually complement each other quite nicely. And "Darkest Hour" demonstrates how, considering that everything and most everyone were working against Churchill, it's fairly extraordinary that there's still an England.
'Downsizing' (B-)
In an effort to combat overpopulation, Norwegian scientists have developed a method of shrinking people to approximately 0.0364 percent of their current mass and volume.
Many of those who undergo the cellular reduction do it so they'll consume fewer natural resources and extend the life of the planet. Paul and Audrey Safranek (Matt Damon, Kristen Wiig) sign up once they learn their $152,000 in equity has the equivalent value of $12.5 million inside New Mexico's Leisureland Estates, which boasts dollhouse-sized McMansions, three Cheesecake Factories and a teeny, tiny Tony Roma's.
"Downsizing" hails from director and co-writer Alexander Payne ("Sideways"), but the idea of a 5-inch Matt Damon can't help but seem like a practical joke concocted by his TV nemesis, Jimmy Kimmel.
Once inside Leisureland, nothing is as Paul imagined. Then, after reluctantly attending a party thrown by his Serbian playboy neighbor (Christoph Waltz), Paul has a chance encounter with Ngoc Lan Tran (Hong Chau), a Vietnamese dissident who was downsized against her will and gained international fame as the only survivor among a number of itty-bitty immigrants who stowed away inside the packaging of a TV bound for America.
She now works as a cleaning lady.
Chau is phenomenal as the hilariously bossy ball of wonder who takes over Paul's life. The absurd yet oddly scientific "Downsizing" is dwarfed by her performance.
Despite some spectacular moments, the satire is all over the place. But it's hard not to at least appreciate the effort of a movie that wears its environmental message, along with its enormous heart, on its little, Ken Doll-sized sleeve.
'The Shape of Water' (A)
If an in-his-prime Tim Burton decided to remake "Splash," it might look a little something like "The Shape of Water."
That's pretty much all I'm going to say about the plot of the latest from director and co-writer Guillermo del Toro. I actively avoided everything about it, so I had no idea what was coming and was awestruck at every turn.
It's 1962, and Elisa (Sally Hawkins) looks after her equally lonely adman neighbor, Giles (Richard Jenkins). One night, while Elisa and her friend Zelda (Octavia Spencer) are cleaning a massive, top-secret government facility, they're alerted to the arrival of its latest classified experiment. The three actors are soulful and terrific.
Employing some good, old-fashioned movie magic, del Toro has crafted a film that borders on sensory overload. It's wondrous, odd and visually arresting from the opening seconds. Outside of "The Disaster Artist," you may not have a stranger time at the movies this holiday season.
Contact Christopher Lawrence at clawrence @reviewjournal.com or 702-380-4567. Follow @life_onthecouch on Twitter.