Size matters when it comes to Nolan's 'Interstellar'
October 31, 2014 - 5:22 am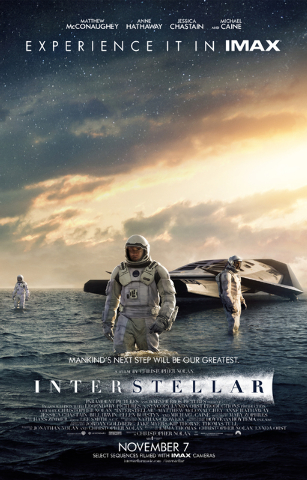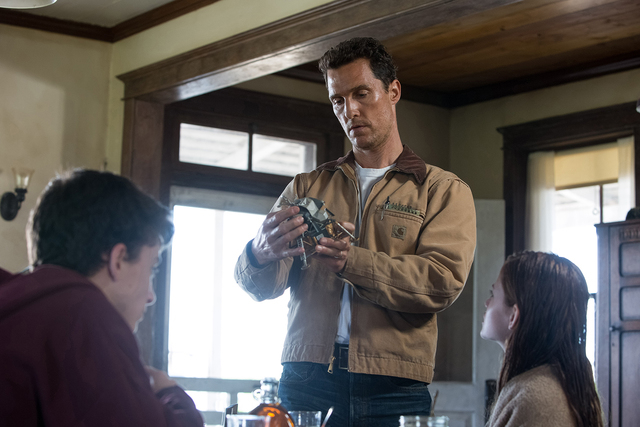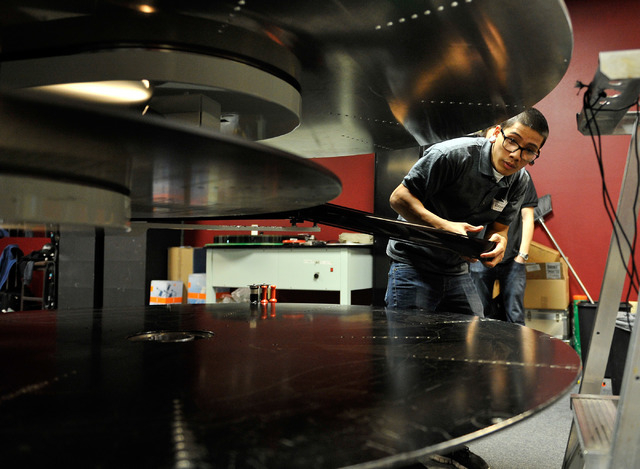 From blockbusters to Oscar bait, the next two months will unleash a torrent of high-profile movies, but writer-director Christopher Nolan's "Interstellar" is guaranteed to be the biggest of them all.
Literally.
The 70mm Imax print that will begin playing at Brenden Theatres at the Palms at 8 p.m. Tuesday tips the scales at a staggering 800 pounds.
This high-end version of the space odyssey starring Matthew McConaughey, Anne Hathaway, Jessica Chastain and Michael Caine weighs significantly more than Matthew McConaughey, Anne Hathaway, Jessica Chastain and Michael Caine.
And in doing so, "Interstellar," which follows a group of intergalactic explorers searching for a new home to replace a dying Earth, offers a moviegoing experience that's a dose of nostalgia while it tests the limits of technology.
Nolan, the mastermind behind the "Dark Knight" trilogy, has long been an advocate of Imax technology as well as making movies on film as a general principle. And Brenden's Palms location is one of just 37 theaters in the country — a third of which are in museums, science centers, even the Minnesota Zoo — where moviegoers can see "Interstellar" the way he prefers they watch it: on 70mm film.
"It's exciting, because it's one of the best formats you could ever see a movie in," says Jay Jay Coulter, the theater's general manager. "The digital is beautiful. It's pretty. It's crisp, clean and bright. But it's just not the same as film. When they make a movie using Imax cameras, to put that on a digital projector, it just seems like it's not utilizing it the way it was intended. So we really like to take what the director wanted and kind of make that as pretty and clear as we can onscreen."
Pretty and clear shouldn't be a problem. This isn't a case of listening to an album on vinyl and convincing yourself it sounds better than whatever's in your iTunes account. According to David Keighley, chief quality officer for Imax, the 70mm version of "Interstellar" offers 100 times the resolution of your HDTV.
You'll also see more of the movie that way.
As he did with "The Dark Knight Rises," Nolan filmed more than an hour of "Interstellar" using Imax cameras, which are still too cumbersome and noisy to use for an entire movie. Those scenes will expand from a letterbox-style ratio to fill the entirety of Brenden's massive 70-foot-tall screen, which accounts for about 40 percent more content than you'd see in a traditional theater. (Digital Imax screens, like those at Aliante, Red Rock Resort and Sunset Station, will offer 26 percent more footage.)
"It's a way from a directing point of view to say to moviegoers, 'You are now about to be transitioned into a moment that is highly cinematic, where you're about to see something that you can't see anywhere else,' " says Greg Foster, CEO of Imax Entertainment.
What you'll see onscreen is certainly impressive. Brenden's 165-seat Imax theater has just nine rows, making the overall effect a bit like watching a 42-inch TV in a closet. But what you won't see is every bit as interesting.
Spurred by the success of 2009's "Avatar," many movie theater owners began running away from 35mm film prints, the cinematic standard for more than a century, with digital dollar signs in their eyes. Brenden's Imax theater was forced to go digital in February 2011 when the company stopped releasing prints, and its Zamboni-looking film projector was shuttled into a corner underneath blankets.
"We just kept it here hoping one day that we could use it again," Coulter says.
It didn't stay under wraps for long. The next summer, Nolan trotted out "The Dark Knight Rises" on 70mm film, and Imax debuted a rail system that allows the digital projectors to slide out of the way to make room for their predecessor. But, aside from a screening of "The Dark Knight Rises" this summer to celebrate the 75th anniversary of Batman, the film projector hasn't been used since.
"This is a movie we've been planning on, and spending time planning for, for three years," Foster says of "Interstellar." As part of that preparation, a technician arrived in town Tuesday to lead a four-day boot camp, starting with the basics of how to thread the film through the projector's maze of whirring sprockets.
Aside from Coulter and booth manager Shane Kaiser, only one other employee at the Palms location has ever touched film. And Kaiser is the only one experienced with 70mm, which is both unwieldy — it's 10 times the size of 35mm — and delicate.
"I had to work my way up to get to 70(mm). I had to start from the bottom. They're just going to the hardest one right away," Kaiser says of the four employees who'll man the projector.
With digital projectors, movies arrive on a small hard drive that's roughly the size of a paperback book. Once they're loaded, the screening process has been automated to the point that projectors can start on a timer, eliminating the need for employee involvement.
"The way we run 70mm, we have to have somebody in that booth at all times," Coulter says. "They need to be there to make sure that nothing goes wrong, because that print is very, very valuable." If that employee needs so much as a potty break, he has to radio for a replacement.
And the equipment, which was designed to play documentaries in the 45-minute range, not Hollywood spectacles pushing the three-hour mark, is being tested like never before.
"This is about the maximum capacity we can handle," Imax's Keighley says.
The platter the film rests on had to be modified to fit a movie the length of "The Dark Knight Rises," and "Interstellar" runs four minutes longer. With the film reel coming perilously close to the edge of that platter, there's not even room to fit a trailer in front of the feature.
But again, you won't see any of that.
What you will see, though, whether you're a film geek or just looking for a way to kill three hours, is an event. Or, as Imax's Foster calls it, the "kind of amped-up, ramped-up experience that is everything our company is about."
■ Special screening: The PollyGrind Film Festival comes to a close with the world premiere of local B-movie maestro Albert Pyun's "The Interrogation of Cheryl Cooper," an awards ceremony and a best-of-the-fest block. See it at 8 p.m. Thursday at the Galaxy Green Valley Luxury+, 4500 E. Sunset Road. For more information, visit PollyGrind.com.
Contact Christopher Lawrence at clawrence@reviewjournal.com or 702-380-4567.