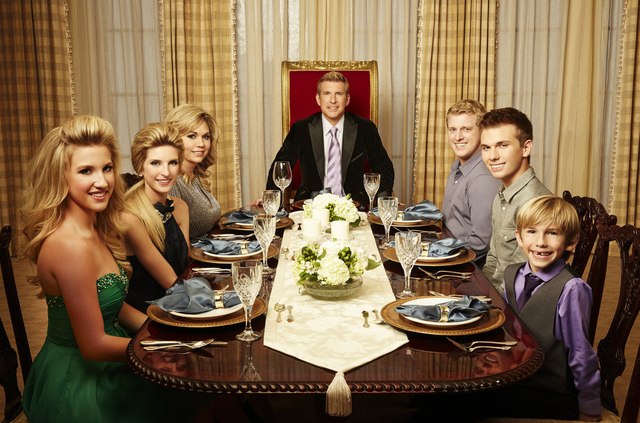 Welcome to the Bravo-fication of USA.
The cable channel has carved out a nice little niche for itself with pleasantly entertaining dramas such as "Suits," "White Collar" and "Covert Affairs."
Now, though, it's selling its soul to the reality-show devil with "Chrisley Knows Best" (10 p.m. Tuesday), a wretched excuse of a series better-suited to its "Housewives"-loving corporate cousin.
Described as a "real-life family comedy," the show follows flamboyant multimillionaire Todd Chrisley, his wife and children in their 30,000-square-foot mansion in suburban Atlanta, which Chrisley boasts is in the same gated development that Usher and Chipper Jones call home.
To save you from having to watch this appalling mess yourself, here are the nine most obnoxious moments from the premiere:
1) Chrisley brags that the family spends $300,000 or more a year on clothes.
2) He has a closet bigger than many apartments, and you can tell by the way it's meticulously organized that he's spent plenty of time in that closet.
3) "I approve every piece of clothing that our children wear," he declares.
4) He describes his oldest daughter as "beautiful," "smart" and "bitchy."
5) He tells his 15-year-old daughter she looks like "a young version of Pamela Anderson." To which she replies, "Well, that's what I'm going for."
6) He puts LoJacks on his children's cars, monitors their texts and tracks their Internet usage, going so far as to throw one of their laptops in the pool.
7) His 17-year-old son decides to stand up to his dad. "I'm bein' a man," he proclaims. While getting a pedicure.
8) "I wanna go to Hooters," another son insists. "I wanna see some hot girls." This is while his mommy drives him home from his first day of first grade.
9) Chrisley, who's always dreamed of being in fashion, is sinking a sizable chunk of his fortune into launching a department store. "I understand," he tells his buyer, "that we have to have a certain amount of those sizes that I don't particularly care for." By that, he means anything larger than a size 6.