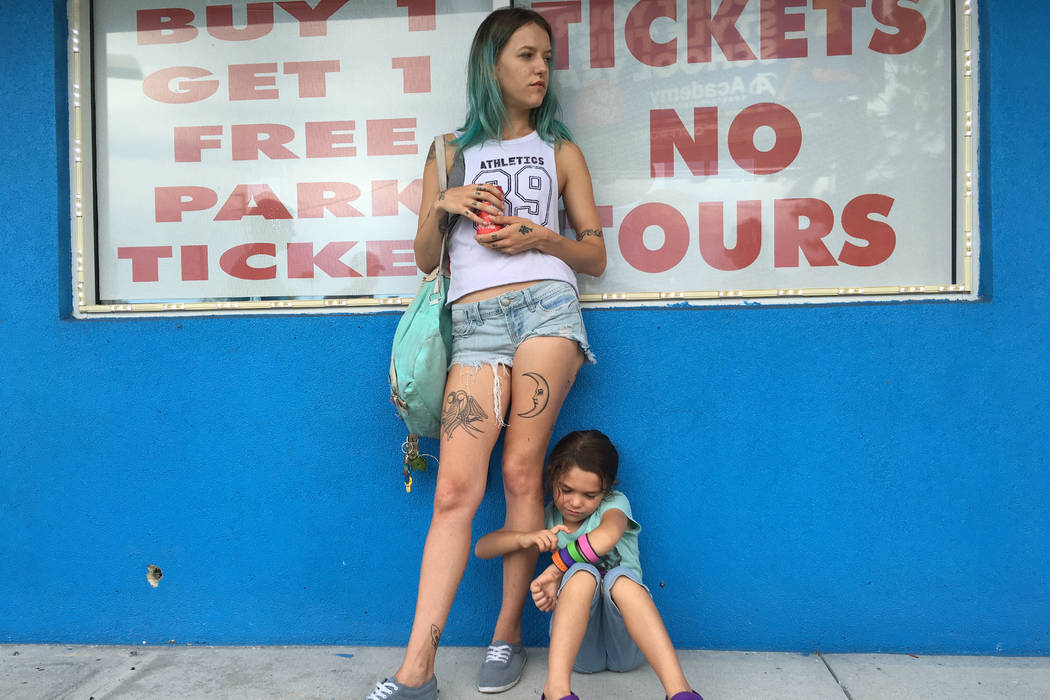 Sean Baker is so skilled at making ugliness appear beautiful, I'd love to turn him loose on some of my childhood photos.
Not me — I was adorable — but my clothes often looked as though my parents had mugged a very flamboyant ventriloquist's dummy.
With "The Florida Project," opening Friday at the Suncoast, writer-director Baker has taken a dreary subject — children growing up in the cheap motels along Route 192 near Disney World — and turned it into one of the most visually striking movies of the year.
Six-year-old Moonee (Brooklynn Prince) lives with her mother, Halley (Bria Vinaite), in The Magic Castle, a $38-a-night purple wonderland next door to the decidedly antiquated Futureland motel. A bride bursts into tears when a taxi drops her and her new husband there, the result of a honeymoon booking error, but it's the best Halley can do now that she's no longer stripping.
To pay the rent — or whatever it's technically called since she and Moonee must vacate their room for a night every so often to avoid establishing residency — the green-haired, heavily tattooed Halley somehow scrapes by.
A friend sneaks food for Halley and Moonee out the back of the diner where she works. Halley sells stolen Disney World MagicBands and brings Moonee along to peddle knockoff perfume to guests at some of the classier hotels. "It'll make the girls flirt on you," Moonee declares as a sales pitch.
It's a hardscrabble existence, one small step above homelessness, but Moonee treats the motel like her own Magic Kingdom. Along with her friends Scooty (Christopher Rivera) and Jancey (Valeria Cotto), they spend their days cursing and flipping off helicopters full of tourists and begging for change down at the Twistee Treat. "The doctor says we have asthma, and we have to eat ice cream right away."
The trio are like half-scale models of the kids from "Stranger Things" or "IT," only the scary thing they run screaming toward isn't a Demogorgon or a killer clown, it's Gloria, the older, drunken guest who flat out refuses to wear the top of her swimsuit at the pool.
Finding something to cover Gloria with — accompanied by fervent boos from Moonee and the gang — is just one of the many duties of Bobby (Willem Dafoe), the Magic Castle's manager, maintenance man, security guard and reluctant babysitter.
"The Florida Project," named after Walt Disney's working title for Disney World, isn't so much a narrative as a series of scenes of Halley and Moonee doing their best to distract themselves from their dire situation. Co-written by Baker's longtime professional partner Chris Bergoch, the script has the feel of a documentary.
It's a feeling that's only enhanced by the movie's unusual approach to casting.
Prince, who was 6 at the time, had a few small roles under her tiny belt. But Baker found Vinaite on Instagram, and he discovered Cotto in a Target. Rivera was growing up in a similar motel along Route 192. None of the three had ever acted, yet they don't seem out of place onscreen with Dafoe, whose IMDb page lists 118 acting credits.
As Moonee, Prince has the sort of coming-out party that greeted Quvenzhane Wallis in "Beasts of the Southern Wild" and Jacob Tremblay in "Room." Dafoe is likely to get plenty of awards-season love as the beaten-down Bobby. But the thing I keep coming back to whenever I think about "The Florida Project" is its look.
Baker, who shot the award-winning "Tangerine" on his iPhone, and director of photography Alexis Zabe, best known for his work on Pharrell Williams' "Happy" video, establish a color palette so bright, it's the polar opposite of the subject matter.
Combined with lingering shots of tacky tourist traps such as Orange World and The Wizard Gift Shop, they help give "The Florida Project" a sense that Disney World doesn't hold a monopoly on magic in central Florida.
Contact Christopher Lawrence at clawrence@reviewjournal.com or 702-380-4567. Follow @life_onthecouch on Twitter.