'The Walking Dead' actor Norman Reedus takes a 'Ride' through Las Vegas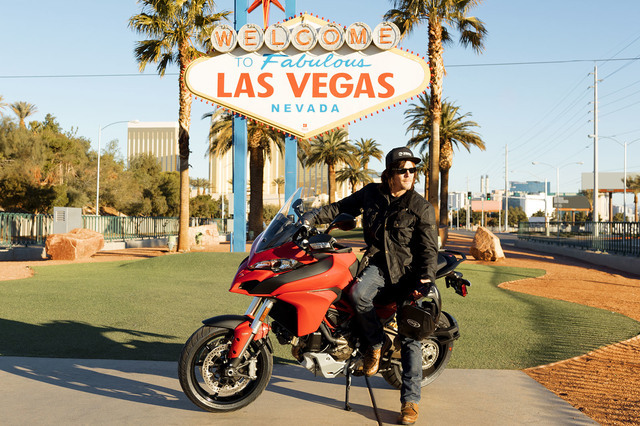 Much like Daryl Dixon, his breakout character on "The Walking Dead," actor Norman Reedus is a biker at heart.
"I just like the freedom," he says. "I like feeling the wind on my face. I like going through towns and smelling the towns and hearing the towns. It's just you all alone out there. It's such a liberating feeling."
For the second episode of his motorcycle travelogue, "Ride with Norman Reedus" (10 p.m. Sunday, AMC), the actor spent 24 hours riding around Las Vegas before heading to Death Valley. So what does Vegas smell like?
"It smells like heat," he says, laughing. "Heat and desperation. And regret. That and all-you-can-eat breakfast buffets."
For the episode, Reedus met his longtime friend actor Balthazar Getty at the Peppermill before they set off on matching Ducati Multistrada 1200s. When they weren't cruising up and down the Strip, day and night, they stopped for selfies with the murals at Johnny Tocco's Ringside Boxing Gym and dropped in on Sosa Metalworks to ogle some of the shop's custom bikes. "I dork out on stuff like that," Reedus says of Cristian Sosa's artistic works.
No trip to the Strip would have been complete for a "Walking Dead" star, though, without a visit to see "Zombie Burlesque" at Planet Hollywood Resort. "Those performers were so on the money," Reedus says. "They were so, so good."
One of his favorite memories of Nevada was hopping on a Yamaha WR at Jimmy Lewis Off-Road in Pahrump. "I never have that much open space, where you can just point yourself in a direction and just drive for two hours in any direction and not have to stop. That was such a feeling of freedom. I was just taken with all that. It was so fun."
Freedom is something that's been in short supply for Reedus lately. The actor nearly broke the internet this week with the release of some of his naked footage from the mysterious new video game "Death Stranding." And he's been hounded by fans, more so than usual, since April 3, the night "The Walking Dead" aired its sixth season finale. After having been shot, Daryl was lined up alongside other core characters so the villainous Negan (Jeffrey Dean Howard) could beat one of them to death with Lucille, his barbwire-wrapped baseball bat. Lucille came down on someone as the episode cut to black.
So how many times a day does somebody ask him whether Daryl lives or dies? "Like 15 to 50, depending on how much I go outside. Nonstop. It's been crazy." And, Reedus says, most of them fully expect him to spoil the show's biggest cliffhanger yet. "Yeah, they do, I think. People straight up ask. They're not even kidding. And if you don't tell 'em they're like, 'Well, why not?' It's kinda funny."
Whether or not Daryl survives, Reedus promises a solid payoff when "The Walking Dead" returns in October.
"It's worth the wait. When we come back, people get ready. … This bad guy (Negan) and what he brings, it's a completely different show now."
TV SHOOTS
That hulking, 4-ton mass of aluminum that's been erected across from Luxor can only mean one thing: "American Ninja Warrior" is back in town. Filming on the four-stage obstacle course that serves as the finals for the NBC series runs through Friday morning. Filming on "USA vs. The World" and an all-star special will continue through Tuesday morning. For tickets and more information, see www.on-camera-audiences.com.
Meanwhile, "Who Wants to Be a Millionaire" begins shooting its upcoming season with host Chris Harrison on July 15 at its new home, Bally's. For tickets and more information, see MillionaireTV.com.
'SECRET'S' OUT
New episodes of "Secret Identity Show," the scripted comedy web series that follows costumed street performers, debuted this week. The episodes were filmed in downtown Las Vegas with $23,000 raised on Kickstarter. See them at www.secretidentityshow.com.
Contact Christopher Lawrence at clawrence@reviewjournal.com. On Twitter: @life_onthecouch