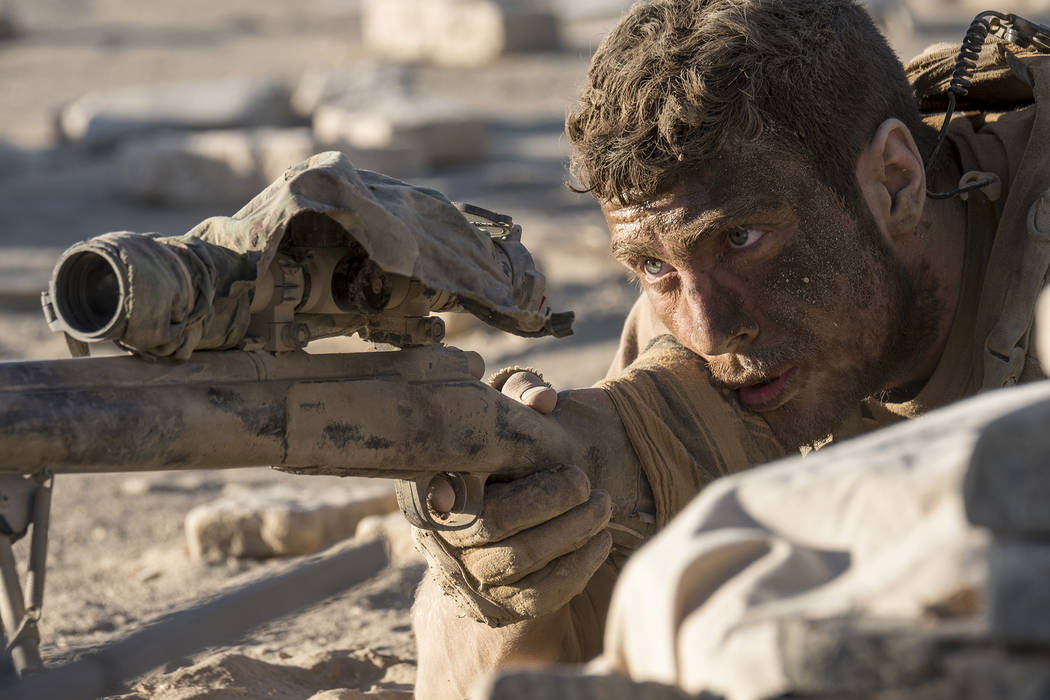 John Cena walked out of Caesars Palace on March 30 holding CinemaCon's Action Star of the Year award for his work in "The Wall," a movie he spends roughly 90 percent of unconscious or lying perfectly still.
Just think what he could accomplish if he really applied himself.
Directed by Doug Liman from a script by first-timer Dwain Worrell, "The Wall" follows Staff Sgt. Shane Matthews (Cena) and Sgt. Allen Isaac (Aaron Taylor-Johnson) as they respond to a distress call in Iraq just after the end of the Gulf War in 2007. Surveying the body count and waiting until he's sure the enemy has left, Matthews leaves their cover to assess the casualties.
He's immediately struck down by a bullet.
Running to rescue his commanding officer, Isaac is hit three times: in his radio's antenna so he can't call for help, in his water bottle so he'll become dehydrated and, most worrisome, in his knee, leaving an ugly hole that will cause him to bleed out in a matter of hours.
Seeking refuge behind a crumbling stone wall, Isaac tries in vain to locate the sniper's position. Then he begins hearing from the shooter (Laith Nakli), believed to be the famed assassin Juba, the so-called angel of death, through his earpiece.
"The Wall" is a small, intimate look at war that may be better-suited to the stage. For the most part, it's a running dialogue between Isaac and the sniper, who tries to get inside Isaac's head by any means necessary.
A constant presence in Isaac's ear, the sniper keeps demanding conversation and answers to his questions, threatening to shoot off Matthews' face and defile Isaac's corpse if he doesn't get them.
Despite Cena's CinemaCon honor, "The Wall" is less of an action movie than a psychological thriller. It's also a single-person, single-location gimmick movie along the lines of Colin Farrell's "Phone Booth," Ryan Reynolds' "Buried" and Blake Lively's "The Shallows."
Despite a couple of clever twists, "The Wall," from Amazon Studios, is so very intimate, it's the sort of thing you'd be far more likely to enjoy if you stumbled across it on Amazon Prime rather than if you paid to see it in a theater.
Contact Christopher Lawrence at clawrence@reviewjournal.com or 702-380-4567. Follow @life_onthecouch on Twitter.
Review
Movie: "The Wall"
Running time: 90 minutes
Rating: R; language throughout and some war violence
Grade: B-
Now playing: At multiple locations