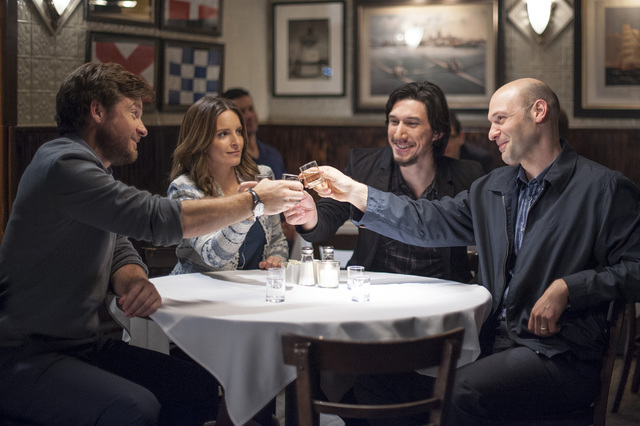 Growing up, I must have seen "High School U.S.A." a half-dozen times.
The 1983 NBC movie of the week crammed in more of the network's young stars than should have been allowed by law. Michael J. Fox romanced Nancy McKeon, Dana Plato disapproved, Todd Bridges built a robot, and one of the girls from "Gimme a Break" just wanted to see the "bare buns" of a young Anthony Edwards.
In some ways, "This Is Where I Leave You" feels like a classier, grown-up version of that.
The dysfunctional-family dramedy has assembled one of the most likable casts in recent memory. But it's awfully easy to get distracted as actor after actor from some of the past decade's buzziest TV shows turns up in thinly drawn roles.
The heart of the movie's Altman clan is played by Jason Bateman and Tina Fey. Sure, they're movie stars now, but they'll always be TV people at heart. Adam Driver ("Girls") and Corey Stoll ("House of Cards," "The Strain") portray their brothers. Connie Britton ("Friday Night Lights"), Rose Byrne ("Damages"), Timothy Olyphant ("Justified"), Dax Shepard ("Parenthood") and Abigail Spencer ("Rectify") help round out the cast.
It's as though director Shawn Levy (the "Night at the Museum" movies) and writer Jonathan Tropper, adapting his novel, just stepped out of a party bus at the Emmys and yelled, "Get in!"
In the early stages of "This Is Where I Leave You," Judd Altman (Bateman) is reeling. He's just caught his wife (Spencer) in bed with his boss (Shepard), the bro-friendly host of the testosterone-fueled radio show Judd produces. But a phone call from his sister, Wendy (Fey), makes everything worse: Their father has just died.
Adding to the misery is the fact that their mother, Hilary (Jane Fonda), insists that their "Jewish atheist" father's dying wish was for the family to sit shiva, the traditional seven days of mourning as a unit.
When he arrives at his boyhood home, Judd quickly realizes he isn't the only Altman who's having problems. Wendy is fed up with her workaholic husband. Phillip (Driver), the family knucklehead, shows up with his therapist/fiancee (Britton). And oldest brother Paul (Stoll), who stayed behind to run the family's sporting goods store, is trying desperately to impregnate his baby-fevered wife (Kathryn Hahn) who once dated Judd — something Phillip takes great joy in reminding Paul.
And, through it all, they're stuck with Hilary, a psychologist who chronicled all their childhood traumas, not to mention their teenage sexual experiences, in her best-selling parenting book.
"I don't know why we don't do this more often," Phillip says when the siblings escape to a bar for drinks. "Because," Paul reminds him, "we don't like each other very much."
Things aren't all bad on the homefront. Judd reconnects with Penny (Byrne), the unfiltered ice-skating instructor who had a crush on him in high school, while Wendy spends time with the love of her life, Horry (Olyphant), who still lives with his mother across the street from the Altmans after an accident left him with brain damage.
Far from the comedic romp depicted in the trailers, "This Is Where I Leave You" could be thought of as a familial "Big Chill" without all the Motown. A dirtier, messier "Parenthood." A less-screamy "August: Osage County."
Unfortunately, Levy and Tropper never really bother to develop characters. Instead, the talented cast members are left to coast on the goodwill they've created over the years. And Bateman and Fey's scenes are overflowing with it. They have so much chemistry, you may find yourself wishing Judd and Wendy would get together, even though that sort of thing is frowned upon in most states.
There's still plenty of humor in "This Is Where I Leave You," but too often it comes too easily. With so many versatile comic actors in the cast, it feels like a cheat to depend so heavily on laughs centered around Hilary's surgically enhanced bosom, the joy a toddler finds in making a doody and that the Altman kids grew up with the officiating rabbi (Ben Schwartz) back when he was known as Boner.
Although "This Is Where I Leave You" doesn't work as a whole, there are enough enjoyable little moments to make you feel as if you got your money's worth.
Maybe not date-night, full-price money. But certainly early-bird-matinee-with-the-retirees money.
And that's a heck of a lot more than anyone ever paid to see "High School U.S.A."
Contact Christopher Lawrence at clawrence@reviewjournal.com or 702-380-4567.
Review
"This Is Where I Leave You"
103 minutes
R; language, sexual content and some drug use
Grade: B-
At multiple locations