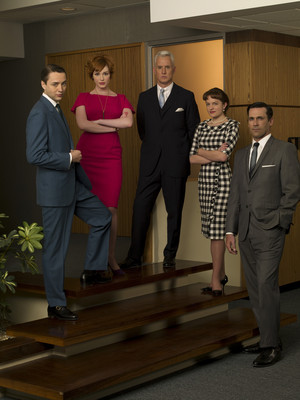 This just may have been the worst year in the history of television.
Well, 1928 probably was bleak, too, unless you like the idea of staring at a rotating Felix the Cat doll for two hours a day. (Honestly. Look it up.)
But how else can you describe a year that saw not only the crippling writers strike, but the introduction of "Denise Richards: It's Complicated," "I Love Money," "Hulk Hogan's Celebrity Championship Wrestling" and pretty much anything new NBC put on the air?
But 2008 wasn't all bad. The year also brought the likes of "Breaking Bad," "Sons of Anarchy," "Life on Mars" and "Fringe," as well as a couple of freshmen dramas listed here.
1. "MAD MEN," AMC — You may love it, hate it, or, judging from the ratings, not even know it's on. But there's no denying that the way creator Matthew Weiner re-envisions '60s era Madison Avenue in such exquisite detail is unlike anything else on TV. It can be a tough show to love — sometimes weeks will pass without much of anything actually happening — but few things are easier to appreciate.
2. "THE SHIELD," FX — This always was among TV's finest series. But the way Vic Mackey and the gang came roaring back to jaw-dropping excellence in its final season — with Michael Chiklis and Walton Goggins turning in performances of a lifetime — was a thing of beauty in this otherwise ugly, gritty drama.
3. "30 ROCK," NBC — Tina Fey served her country by bringing Sarah Palin down a notch or 12 on "Saturday Night Live." Now, if only the rest of the country would return that favor by tuning in to her day job, they'd see TV's most clever blend of subtle, highbrow humor and priceless lines — "She's like a human 'Macarena,' something everyone did at parties in 1996" — that you can't wait to use yourself.
4. "TRUE BLOOD," HBO — A mind-reading waitress. A Southern-gentleman vampire. Buckets of blood. And enough kinky sex scenes to make me never, ever want to watch it with my parents again. After a rocky start in the ratings, "True Blood" went on to become the pay channel's biggest hit since "The Sopranos."
5. "LOST," ABC — Establishing a 2010 end date let TV's weirdest thrill ride stop treading water and begin its dizzying sprint to the finish. Most of the cast finally made it off that crazy island, now they have to go back? Gilligan never had it this bad.
6. "THE DAILY SHOW," COMEDY CENTRAL — Using better opposition research than the politicians themselves, Jon Stewart eviscerated candidates — at least the ones not named Barack Obama — like something out of a slasher flick.
7. "HOUSE," FOX — It's rarely as laugh-out-loud funny as it was in its prime — although getting House back to clinic duty in the year's final episode was a good start — but the writers made up for that by showcasing the dramatic strengths of Hugh Laurie and Robert Sean Leonard in dealing with the death of Wilson's girlfriend, Amber (Anne Dudek).
8. "DEXTER," SHOWTIME — America's favorite serial killer rebounded from a disappointing second season with a new bride (Julie Benz), a baby on the way and his first real friend (Jimmy Smits). And if you have to guess how that friendship ended, you obviously don't know Dexter.
9. "THE MENTALIST," CBS — The network injected new life into its all-crime, all-the-time lineup with this quirky tale of former stage psychic Patrick Jane (Simon Baker) who uses his talent for reading people to help the California Bureau of Investigation. Baker's a natural-born TV star. It just took a couple of tries ("The Guardian," "Smith") for CBS to figure out what to do with him.
10. "GOSSIP GIRL," THE CW — Yeah, I said it. This is one of the most gorgeous hours on TV, and I'm not just talking about its underfed young cast. But most of the fun comes from Ed Westwick's Chuck Bass. Anybody can play the menacing bad boy. But to do it while wearing — and I'm not even making this up — a tan sport coat, burnt orange pants, green socks, a pink shirt and matching paisley ascot and pocket square? That takes mad skills.
Christopher Lawrence's Life on the Couch column appears on Sundays. E-mail him at clawrence@reviewjournal.com.
TELEVISION
1. "Mad Men"
2. "The Shield"
3. "30 Rock"
4. "True Blood"
5. "Lost"
6. "The Daily Show"
7. "House"
8. "Dexter"
9. "The Mentalist"
10. "Gossip Girl"