TV turns to military dramas, remakes and Marvel for fall
September 20, 2017 - 6:20 pm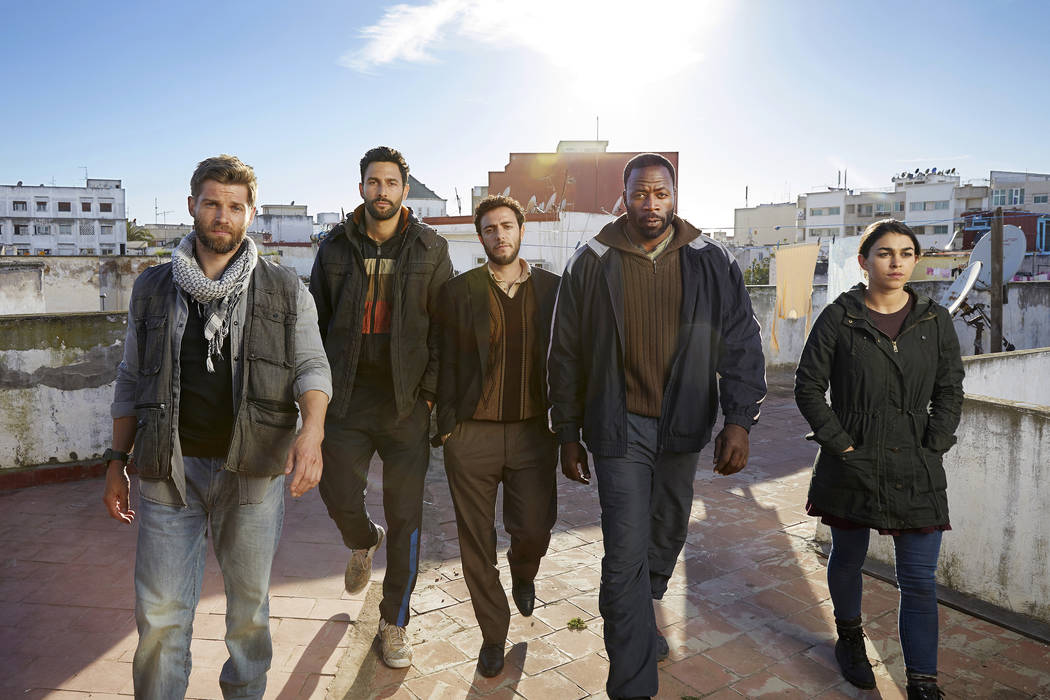 Once "Friends" became a sensation in 1994, it was followed by more sitcoms about wisecracking single white New Yorkers than you could shake one of those free AOL CD-ROMs at.
But when "This Is Us" arrived as a critical and ratings phenom last season, it didn't inspire a single new family drama on the broadcast networks' fall schedules — a collection of duds, near-misses and a handful of series that might someday turn into something worth your time.
Instead, if you were looking to make a killing during pilot season, you would have found a way to pitch a militaristic drama that's a remake featuring Marvel characters.
"SEAL Team" (9 p.m. Sept. 27, CBS) is pretty self-explanatory, but the military drama marks David Boreanaz's ("Angel," "Bones") 19th consecutive TV season as a leading man. "The Brave" (10 p.m. Sept. 25, NBC) follows a special-ops team led by Captain Adam Dalton (Mike Vogel) on the ground and D.I.A. Deputy Director Patricia Campbell (Anne Heche) in D.C. And "Valor" (9 p.m. Oct. 9, The CW) focuses on U.S. Army helicopter pilots (Christina Ochoa, Matt Barr) who survive a sketchy mission in Somalia and, according to the network, "soon find themselves torn between duty, honor and desire." The Army is going to be so thrilled.
Checking two of the fall's three big boxes is "S.W.A.T." (10 p.m. Nov. 2, CBS), a remake of the 1975-76 series, this time starring Shemar Moore. "Dynasty" (9 p.m. Oct. 11, The CW), meanwhile, swaps John Forsythe for "Melrose Place's" Grant Show as Blake Carrington, the Denver setting has been replaced by Atlanta, and Heather Locklear's Sammy Jo is now a gay Latino con artist named Sammy Joe. Not quite a remake but not exactly new, "Will & Grace" (9 p.m. Sept. 28, NBC) reunites its Emmy-winning cast after 11 years.
"Inhumans" (8 p.m. Sept. 29, ABC) was designed to join the Marvel Cinematic Universe next year. Now it's a series about the royal family of a hidden city on the moon. King Black Bolt (Anson Mount) doesn't speak. There's a giant teleporting bulldog. And, in a blatant play to "Game of Thrones" fans, there's a palace revolt led by Black Bolt's brother, who's played by Iwan Rheon, aka Ramsay Bolton. Staying in the Marvel family, the X-Men spinoff "The Gifted" (9 p.m. Oct. 2, Fox) stars Stephen Moyer ("True Blood") and Amy Acker ("Person of Interest") as parents who learn their teenagers are mutants and then must rely on an underground network of similarly powered young people to keep their family safe from Sentinel Services.
Speaking of spinoffs, the cleverly titled "Young Sheldon" (8:30 p.m. Sept. 25, CBS) answers a question I've never wondered: What was "The Big Bang Theory's" Sheldon Cooper (Jim Parsons) like as a child. The answer: more annoying than funny.
Instead of "This Is Us," the one series that's being directly copied is FX's "The People vs. O.J. Simpson." Well, not directly. That show was infinitely watchable and bursting with stellar performances. "Law & Order True Crime: The Menendez Murders" (10 p.m. Sept. 26, NBC) is not.
In addition to "The Gifted" and "Will & Grace," several other series have at least a spark of potential. In descending order of creativity, they are:
■ "Kevin (Probably) Saves the World" (10 p.m. Oct. 3, ABC), which follows Kevin Finn (Jason Ritter) who, after a suicide attempt, moves home to stay with his estranged sister (JoAnna Garcia Swisher) and teenage niece (Chloe East). Then a meteor lands nearby and a messenger from God (Kimberly Hebert Gregory) that no one else can see arrives to tell him he's the last righteous soul left to protect humanity and he must locate 35 more righteous souls, but first he has to power up through a series of good deeds.
■ "Ghosted" (8:30 p.m. Oct. 1, Fox), a comedy about a former LAPD detective (Craig Robinson, "The Office") and an ex-astrophysics professor (Adam Scott, "Parks and Recreation") recruited by a secret government agency to save the planet from aliens.
■ "Me, Myself & I" (9:30 p.m. Sept. 25, CBS), a comedy that follows an inventor through three important stages of his life — as a 14-year-old (played by Jack Dylan Grazer) in 1991, as a 40-year-old (Bobby Moynihan) today and as a 65-year-old (John Larroquette) in 2042.
■ "The Mayor" (9:30 p.m. Oct. 3, ABC), a comedy in which an aspiring rapper (Brandon Micheal Hall) runs for mayor of his California hometown as a publicity stunt — then wins.
Elsewhere, "Ten Days in the Valley" (10 p.m. Oct. 1, ABC), about the disappearance of the daughter of a producer (Kyra Sedgwick) of a police drama, will only be as good as the serialized drama's twists and turns.
"The Good Doctor" (10 p.m. Sept. 25, ABC) is another medical drama about a genius with a horrible bedside manner. The difference this time is that Dr. Shaun Murphy (Freddie Highmore, "Bates Motel") is autistic.
"Wisdom of the Crowd" (8:30 p.m. Oct. 1, CBS) is the latest in TV's obsession with characters who have no business solving crimes doing so anyway. This time it's a world-famous tech entrepreneur (Jeremy Piven) who creates a crime-fighting app — sort of like a world-famous tech entrepreneur (Justin Kirk) did on last year's quickly forgotten Fox drama "APB."
Then there's "9JKL" (8:30 p.m. Oct. 2, CBS). Poor, sad, frantic little "9JKL."
After his TV show is canceled, actor Josh Roberts (Mark Feuerstein, USA's "Royal Pains") returns to New York and an apartment sandwiched between his overbearing parents (Elliott Gould, Linda Lavin) and his hyper-competitive surgeon brother (David Walton).
Despite the talented cast, "9JKL" feels like an obnoxious off-Broadway play in the workshop stages where the actors haven't yet learned that less is more.
"9JKL" is touted as being inspired by Feuerstein's real life.
If that's even partially true, may God have mercy on that man.
Returning network shows
■ Sept. 21: "Gotham"
■ Sept. 24: "60 Minutes"
■ Sept. 25: "The Big Bang Theory," "Kevin Can Wait," "Scorpion," "The Voice"
■ Sept. 26: "Bull," "Brooklyn Nine-Nine," "Lethal Weapon," "The Mick," "NCIS," "NCIS: New Orleans," "This Is Us"
■ Sept 27: "American Housewife." "Chicago P.D.," "Criminal Minds," "Designated Survivor," "Empire," "The Goldbergs," "Law & Order: SVU," "Modern Family," "Speechless," "Star," "Survivor"
■ Sept. 28: "Chicago Fire," "Great News," "Grey's Anatomy," "How to Get Away with Murder," "NFL Thursday Night Football," "Superstore"
■ Sept. 29: "Blue Bloods," "Dateline NBC," "The Exorcist," "Hawaii Five-0," "Hell's Kitchen," "MacGyver"
■ Sept 30: "48 Hours"
■ Oct. 1: "Bob's Burgers," "Family Guy," "The Last Man on Earth," "NCIS: Los Angeles," "Shark Tank," "The Simpsons," "The Toy Box"
■ Oct. 2: "Lucifer"
■ Oct. 3: "Black-ish," "Fresh Off the Boat," "The Middle"
■ Oct. 4: "The Blacklist"
■ Oct. 5: "Scandal"
■ Oct. 6: "Once Upon a Time"
■ Oct. 8: "America's Funniest Home Videos," "Madam Secretary"
■ Oct. 9: "Supergirl"
■ Oct. 10: "The Flash," "Legends of Tomorrow"
■ Oct. 11: "Riverdale"
■ Oct. 12: "Arrow," "Supernatural"
■ Oct. 13: "Crazy Ex-Girlfriend," "Jane the Virgin"
■ Oct. 27: "Blindspot"
■ Oct. 30: "Superior Donuts"
■ Nov. 2: "Life in Pieces," "Mom"
Contact Christopher Lawrence at clawrenc @reviewjournal.com or 702-380-4567. Follow @life_onthecouch on Twitter.
Returning network shows
Sept. 21: "Gotham"
Sept. 24: "60 Minutes"
Sept. 25: "The Big Bang Theory," "Kevin Can Wait," "Scorpion," "The Voice"
Sept. 26: "Bull," "Brooklyn Nine-Nine," "Lethal Weapon," "The Mick," "NCIS," "NCIS: New Orleans," "This Is Us"
Sept 27: "American Housewife." "Chicago P.D.," "Criminal Minds," "Designated Survivor," "Empire," "The Goldbergs," "Law & Order: SVU," "Modern Family," "Speechless," "Star" "Survivor"
Sept. 28: "Chicago Fire," "Great News," "Grey's Anatomy," "How to Get Away with Murder," "NFL Thursday Night Football," "Superstore"
Sept. 29: "Blue Bloods," "Dateline NBC," "The Exorcist," "Hawaii Five-0," "Hell's Kitchen," "MacGyver"
Sept 30: "48 Hours"
Oct. 1: "Bob's Burgers," "Family Guy," "The Last Man on Earth," "NCIS: Los Angeles," "Shark Tank," "The Simpsons," "The Toy Box"
Oct. 2: "Lucifer"
Oct. 3: "Black-ish," "Fresh Off the Boat," "The Middle"
Oct. 4: "The Blacklist"
Oct. 5: "Scandal"
Oct. 6: "Once Upon a Time"
Oct. 8: "America's Funniest Home Videos," "Madam Secretary"
Oct. 9: "Supergirl"
Oct. 10: "The Flash," "Legends of Tomorrow"
Oct. 11: "Riverdale"
Oct. 12: "Arrow," "Supernatural"
Oct. 13: "Crazy Ex-Girlfriend," "Jane the Virgin"
Oct. 27: "Blindspot"
Oct. 30: "Superior Donuts"
Nov. 2: "Life in Pieces," "Mom"