Vegas-based 'Tanked' stars look ahead to 100th episode
April 13, 2016 - 12:54 pm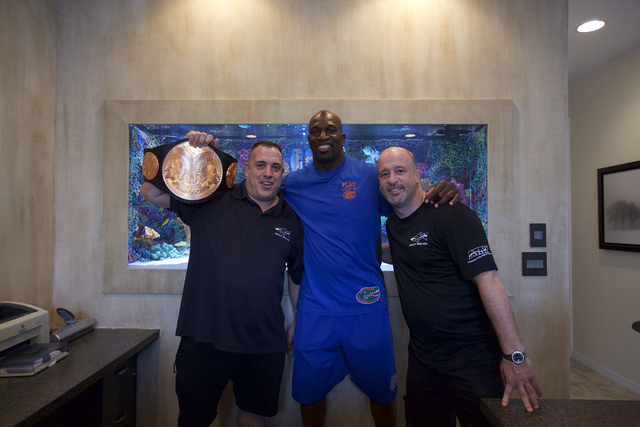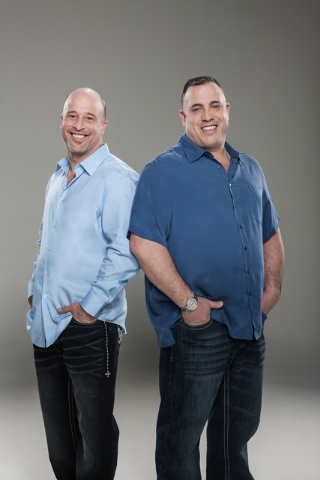 Like most couples on the verge of a milestone, Wayde King and Brett Raymer have their share of disagreements.
Spend as much time together as they do, and you're bound to get tired of each other.
"Oh, we were tired from Day One," King jokes.
But as the brothers-in-law, co-workers and co-stars await the 100th episode of the Las Vegas-based "Tanked" (10 p.m. Friday, Animal Planet), you could say they complete each other.
"It's kinda like Abbott and Costello, Laurel and Hardy," King says. "Brett's lazy; I'm a worker. Brett's unorganized; I'm organized. Brett can sell; I don't sell. I build. So we put it all together and produce a beautiful product."
That product is the custom-made aquariums they've made for the likes of Shaquille O'Neal, Tracy Morgan, Neil Patrick Harris and Kiss. The sixth season kicks off Friday with a Florida Gator-themed tank for the WWE's Titus O'Neil. Upcoming weeks feature aquariums for baseball players Johnny Damon and Prince Fielder, rapper 2 Chainz and director Kevin Smith.
What began as a series showcasing everything their Acrylic Tank Manufacturing could turn into an aquarium — including a phone booth, pinball machine and a popcorn maker — has drifted toward their celebrity clients.
So far on this season of "Tanked," which is still in production, Raymer says his favorite clients have been Damon and O'Neil. They "were really great guys, and I consider those guys to be, like, our friends."
"We used to ship tanks out all over the world," King says, "and we never really got to see 'em (in place). Now on the show, with the celebrities, we're in the house. We see the finished product. And we see their expressions and their families' (expressions) of 'Wow!' "
Those home visits can be a bit of a scheduling nightmare. King estimates he and Raymer spend 18 days a month on the road. He says this in a rental car in Los Angeles on the way to Backstreet Boy Nick Carter's house to shoot a reveal. Then it's back to the airport to fly home in time for his kids' gymnastics meet the next day. There are times the two will be home for just a few hours before flying out again.
"So to do laundry, to do the kids' (activities), there's definitely juggling," King says. "It's tough in some moments. But, you do what you can, you know. You ride the wave, and you do the best you can."
The duo was able to stay much closer to home with one of this season's builds: two 20-foot aquariums for the Bellagio Conservatory.
Raymer figures they've done "probably 10, 12 projects" for Bellagio over the years going back to the jellyfish tanks at Shintaro restaurant that opened with the resort. The latest will be part of the Conservatory's summer garden party display, scheduled May 20-Sept. 10. Come Sept. 11, the tanks will be broken down for use during the next two summers.
"The whole thing's going to be a walkway where you're going to have, like, a submersive feeling walking through the center of the two aquariums," Raymer says. "There's going to be millions and millions of people that are going to walk through the Bellagio over the next three years that are going to be able to enjoy this. And to have our name (attached) to that is pretty awesome."
In a testament to just how much their hard work is paying off, Friday's premiere opens with King and Raymer checking out their inventory of T-shirts and realizing they need more bobbleheads for the ATM headquarters, 3451 W. Martin Ave., Suite C.
"We get tour buses. We get 500 people per day," King says. "They come down. … They wanna see the shop. They wanna get autographs. There's hats. There's shirts. There's products. We have fish there. We have tanks set up so people can see a bunch of stuff."
That's in addition to the VIP tours that Raymer says offer "an immersive experience" with "personalized service."
"We wanna give people the experience of meeting the cast, seeing the facility," Raymer adds. "It's funny because people feel like they know us already. They watch the TV show, they feel like they know us. And we want people to see that we're the same two guys, and the same family, that you see on television."
They plan on being the guys you see on television for quite a while, and they aren't short on ideas for future seasons.
"We wanna do somethin' for The Rock," King says. "We wanna do somethin' for Facebook. I would love to do a tank for the president at the White House."
King admits, back when they were filming the show's pilot, he "really honestly never thought it would go this far."
Raymer, though, never had any doubts about the viability of "Tanked."
"I figured, you know, fish is a universal language," he says. "(Now) everybody loves the show. Now that we're six seasons in, I definitely believe with 100 (episodes) we might be able to even make 200."
Contact Christopher Lawrence at clawrence@reviewjournal.com. On Twitter: @life_onthecouch.