'We Are Your Friends' predictable but not without scruffy charm
August 28, 2015 - 10:13 am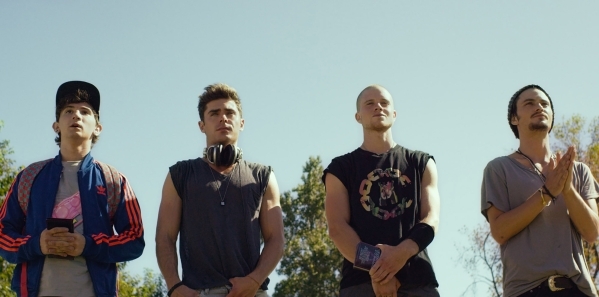 You know you've aged out of the target demographic for "We Are Your Friends" when during the triumphant pool party to christen the house up-and-coming DJ Cole Carter (Zac Efron) rents with his buddies — a blowout complete with booze and drugs, thumping music and topless girls — all you can think about are their poor neighbors and whether those homeowners will have some sort of recourse through their HOA.
In other words, "We Are Your Friends" isn't for everybody.
It also isn't the hot mess of an EDM-sploitation flick — in which a studio executive said, "You know what's hot right now? Electronic dance music. Let's do something with that!" — that many fans of the genre had feared.
Instead, it's closer to a low-rent "Entourage," housed in the San Fernando Valley instead of the Hollywood Hills. That's not just because co-star Emily Ratajkowski played Emily Ratajkowski in the "Entourage" movie. "We Are Your Friends" also is about three best friends helping a fourth achieve his dreams. Much like Vince's acting on the HBO series, Cole's DJ talent rarely shines through. And, instead of a Turtle, there's a Squirrel (Alex Shaffer).
When we meet Cole, he's hustling for DJ gigs, then hitting up college campuses looking for hot girls who'll pack the club. Along with the thoughtful, reserved Squirrel, he's helped by a couple of knuckleheads: aspiring actor/drug dealer Ollie (Shiloh Fernandez) and wannabe club promoter Mason (Jonny Weston), who labels himself an entrepreneur despite his knuckle tattoos, violent streak and a motto that seems custom-made for novelty T-shirts: Don't 'bro' me if you don't know me.
One night at the club, Cole flirts with a gorgeous young woman named Sophie (Ratajkowski) and befriends famed DJ James Reed (Wes Bentley) without having any idea Sophie is James' live-in girlfriend/personal assistant. Before long, the older James, who looks a bit like Adam Levine playing Wolverine, takes Cole under his wing, tutors him and gives him free rein over his posh home and recording studio. The whole time, though, Cole can't wrestle his eyes away from Sophie.
Cole isn't the only one. Co-writer (with Meaghan Oppenheimer) and first-time feature director Max Joseph, who's best known as the co-host and onscreen cameraman of MTV's "Catfish: The TV Show," includes several scenes of Sophie dancing in slow motion as her flimsy dress clings desperately to her ample curves.
Objectifying? Sure. But it's also in keeping with the movie's visually provocative style. At times, "We Are Your Friends" looks like any other studio film. During others, it takes on a very Sundance, indie vibe, complete with oddball onscreen graphics. Cole and Sophie's brief Las Vegas adventure looks nothing like the San Fernando Valley action. And when James surprises Cole with a joint laced with PCP, it makes Cole's world appear rotoscoped, like Richard Linklater's "Waking Life."
The visuals certainly make up for the lack of insight into EDM culture. "All you need is a laptop, some talent and one track," Cole says, as he works tirelessly to perfect that track. He demonstrates exactly what it takes to get people on the dance floor by using the proper beats-per-minute ratio. You also see that DJs apparently spend a lot of time turning down girls who want them to play Beyonce's "Drunk in Love."
Other than that, you won't learn much from "We Are Your Friends" aside from the fact that, if you throw a party anywhere near a pool, odds are at least two girls will want to whip off their tops and chicken fight.
Just to get it to a respectable 96 minutes, the slight story of "We Are Your Friends" is padded with a subplot involving the boys cold-calling foreclosure victims from a boiler room run by a real estate sleazeball (Jon Bernthal). But those scenes don't go anywhere — or at least not anywhere satisfying.
Still, there's a scruffy charm to "We Are Your Friends," which could have been so much worse. While basing a film on a current musical trend sometimes gives you "Saturday Night Fever," it also gives you "Breakin' 2: Electric Boogaloo."
But if you've ever seen a movie before, you can tell where this one's going pretty much from the get-go.
And, much like Cole, you'll know many of the beats it will hit along the way.
Contact Christopher Lawrence at clawrence@reviewjournal.com. On Twitter: @life_onthecouch
Review
Movie: "We Are Your Friends"
Running time: 96 minutes
Rating: R; language throughout, drug use, sexual content and some nudity
Grade: C+
Now playing: At multiple locations