5 holiday drinks to make tonight
December 25, 2013 - 2:31 pm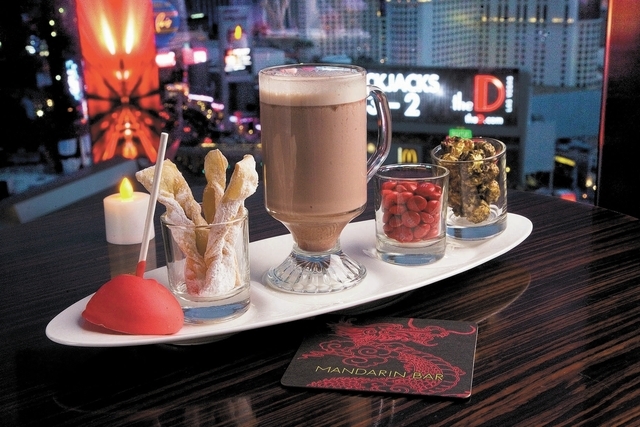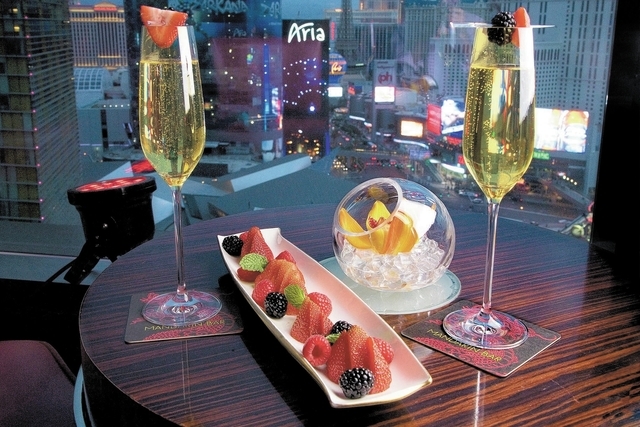 Well, the big day's finally here. The leading-up-to-Christmas hustle and bustle, which seems to take forever and at the same time is never long enough, is over. The packages have been opened, the roast is in the oven and you can take a few minutes to sit down and relax. Perhaps over a nice cup of tea.
"I like an organic Assam tea, an Indian black tea," said Brandon Smith of the Four Seasons. "Milk kind of mellows it out as well."
Smith may have somewhat of a unique perspective when it comes to tea, since he's manager of the resort's Verandah restaurant, which serves afternoon tea every weekday. But he stays away from a couple of the more well-known teas, Earl Grey and English Breakfast, because they tend to be a little harsh.
"If you're looking for something soothing for your stomach because you've had a big meal, or you're not feeling well because of the weather, chamomile," Smith said.
At the Verandah, he's offering a couple of special teas for the holiday season, including the loose-leaf black Gingerbread House.
"It's basically derived from workers in Germany," Smith said. "They built gingerbread houses, and they drank this tea while they were doing it, so it became a huge tradition."
The tea is slightly sweet and a little spicy, with a hint of ginger.
"We suggest people put a little brown sugar in it," Smith said.
The other, Nutcracker Tea, which has hints of vanilla and hazelnut, has been extremely popular this season. It's also featured in a cocktail, the Festive Nutcracker Martini, for which the recipe follows.
That kind of versatility — tea as tea, and tea as a cocktail — can help smooth the transition between the comparative peacefulness of Christmas Day and the festive frivolity of New Year's Eve. So does hot chocolate, which can take various forms, including cold chocolate.
"I would say that, especially because in winter you want to warm up, richer-style beverages are definitely appropriate," said Will Costello, director of wine and spirits at the Mandarin Oriental. "Something I would recommend is to take a traditional hot chocolate, let it cool down a little bit, put it in a glass and stir it when it's in a bowl of ice. Add cinnamon simple syrup, an espresso shot and shaved nutmeg. We don't do it here but at home you could crack an egg in it, shake it up and you have sort of a chocolate espresso eggnog. It's rich and it's refreshing at the same time."
(To make the cinnamon simple syrup, he said to put some cinnamon sticks or ground cinnamon in a simple-syrup solution of equal parts sugar and water, bring it to a boil, let it settle and cool, and then strain.)
Sanjiv Gupta, manager of Press at the Four Seasons, said a popular drink there is an adult hot chocolate with some rum and an orange liqueur such as Grand Marnier.
"And then we top it off with a little bit of whipped cream and some chocolate shavings," he said.
Mulled wine also is very popular at this time of year, Gupta said, adding that they have an employee who's from a family of Bulgarian distillers and infuses the wine with star anise and cinnamon and adds a little bit of grappa.
Such seasonal flavors are extremely popular with customers, which Eric Smith, head bartender at Rx Boiler Room at Mandalay Place, sees as no surprise.
"They love them — just like when Starbucks does eggnog lattes," he said. "People look forward to that time of year because they know it's a seasonal thing: chai, fall spices, full-bodied, robust syrups, darker-type cocktails."
He makes a Pear Shrub with a variety of Christmas spices, and Christmas Carol Cider, with apple cider pressed in-house (the recipe for the latter follows).
"They're soothing and good and remind you of a different time," Smith said. "People tend to respond to those things."
But as New Year's Eve approaches, the energy level will be ramping up a bit, and Champagne will be the beverage of choice. Press, for example, plans a Champagne bar.
At Rx Boiler Room, Smith will be making a Champagne cocktail called the Burning Love, which contains, besides Champagne, gin, lemon and lime juices, muddled fresh raspberries and mint, thyme simple syrup — and a dash of cayenne.
"It's really crazy," he said. "It has this gorgeous, electric, hot red, hot pink kind of look to it. You finish it with the Champagne after shaking all the other ingredients together. That's when it really comes alive. The cayenne accentuates the dryness of the Champagne."
If you're looking for a Champagne that isn't in the making-it-rain-in-the-nightclub category, Gupta suggests Delicata Rose or Nicholas Feuilliate. Costello recommends Moet & Chandon Ice Imperial, a demi-sec that he said is a "fruit-forward, sweet-style Champagne. It works wonderfully well with cocktails, where it lends some sweetness, or it can be served on its own. But it doesn't fit for everyone."
Which only points up that, whether it's a soothing cup of tea or a glass (or two) of Champagne, there's a holiday beverage for everyone.
FESTIVE NUTCRACKER MARTINI
3 ounces brewed, strained and chilled Nutcracker loose leaf tea or favorite black tea
2 ounces Gosling's Black Seal Rum
¾ ounce smoked honey
½ ounce fresh lemon juice
2 dashes Angostura bitters
Freshly grated cinnamon
Lemon chip, for garnish
Fill a shaker with ice and combine chilled tea, rum, honey, lemon juice and bitters. Shake well and strain into martini glass. Microplane in hand, grate cinnamon stick to lightly dust the top. Top with lemon chip.
— Recipe adapted from Nick Garcia, the Four Seasons
CHRISTMAS CAROL CIDER
3 ounces apple cider
Dash fresh lemon juice
1¼ ounces J.P. Wiser's Canadian Blend Spiced Whisky
Heat to a simmer.
Serves 1.
— Recipe from Eric Smith, Rx Boiler Room
SALTED CARAMEL HOT CHOCOLATE
1½ cups granulated sugar
¾ cup water
6 tablespoons light corn syrup
1 cup heavy cream
1 teaspoon Maldon salt, plus more for garnish
4 tablespoons unsalted butter
½ cup natural cocoa powder
3 tablespoons packed dark brown sugar
4 cups whole milk
6 ounces finely chopped bittersweet chocolate or bittersweet chocolate chips
2 teaspoons pure vanilla extract
6 ounces amaretto (optional)
Stir sugar, water and corn syrup together in a large heavy-bottomed saucepan over medium-high heat. Cook, swirling pan occasionally, until sugar turns dark amber and just begins to smoke, 6 to 8 minutes. Immediately add cream and salt, stepping away from pan until bubbling and sputtering subside. Reduce heat to medium and stir just until mixture is smooth. Remove from heat.
Melt butter in a medium saucepan over medium heat. Add cocoa powder and brown sugar and whisk together until a paste forms. Slowly add milk, whisking constantly. Whisk in caramel. Bring to a simmer over medium-high heat and then reduce heat to medium-low. Stir in chocolate chips and cook, stirring, until chocolate is completely melted. Remove from heat and stir in vanilla. Pour into warm heatproof cups or mugs and spike with 1½ ounces amaretto per serving, if desired. Sprinkle with salt and serve.
Serves 4.
— Recipe from "Winter Cocktails" by Maria Del Mar Sacasa
ASPEN SNOWFLAKE
1 ounce raspberry vodka
Chilled sparkling wine
Godiva White Chocolate Liqueur
Fresh raspberry for garnish
Pour vodka into a Champagne flute. Add sparkling wine, nearly filling glass. Dribble white chocolate liqueur into wine; it will solidify to form "snowflakes." Garnish with raspberry.
Serves 1.
— Recipe from Review-Journal file
MULLED WINE
12 whole cloves
2 whole nutmeg, cracked into pieces with a hammer
2 bottles (each 750 ml) dry red wine
½ cup sugar
Stripped zest from 2 oranges and 2 lemons, plus more zest for garnish
¾ cup fresh orange juice
¼ cup fresh lemon juice
2 cinnamon sticks
Tie the cloves and nutmeg pieces in a small square of cheesecloth or put them in a large metal tea ball.
In a large, nonaluminum pot, combine the wine, sugar, orange and lemon zests, orange and lemon juices and cinnamon sticks. Add the clove-and-nutmeg bundle. Heat over medium-low heat until steam begins to rise from the pot and the mixture is hot, about 10 minutes; do not let it boil. Remove the clove-and-nutmeg bundle. Keep the wine warm over very low heat until ready to serve.
Ladle the wine into cups or heatproof glasses, garnish with the citrus zest and serve warm.
Serves 8 to 10.
— Recipe adapted from Williams-Sonoma "Christmas Entertaining" by Georgeanne Brennan
Contact reporter Heidi Knapp Rinella at hrinella@reviewjournal.com or 702-383-0474.