Angara India Spice Grill menu pleases vegetarians and meat-eaters alike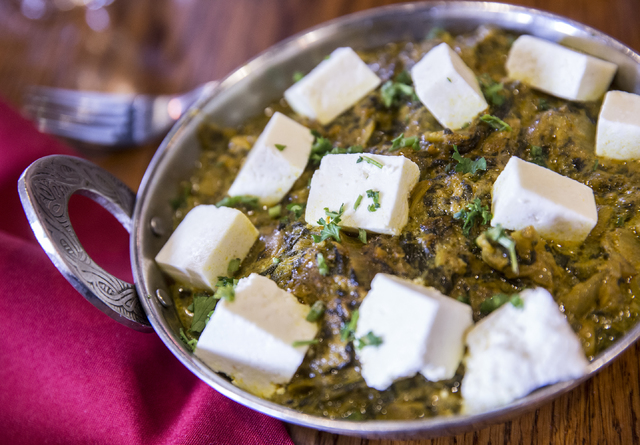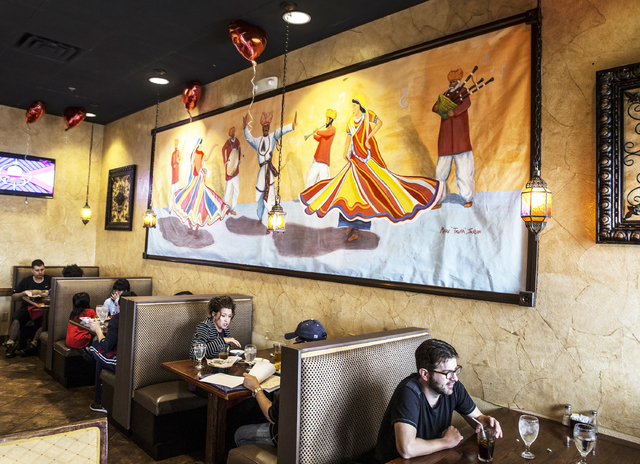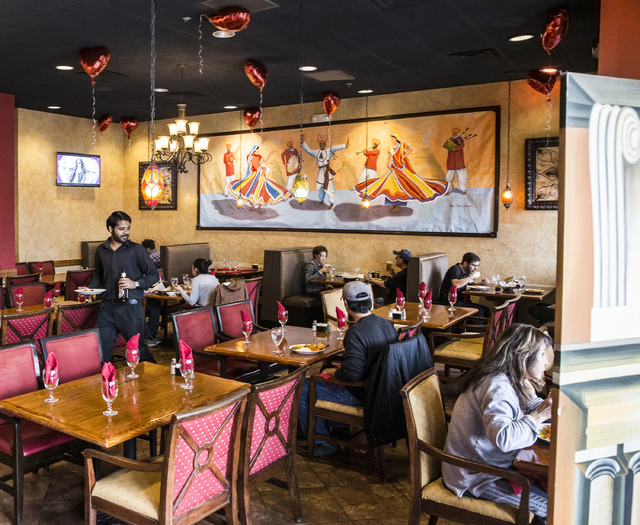 Indian restaurants have multiplied across Southern Nevada over the years, a boon to vegetarians and fans of spicy sambals and tender tandoori. New to the Las Vegas culinary landscape is Angara Indian Spice Grill, opened by a Punjabi native with 20-plus years in the business in Southern California.
What really sets Angara apart is the purity of the flavors, starting with the papadum and chutneys served before dinner. The flat, bean flour crackers were complemented with a rich tamarind chutney, with a sweet yet slightly sour tang that lingered. Its green herbal counterpart, with coriander and usually a little mint, was quite fiery thanks to the prodigious use of chilies.
Luckily, a starter of meat samosas ($7.99) helped quell the flames. The two large, pyramid-shaped pastries boasted crisp exteriors that quickly gave way to reveal a soft filling of finely minced lamb, a hint of cumin delicately enhancing every bite.
The garlic naan ($2.99) was as good as it gets. The tandoori-grilled rounds of flatbread were sprinkled with a generous amount of garlic and brushed lightly with butter for a hot, stretchy, slightly flaky triumph.
Saag paneer ($11.99), one of the restaurant's many vegetarian options, was one of the better versions of this dish served in the valley. The spinach was gently seasoned, as requested, which allowed its flavor to shine through. The cubes of paneer (house-made cheese) it enveloped were slightly larger than the dice-sized pieces found at many restaurants, which highlighted the pleasantly resilient texture that contrasted with creamy spinach.
More conventional, but skillfully executed was the butter chicken ($14.99) with a vegetable sauce. The acidity of the tomatoes was expertly balanced with yogurt and warm notes of garam masala, cinnamon and cardamom.
The steamed ultra-long-grain basmati rice ($3.99) was hot and fluffy, with whole cumin and coriander seeds for a little boost. Other basics were similarly satisfying: Service throughout was exceptional.
The seating was comfortable, and the modern decor featured a palette of soothing, sunny colors. It's easy to see why restaurants like Angara are becoming popular, with so many delicious options for meat-eaters and vegetarians that can be customized to their desired level of spiciness. Adventurous eaters will appreciate the goat dish, and kids may even delight in eating their carrots — they are served as a traditional Indian dessert with sweetened milk, sugar and nuts.
Las Vegas Review-Journal restaurant reviews are done anonymously at Review-Journal's expense. Contact Heidi Knapp Rinella at hrinella@reviewjournal.com. Follow @HKRinella on Twitter.
Review
Angara India Spice Grill, 4165 S. Grand Canyon Drive; 702-876-0050
The essence: Conventional, well-executed food in a pleasant space with good service.