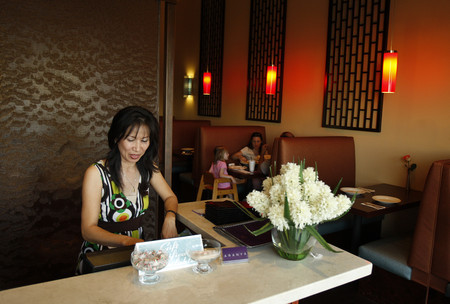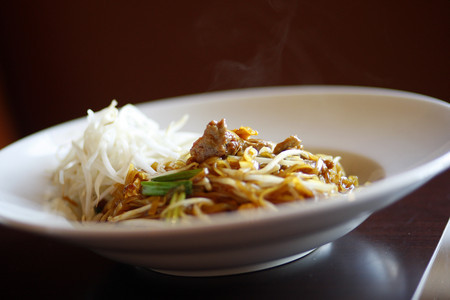 You know how employees of Thai restaurants traditionally will ask how spicy you'd like your food, on a scale of 1 to 10? Aranya Thai Bistro didn't ask us, and what we were served would, on a spiciness scale, rank around 1.
Don't get me wrong; I freely acknowledge the shortcoming of a system in which one man's 10 may be another one's 5. I also have a real problem with food that's spiced to the point that it can't be tasted. But this was some tame Thai.
Things were promising in the beginning. Because tofu takes on the flavors around it we expected an appetizer of simply fried tofu ($6.95) to be bland and it was, but we loved the contrast between the crispiness of the exterior and the soft, resilient interior. A dish like this needs to get a flavor boost from outside and this one did, in a sauce of a mild vinegar with a few shreds of red pepper and lots of chopped peanuts.
A glass of Thai iced tea ($2.75) also had the traditional contrast of flavors, the bracing strong black tea a perfect foil for the creamy sweet milk, for perfect refreshment on a hot evening.
But a starter of chicken satay ($7.95) was our first hint of Aranya Thai's timidity. The chicken tasted like it had been marinated but with a nearly flavorless marinade, and lightly grilled, which didn't add much flavor. The traditionally creamy peanut sauce on the side did, of course, provide a boost, but the chicken itself could have been so much more, thus improving its coupling with the sauce. The cucumber salad on the side was pretty good — artfully cut cucumbers, a fairly strong vinaigrette, onion and carrot shards — but we wished the chicken had received a parallel treatment.
Pad Thai ($8.95 with chicken, which we had, or pork, beef or tofu, or $9.95 with shrimp) often is labeled the national dish of Thailand and tends to be a sort of acid test for a Thai restaurant. This one showed lots of promise, arriving in a large bowl with mounds of fresh bean sprouts and chopped peanuts on the side. Why then, we wondered, did it have so little character? There was no tang of fish sauce, no burst of lime, no burn of pepper. The dish had a great texture and the flavors were not unpleasant, but there wasn't enough there there.
A dish of meat (we chose beef, which, like pork, chicken or tofu, was $8.95; shrimp would have been $9.95) with cashew nuts, mushrooms and scallions — simply called "Cashew Nuts"– sounded like it had potential for lots of flavor, but it had the same flaws. One problem with this dish was that it was based on a bed of traditional Chinese vegetables that reminded us of old-school chop suey. There was a mountain of fresh steamed rice on the side and again, the execution was basically fine, but the flavors just weren't assertive enough.
There was much to like about Aranya Thai Bistro. Much has been done with a smallish space, such as the water wall behind the cashier, the fretwork-style panels along one wall, soft lighting — even a whimsical quarter-circle kitchen window. Service was friendly and smooth, and courses timed well.
And the food was good, on the whole. But if Aranya Thai Bistro emphasized the traditional flavors of Thai cuisine, it would be so much the better.
Las Vegas Review-Journal reviews are done anonymously at Review-Journal expense. Contact Heidi Knapp Rinella at 383-0474 or e-mail her at hrinella@reviewjournal.com.
Review
Aranya Thai Bistro, 4195 S. Grand Canyon Parkway; 243-1912
Overall — B
Food — B
Atmosphere — A
Service — A-
Pluses: Pleasant atmosphere, food basically prepared well.
Minuses: Not enough assertive flavors.