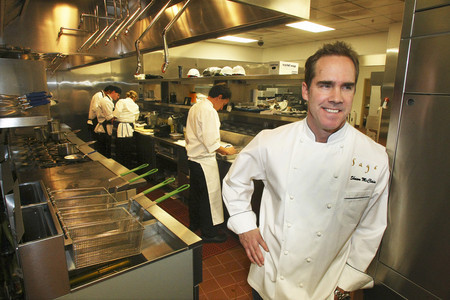 There's a sort of unspoken guarantee that every new hotel-casino in Las Vegas will be better — or at least more wondrous, more spectacular — than anything that had gone before it, and that's certainly the case with the restaurants of CityCenter's Aria.
Consider, for example, Bar Masa and Shaboo, from chef Masayoshi Takayama, and their towering doors — squat rectangles evoking shoji screens, which stretch almost to the restaurant's 36-foot ceiling. "Iconic" is how they're described by Bart Mahoney, vice president of food and beverage at Aria (who will be departing at the end of the month, to be replaced by Christina Clifton).
But they're not the only extreme-decor element of Bar Masa and Shaboo. Above the reception desk begins a stepped structure that extends above it to arch across the ceiling of the dining room beyond. The space below is the 150-seat Bar Masa, the more casual of the two, which serves an a la carte menu of updated Japanese food.
Beyond Bar Masa is the more elegant Shaboo, with seats for just 54. At Shaboo, guests dine from an omakase menu, a sort of Japanese-style prix fixe in which the multiple courses are selected by the chef. Shaboo's tables are topped with induction burners (with overhead hoods) for tabletop food preparation.
These are the first Las Vegas restaurants for Takayama, but the names of other Aria chefs will be familiar to locals and regular visitors. There is, for example, Julian Serrano, whose eponymous Aria restaurant is quite different from the one he runs at Bellagio. The Picassos have been replaced by a vibrant, contemporary design by Spain's Gente de Valor group, chosen by Serrano.
"He took complete ownership of the project five years ago," Mahoney said of the chef.
Floors are colorful mosaic; other elements evoke trees. The 218-seat restaurant serves hot and cold tapas, paella and seafood, including an elaborate shellfish presentation on the bar.
Another familiar name is Michael Mina, who opened American Fish at Aria. Mina's fifth local restaurant, American Fish has a lodge-y feel and a mission reflective of its name — highlighting regional American seafood, including fish poached in Pacific Ocean water.
Stand back and squint at the entrance of Jean-Georges Steakhouse — from Jean-Georges Vongerichten, familiar to Las Vegas beef lovers for his Prime at Bellagio — and you'll spot a massive image of a bull's nose, which is repeated in different sizes throughout the restaurant. Highlighted by a huge wine wall near its entry, the steakhouse has a higher-energy feel than Prime, Mahoney said.
A mural of an Italian street scene and water wall of colored glass blocks marks the entrance to Sirio Ristorante, from Le Cirque master Sirio Maccioni. The menu here is predominantly traditional Italian dishes, plus some Italian-American fusion. An antipasto bar is along the rear wall of the restaurant.
Sage is the first Las Vegas restaurant for award-winning Chicago chef Shawn McClain. With a New American menu with Mediterranean influences, Sage is an opulent spot, with accents of brass and plum.
"It's going to be a very sexy restaurant," Mahoney said before Aria's opening.
And those familiar with the Light Group's Fix (at Bellagio), with its undulating wooden ceiling, and Stack (at The Mirage), with its stacked wood, will see continuity in the stylized wooden trees at Aria's Adam Tihany-designed Union, which also has a revolving liquor turntable behind the bar. The menu suitably evokes those of Fix and Stack.
Blossom and Lemongrass flank the VIP gaming area. The former is a high-end Chinese restaurant with a warm, rosy feel and intimate private spaces, the latter a Thai restaurant — currently the only one in a Strip resort — complete with a charcoal-burning satay bar and large vertical design elements that evoke stalks of lemongrass.
Fans of Jean Philippe Patisserie at Bellagio will be gratified to know that chef Jean-Philippe Maury's like-named Aria property has an 85-seat cafe.
Even the usually pedestrian restaurants are extraordinary as designed at Aria. The buffet has walls of windows that overlook the pool area's spas and gardens, and Cafe Vettro is a large open space facing a 40-foot-high wall of glass on the resort's north side, with stepped rear walls, each tier lined with stones, backlit and encased in glass. There are illuminated glass topiaries on one side, and if you look carefully, Red Rock can be seen through a window. It's awe without the shock.
"When you're in a high-end restaurant, you expect that," Mahoney said. "When you're at $20 and you feel like that, that's a big thing."
Contact reporter Heidi Knapp Rinella at hrinella@ reviewjournal.com or 702-383-0474.