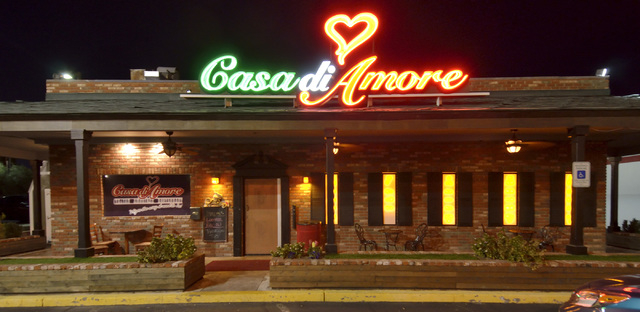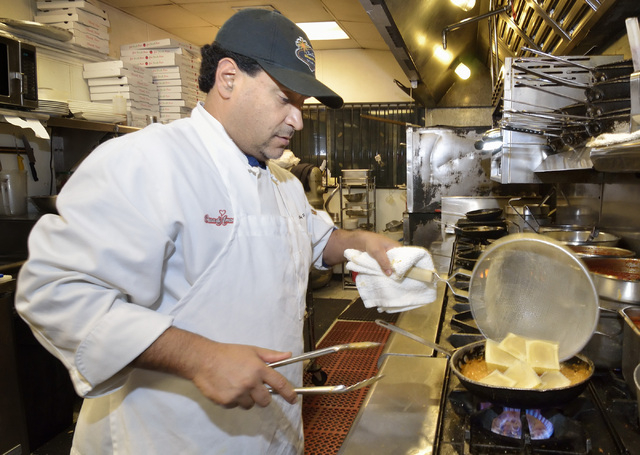 "Vegas the way it used to be," promises the team behind Casa di Amore, and they're not kidding.
There's live entertainment every night. Poster-sized photographs evoking the glory days of '60s Las Vegas — the Sands, the Dunes, Sinatra and Sammy. An atmosphere reminiscent of a more elegant era. Free limo service to and from Strip hotels. Service until 5 in the morning, for those who want to play long at the tables. And, well, more than a few stereotypes walking around the place.
The food, as you might expect from the name, the theme from "The Godfather" wafting from the stage and the Rat Pack shtick, is classic Southern Italian. But here's the thing: When it comes to the food, Casa di Amore knows how to honor the old days while keeping up with modern sensibilities.
Such as: Something I've never encountered in a local restaurant, osso buco offered as an appetizer ($13). It's there as an entree, too ($42), but sometimes a little osso buco goes a long way, and that was the case here. This starter-sized portion was just right, a pile of perfectly creamy/chewy, saffron-infused risotto topped with several smallish pieces of veal shank, the bones carrying plenty of meat.
Eggplant di Amore ($25) was at the other end of the light-vs.-heavy continuum, as these things go, but was likewise innovative. This dish is a riff on classic eggplant Parmigiana, the eggplant sliced sort of thin (that's a good thing), breaded and fried in olive oil. But then it was layered with a mixture of ricotta cheese with a whole lot of spinach and some sun-dried tomatoes, and accompanied by spaghetti with meat sauce or marinara, your choice (ours was the latter). The portions of this dish were quite large, and in light of the components this was an exceptionally salty dish, so fair warning. One other thing: Although the spaghetti was sauced enough for me it would've failed miserably with the main Italian of my acquaintance.
A similar — and similarly minor — flaw existed with the otherwise excellent Gnocchi Alla Prosciutto ($22). The gnocchi themselves, which tend to be quite a challenge, were perfect, at once chewy and light and cloaked in a creamy but not overly heavy four-cheese sauce. But although there was a fair amount of spinach, the promised prosciutto was in short supply.
Casa di Amore shows in many ways that it respects the details, and that extends to the bread, served in a long, skinny, crusty loaf that had a warmth we wouldn't associate with a microwave. The cup of butter on the side was lightly garlicky and positively addictive. And when we ran out, another arrived promptly.
Our excesses tucked away in to-go boxes, we decided to indulge in a cannoli ($8), and there we got a surprise. Although we hadn't noticed it, a tent card on the table advised that the purchase of a cannoli would earn the buyer a T-shirt. On the front: the restaurant's logo. On the back: the classic line from "The Godfather," "leave the gun, take the cannoli." Oh, and by the way, the cannoli was excellent, filled right before serving so the shell remained shatteringly crisp.
Service throughout was slower than we would expect these days, which didn't bother us as much as it reinforced that this is a restaurant with roots in another era, since most of the people who were seated in the dining room when we entered were still seated there as we were leaving. Maybe, like us, they've decided that "leave the gun, take the cannoli" is a pretty good lesson for life.
Las Vegas Review-Journal restaurant reviews are done anonymously at Review-Journal expense. E-mail Heidi Knapp Rinella at Hrinella@reviewjournal.com, or call 702-383-0474. Follow @HKRinella on Twitter.
Review
Casa di Amore, 2850 E. Tropicana Ave.; 702-433-4967
Overall: A-
Food: A-
Atmosphere: A-
Service: A-
Pluses: Fun, old-school atmosphere, great food, live music.
Minuses: It's not the place to go if you're in a hurry.