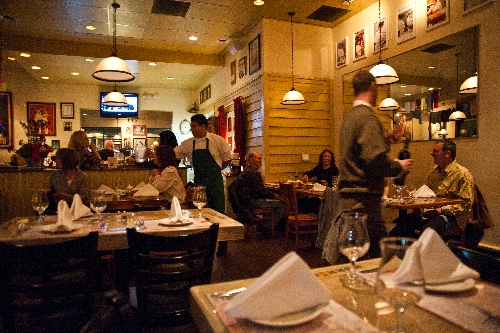 I have a great deal of respect and admiration — sometimes extending to awe — for extremely innovative chefs. The ability to incorporate products new to the market or to create new combinations can reveal laudable creativity. I can picture some of the most innovative chefs in their kitchens, wheels turning furiously, as they say something like, "Oooh, let's try scallops with mead and white chocolate!" — which is something I actually had at a restaurant in Florida, and which was much better than in my wildest dreams I would've imagined. But I digress.
Then again, there's that whole reinventing-the-wheel thing; artistic talents aside, sometimes, tinkering with a classic does nothing to improve it.
What all this is leading up to is that tradition is very much respected at Bratalian Neapolitan Cantina in Henderson.
Don't let the name and the rumors fool you; I'd been told Bratalian was a Brazilian/Italian restaurant, which sounded like fusion confusion. While the first three letters in the name no doubt allude to chef/owner Carla Pellegrino's birthplace of Brazil, the last six reflect the heritage of her mother and Pellegrino's own years in Italy, and they and the "Neapolitan" subtext are the restaurant's raison d'etre.
If her name is familiar, it's because Pellegrino's had a somewhat high profile in Las Vegas, formerly as chef of Rao's at Caesars Palace. Now she has Bacio at the Tropicana and the neighborhood spot Bratalian.
Neapolitan, yes. That earthy, rustic, peasant-friendly tradition is well reflected by Bratalian's Linguine al Ragu ($19), a hearty, long-simmered sauce with ground beef, veal and pork, served atop perfectly al dente linguine. All of those meats and that careful cooking give the sauce a whole range of layers you wouldn't get in a garden-variety marinara.
Not that there's anything wrong with the garden, as the classic Insalata Caprese ($11.50) showed. Roma tomatoes had been halved, paired with fresh mozzarella and showered with basil both slivered and whole with a drizzle of olive oil. Roma tomatoes are an offbeat choice in this one, but since decent beefsteaks can be hard to come by in the winter, it was a good one.
Pollo alla Milanese ($21) is another classic dish, and this was a classic rendition, with a little bonus: a huge tangle of lightly dressed arugula, red onion and tomatoes, an extremely successful textural and flavor contrast to the crisply coated sauteed chicken breast.
The rustic Neapolitan spirit also is reflected in the decor of Bratalian. The room itself is simply adorned, with earth-tone paint and prints on the walls, but a huge touch of whimsy is added by the clotheslines, adorned with lacy lingerie, socks and so forth, that are draped around the room.
Service, on the other hand, is anything but whimsical. We were greeted immediately upon entering, and a manager type and a waiter took turns checking on us throughout the evening to be sure we were well tended. We were, completely; when we indicated that we wanted just one starter, it was brought on two plates, already divided. At the same time, employees are anything but stuffy; one joked with us about the inherent messiness of the ragu.
And that's the genius of Bratalian — being comfortable with the continuum between classic and innovative, serious and whimsical, and finding the right spot on it.
Las Vegas Review-Journal restaurant reviews are done anonymously at Review-Journal expense. Contact Heidi Knapp Rinella at 383-0474 or email her at 383-0474.
Review
Bratalian Neapolitan Cantina, 10740 S. Eastern Ave., Henderson; 454-0104.
Overall A
Food A
Atmosphere A
Service A
Pluses: Great food, service, atmosphere — and judgment.
Minuses: It's not a huge place, so it may well be packed.