September 5, 2008 - 9:00 pm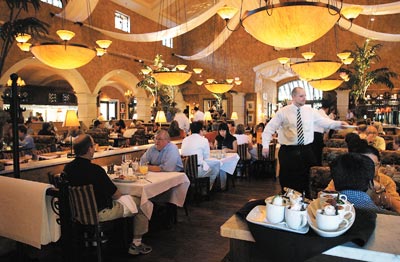 Here's the thing that surprises me most about Brio Tuscan Grille: People are so impressed by the scale of the building, the very grandeur of the place — soaring ceilings and vaults, cozy passages — that they tend to assume it's a one-off, a stand-alone restaurant raised in Town Square by the scion of a Tuscan winemaking family.
Or something like that.
And then I burst their bubble with the news that it's part of a chain based in Columbus, Ohio, the heart of the heartland.
Hah!
I can understand the assumptions. Brio's parent company has done a particularly effective job in creating an atmosphere in which guests can revel in the illusion that they've escaped their daily lives for something more exotic, or at least more scenic. That's a valuable thing in these tough economic times.
But here's something else about Brio: It's not all illusion. The food actually is good, and reasonably priced, as these things go.
And even a little adventurous. The soup of the day on the evening of our visit? No, not minestrone, or Italian wedding, or pasta e fagioli, the unholy trinity that taxes the imagination of a lot of Italian restaurants. No, it was cream of morel ($4.95), and it was good cream of morel — not a dumbed-down cream-of-whatever but one in which the delicate, yet earthy flavor of the woodland mushroom was effectively communicated — though I was a little disappointed that they didn't top it with a slice of the honeycombed marvels, because they're so cool looking.
And how about garganelli? By now, we've all long forsaken generic spaghetti to experiment and delight in a multitude of pasta cuts and shapes, which by their very nature each seem to best showcase a particular sauce or couple of sauces, but garganelli has been a rarity. Yet here it is, these tubes that are made by rolling and ridging a little square of pasta — so that they're thicker in the middle and more delicate on the ends — starring in a tricked-out carbonara ($16.95) treatment that involves the traditional bacon and Parmesan and cream but also a fair amount of chunks of grilled chicken and a plethora of fresh spinach leaves sprinkled in, for color, texture and even nutrition.
A starter of bruschetta Caprese ($11.50) blended the best of both dishes. The crostini had been topped with the fresh tomatoes and basil that are common to both, with a thickish slice of mozzarella borrowed from the Caprese salad. It was excellent.
And so was a lovely little dessert, a trio of creme brulees ($6.25). Brio management apparently is savvy enough to realize that many of us would like a touch of something sweet — but only a touch — after a meal like this. So they offer a few regular single desserts and some minisized multiples perfect for sharing, such as the creme brulees, which were flavored orange, caramel and chocolate-hazelnut and were rich and velvety, their caramelized roofs thin enough to shatter without a crunch-crunch-crunch.
We even liked the breads — a fennel-, cheese- and rosemary-topped flatbread with more flavor than we ever encounter in things like this, and a crusty Italian that was an effective neutral foil for the food.
The only dish that didn't quite measure up was the artichoke-and-herb-crusted pork chop ($16.95), and then only because the kitchen allowed the artichoke to hide its light under a bushel. This is a very delicate vegetable, but it was chopped in pieces so small and mixed with a sort of crumbly herbed boursin so assertive that we had to strain to detect the artichoke and finally just forgot about it. The pork chop was just right, and we liked the crispy potatoes, arugula and broiled tomatoes that completed the entree.
Service was a little spurty, but we enjoyed relaxing during the lags.
After all, it wasn't so hard to believe we were in Tuscany.
Las Vegas Review-Journal reviews are done anonymously at Review-Journal expense. Contact Heidi Knapp Rinella at 383-0474 or e-mail her at hrinella@reviewjournal.com.
REVIEW what: Brio Tuscan Grille where: Town Square, 6653 Las Vegas Blvd. South phone: 914-9145 overall: A- food: A- atmosphere: A service: B+ pluses: Great atmosphere, good food, reasonable prices. minuses: Some lapses in service.