Buldogis adds Korean flavor to traditional American hot dog
November 16, 2012 - 2:10 am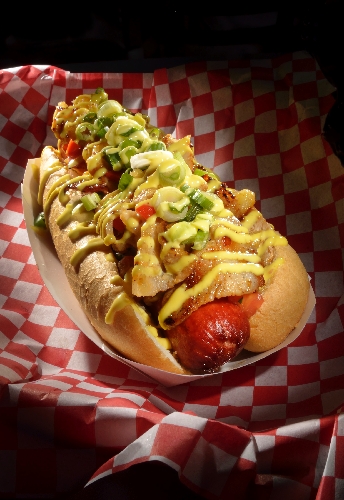 A longtime participant in the Las Vegas restaurant community told me not long ago that if the city is ever going to have a cuisine that it can identify as its own, it will likely be fusion.
Fusion in its many forms actually is a national trend, fostered by the food-truck fad, but the melting-pot nature of Las Vegas is elevating it to fine art. One of the latest additions to the genre is Buldogis. If the name sounds vaguely familiar, that may be because it's a play on the Korean word for meat cooked over a flame – bulgogi – and the all-American hot dog. So ­­- get it? – hot dogs with Korean flavors.
And, actually, more than that. While Buldogis' menu remains loyal to the noble tube steak, a large whiteboard inside the counter-service restaurant lists a wide variety of burgers, most of them takes on the restaurant's dogs. And there are such choices as the Banh Mi Dog, which connotes Vietnamese cuisine; the Teriyaki Dog, which connotes Japanese; and some good old American choices including a Chicago dog. And while, yes, this is a hot dog place, it's a hot dog place that serves four different ketchups, seven flavors of mayo and four mustards.
The novel, diverse menu even includes an American Southern favorite, fried dill-pickle spears ($4.98). They turned out to be pretty classic and very well executed, with a crisp puffy coating and very little grease, plus Korean-inspired flavors in the forms of the nicely smoky house barbecue ketchup and the kicked-up Bulgogi Mayo.
We also started with a small order of the Classic Buldogis fries ($1.75/$2.25), which sounded pretty offbeat with a promise of a "special spice blend," herbs and Parmesan, but which turned out to be so lightly dusted that the added flavor was extremely subtle. They were, however, fresh and crisp.
A banh mi, as you know, is sort of the Vietnamese equivalent of the sub, a multilayered wonder served on fabulous crusty French bread. The Banh Mi Dog ($4.95) at Buldogis is served on a hot dog bun, so there's a little something missing there, but the layering of flavors did evoke the classic, with a Vietnamese-inspired slaw and a slice of pork belly.
Though we had initially planned to stick with Buldogis' doggies we figured there was something to this branching out, and so we did likewise with the Bulgogi Burger ($7.95), the patty version of the house signature tube steak, with bulgogi and slaw and mayo. It was a very large burger ­­- a half-pound, I believe – and the layering of flavors and textures made it top-notch.
Buldogis is, as I said, a counter-service spot, tucked away in a shopping center, and it's bright and open, with a friendly staff. Food was served piping hot, in paper-lined baskets.
Whether or not Buldogis and its brethren truly are Las Vegas' future remains to be seen. While we're thinking about that, though, it's simply a comfortable, casual place to get an interesting hot dog.
Or burger.
Las Vegas Review-Journal restaurant reviews are done anonymously at Review-Journal expense.
Contact Heidi Knapp Rinella at 383-0474 or
email her at hrinella@reviewjournal.com.
Follow @HKRinella on Twitter.
Review
Buldogis, 2291 S. Fort Apache Road (near Sahara Avenue); 570-7560
Overall B+
Food B+
Atmosphere B+
Service A-
Pluses: Well-prepared, interesting food.
Minuses: Fries that were too subtle.